There's some confirmation that Peter Mayhew will return as Chewbacca in Star Wars. Samuel L. Jackson discusses where Nick Fury will go after Captain America 2, while Captain America 3 is going up against Batman Vs. Superman. Plus Wreck-It Ralph 2 seems to be happening. And everything changes in Game of Thrones season five. Spoilers now!
Top image: Game of Thrones
James Bond
The Wrap has sources saying that 12 Years a Slave's Chiwetel Ejiofor is the presumed frontrunner to play the villain in the next Bond film. While there is no offer on the table yet, it sounds like he's their first choice. All the major Skyfall players are set to return for Bond 24 — director Sam Mendes, writer John Logan, Daniel Craig, Ralph Fiennes (new M), Naomie Harris (Moneypenny), and Ben Whishaw (Q). [The Wrap]
---
Star Wars
The Hollywood Reporter is being told that the rumor that Peter Mayhew will return as Chewbacca for Episode VII is true. [The Hollywood Reporter]
G/O Media may get a commission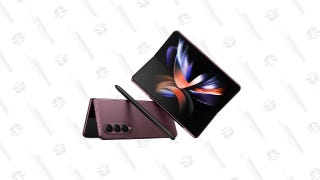 Save Up to $300
Galaxy Z Fold4
---
Avengers: Age of Ultron
Samuel L. Jackson thinks that events of Captain America: The Winter Soldier will make it difficult for Nick Fury to play a huge part in the Avengers sequel:
Avengers 2 is so huge, and having seen the tag, I don't know there's a real space for Nick in that scenario because everything is so extraordinary. When you come down to it, Nick's an ordinary guy who knows how to bend extraordinary people to his will. The [Avengers sequel] is not about Nick and what S.H.I.E.L.D. is going through. We're going to skip over him in an interesting sort of way."

Don't get me wrong, I'll show up, but it's not to be an effective part of the plot or the resolution of the plot from [The Winter Soldier].
Anthony Mackie was pretty definite that Falcon won't be in it:
In the comics, Cap would always call on the Falcon for help, and then they'd go their separate ways. Avengers 2 is one of those instances where Cap goes off and does his thing. Then, he'll circle back around to get my help for Captain America 3. That will pick up where we left off and Avengers 2 will be a segue to something else.
[Buzzfeed]
Go here for more photos showing Chris Evans on the set of Age of Ultron. [SpoilerTV]
---
Captain America 3
Speaking of Marvel and Captain America: The Winter Soldier, it looks like everyone's already gearing up for the third Captain America film. Director Joe Russo said that the third movie will continue directly from the second:
In the Marvel cone of secrecy, we won't divulge too much, but I will say this. The movie is clearly written as a two-parter. There is a, there would seem to, the next movie would seem to require a continuation of the journey of the Winter Soldier.
Chris Evans has his own wishlist for Cap's future on screen:
He's had some flaws, but I'd really like to see him make a major misstep. I'd like to see that morality betray him; have him do something he really truly felt was right but realize that even if you think something is the right thing to do, it doesn't always pan out the way you think it should.

The best thing about [The Winter Soldier] is, if you take the superhero element out of it, this is still a good movie, so hopefully if Cap makes mistakes, it's not just seen from a superhero perspective. This is a human being. If he makes mistakes and does end up doing something that's considered flawed or regrettable, I hope that it's not just connected to the superhero parts of his identity.
[Buzzfeed]
Marvel has officially confirmed, as previously guessed, that Captain America 3 will be the movie that goes up against Batman Vs. Superman on May 6, 2016. Start making your bets! [Marvel]
---
Interstellar
Even composer Hans Zimmer was kept in the dark about the plot of Christopher Nolan's next movie. Instead, Zimmer was given a single page written by Nolan. Zimmer told British GQ:
(The page) wasn't about the film. In a peculiar way, what Chris wrote down that day, and what he wanted from me, had more to do with my story than the plot of the movie. He knows how to get under my skin. That's the game we play.
[Variety]
---
Wreck It Ralph 2
Composer Henry Jackman revealed that he has heard about progress toward a sequel:
I did [hear about a sequel], to be honest with you. I can't tell you more, not because I'm being coy, but I believe that it is officially on the cards. I don't know any more other than a story is indeed being written. I'd be very surprised not to. I'm not blowing my own trumpet. Forget about the music. Just the movie itself I thought was a fantastically imaginative and creative piece of work. Rich [Moore], the director, actually got involved in the writing. There was another writer [Phil Johnston and Jennifer Lee]. Just as a concept, it would be almost remiss of them not to write another one. It's a great idea and it's a great character.
[Collider]
---
Jurassic World
Mercedes-Benz USA has announced that the G63 AMG 6x6 will be featured in this film. A photo is below, more at the link. [Carbuzz]
---
X-Men: Days of Future Past
Here are two more posters. [Coming Soon]
---
The Amazing Spider-Man 2
Here's a new poster that's a collaboration between Sony, Marvel, IMAX and Mondo. Those going to the first IMAX showing on 7 p.m. on May 1st will get a limited edition copy of the poster. [Fandango]
---
Game of Thrones
This isn't a huge shock, given the nature of the show, but Michael McElhatton (Roose Bolton) teased a change in the power dynamics coming up:
There's a huge power shift certainly in season four and going into season five. It should be exciting. Nobody is safe on Game of Thrones…no character is too big to die.
---
The Vampire Diaries/The Originals
Executive producer Julie Plec warns that both shows are going to start losing characters:
I think that there will be an impressive body count on both shows by the time the seasons are over.
---
Dracula
Strap in everyone — Jonathan Rhys Meyers has confirmed a second season of the very loose Dracula adaptation. [The Irish Post]
---
Agents of SHIELD
Here's a video of the cast discussing how Captain America 2 will affect the show, plus a sneak peek at episode 1.17, "Turn, Turn, Turn."
---
Person of Interest
Go here for more photos from episode 3.20, "Death Benefit." [SpoilerTV]
---
Once Upon a Time
Here's the promo for episode 3.17, "The Jolly Roger."
---
Resurrection
Here's a description of episode 1.07, "Schemes of the Devil":
THE FATE OF ANOTHER REAPPEARED IS IN JEOPARDY, WHILE THE SCOPE OF THIS PHENOMENON BECOMES ALMOST LARGER THAN THE TOWN CAN BARE [sic], ON ABC'S "RESURRECTION"

"Schemes of the Devil" – With the help of Bellamy and Sheriff Fred, Tom leads the charge in the search for Rachael, but her situation becomes increasingly dire as her captors grow more desperate. Maggie and Dr. Ward continue their medical research on the resurrected subjects and a series of shocking discoveries sets them on the brink of a game changing find, however, their focus shifts when Arcadia is suddenly in the throes of an epidemic, on "Resurrection," SUNDAY, APRIL 27 (9:00-10:01 p.m. ET) on the ABC Television Network.

"Resurrection" stars Omar Epps as J. Martin Bellamy, Frances Fisher as Lucille Langston, Matt Craven as Fred Langston, Devin Kelley as Maggie Langston, Mark Hildreth as Pastor Tom Hale, Samaire Armstrong as Elaine Richards, Sam Hazeldine as Caleb Richards, Landon Gimenez as Jacob and Kurtwood Smith as Henry Langston.

Guest starring are James Tupper as Dr. Eric Ward, Kathleen Munroe as Rachael Braidwood, Ned Bellamy as Sam Catlin, April Billingsley as Barbara Langston, Gary Weeks and Deputy Andrew Chartman, Kevin Sizemore an Gary Humphery, Christopher Berry as Deputy Carl Enders, Michael Harding as Paul Thornton, Jwaundace Candece as Mrs. Camille Thompson, Shawn Shepard as Mr. Wallace Thompson, Nadej Bailey as Jenny Thompson, Ashlee Payne as Polly Humphery, Victor Cordova as Bob Clark, Avis-Marie Barnes as Sharon, Tracy Goode as Sheriff Deputy #1, Gabriel Davis as Sheriff Deputy #2, Garrett Kruithof as Confused Man, Kristin Erickson as Server and Dane Davenport as Korean War Officer.

"Schemes of the Devil" was written by Nathan Louis Jackson and directed by Dan Attias.
Here's a promo for episode 1.06, "Home."
---
Being Human
Here's the final cast photo. [SpoilerTV]
---
The Tomorrow People
Here's a new poster. [SpoilerTV]
---
Penny Dreadful
Here's a group shot of the cast. [E! Online via SpoilerTV]
---
Believe
Go here for photos from episode 1.06, "Sinking." Promo video is below. [SpoilerTV]
Additional reporting by Charlie Jane Anders and Madeleine Monson-Rosen