If Google has its way with Google Wallet, your bank and credit cards will be obsolete. The only things you'll need a wallet for are IDs and cash. But is Google's vision really the future of money, here today?
Google Wallet is a good idea, no doubt. Is tapping your phone really that more convenient than swiping a card? Probably not. Yet. But this might be the first time in a long time we use discounts and coupons (DEALS!) in the real world with any sort of regularity. And goddammit, this is so sci-fi-technologically speaking-that we should want to embrace this with open arms.
Based on the partnerships that Google has forged in all areas of the financial transaction sphere-it uses Verifone communication technology (which powers the actual point-of-sale transactions) as well as MasterCard's PayPass system-we have to assume Apple and Microsoft will respond with payment systems of their own, possibly using NFC as well. If they do, will they make Google Wallet an account option in their NFC apps? Or will they at least approve an app on their platforms that has deep access to the hardware?
Even if there are multiple NFC payment platforms, it's not necessarily a death knell of consumer confusion. According to Paul Rasori, Verifone's Senior Vice President of Marketing, the NFC payment partnership with Google is not exclusive, and requires Google to function with the same hardware other NFC partners use. So as long as other smartphone platforms also partner with Verifone, NFC payments will work in any location where Google Wallet (and/or PayPass) already exist. Plus, as Google suggested today, any issues with hardware compatibility in the phones themselves can be remedied by embedding an NFC radio on a sticker and having people plop it on any phone they like.
G/O Media may get a commission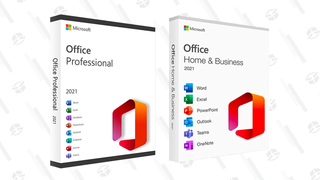 89% off
Microsoft Office Professional 2021 Lifetime License
And will people actually use it? Those who aren't hardcore technophiles won't just hop on the bandwagon without a major push from behind. Look at PayPass, for example. How long has that system been available? How many times have you actually used it (or seen someone using it)? Any time I've attempted to use it at a store/food spot/cab, the person initiating the transaction looked at me like I was off my damn rocker and demanded that I just swipe the card.
That's where the deals come in. Using coupons outside the electronic world sucks right now. You have to print or save or scan things, and remind a cashier to add it to a transaction. Google Wallet will take care of all that for you automatically. You just have to tap a button. Not only do you avoid publicly feeling like a penny-pinching miser, but it will get people in the habit of using Google Wallet. And when your phone is already out, you might as well just use the thing to pay.
But if NFC payment systems are to succeed, they need to be everywhere. MasterCard's PayPass tech is in a lot of places now, but it (along with Google's deals) need to be anywhere and everywhere credit cards are accepted. It needs to be integrated into ATMs. And it needs to be a part of our personal lives. These systems should allow people to conduct transactions amongst one another. If I owe someone money, for lunch or any other random thing, I should be able to bump phones with that person and toss them some digital change. That's where the convenience factor will really come out.
NFC is beyond ready from a technological standpoint. Judging from what we've seen today, Google Wallet is secure, thoughtfully designed, and has favorable aspects for both consumers and retailers. Whole card numbers are never displayed, the NFC tech shuts off when the screen goes off, and you can lock your wallet if need be. Plus Google Wallet is free for any business who wants to use it (not counting the credit card transaction charges themselves). Now it's up to the world at large to ensure its longevity.