Steve Jobs enters. "We've had tremendous, unbelievable success with multitouch. And that's why starting next year, we're bringing it to the Mac."
Crazy? A little. But also inevitable. Apple isn't going to abandon the Mac and OS X, despite a success with iOS that perhaps even they didn't expect, but that doesn't mean OS X has to remain the same sort of operating system we've gotten used to over the last decade.
As good as I think Apple's touch products are, I find it hard to believe they'd let the Mac grow stagnant, especially when sales continue to climb. The Mac may have taken a backseat to iOS products at WWDC, but it's going to remain a core product for the foreseeable future. They're not going to suggest you write iPhone apps on a Windows machine, if nothing else.
But there's no doubt that multitouch has made the ol' mouse and keyboard look a little long in the tooth, even superficially. We may wonder if multitouch on the desktop and laptops is better than traditional interfaces—and certainly for many applications it's simply not—but it's not a silly question to wonder if there is a method by which multitouch can be a useful addition.
Apple has definitely been thinking the same thing. Patent applications have been bubbling up for years that show iMacs that can swing down to sit parallel with desk surfaces or convertible laptops. Remember when the MacBook Pro was updated to include a giant touchpad before the iPhone was even on the radar? At the time, many people thought that signified that some sort of touch interface was heading to the Mac. There are Inside Apple the tablet project that became the iPad was being developed long before they decided to use those ideas in the iPhone.
G/O Media may get a commission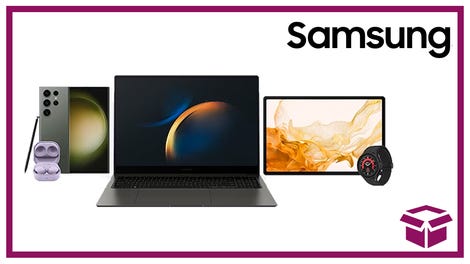 24 hour deals
Discover Samsung - Daily Deal
Already there are plenty of multitouch gestures available within OS X. They're just not terribly useful. You can pinch and twist and swipe using the built-in trackpad (or the Magic Trackpad on desktops) all day long. It's nice enough, but without the tactility that comes with a real touchscreen, the feeling that comes from actually touching the windows and widgets you're manipulating, it's only ever going to be an amusing, occasionally useful adjunct to older input methods.
That's why there's some speculation—at least in the Gizmodo editor's chat room—that the October 20th event could hold a big reveal for a new MacBook Air that includes some sort of new multitouch method, a flip-over touchscreen that turns the Air into a tablet. Instead of running iOS, however, the new Air would run OS X.
Something feels off to me about that idea. I have a hard time imagining that Apple would release a hybrid product that instantly makes current Macs feel outdated and makes iOS products like the iPad seem less powerful.
But at the same time, if Apple were going to experiment with bringing multitouch to the Mac, the Air would be the product with which to do it. The Air was Apple's take on the netbook, a fully featured laptop in an extremely portable chassis. Only it turned out that the iPad expands into that niche neatly, leaving the Air with even less of a vacuum to fill.
If Apple really is bringing multitouch to OS X 10.7, I expect we'll hear about it quite a bit ahead of time before the actual launch. Something that requires that much of a fundamental rejiggering of interaction design will be impossible to hide from developers, if nothing else. And Apple doesn't announce new hardware until they're ready to sell it (unless they must!). But if we see a MacBook Air redesign on the 20th along with talk of multitouch in 10.7, expect it to be the last hurrah of Apple's old interface thinking, with nothing more than a token gesture (get it?) to what Macs will look like in a year from now.
iOS MacBook Air
There is another possibility worth addressing, but not considering: That the MacBook Air will be reenvisioned as a clamshell iPad with a built-in keyboard. I don't think that's very likely—and it certainly wouldn't be called a "MacBook" at that point—but it is fair to note that I didn't expect Apple to embrace the use of physical keyboards with iOS, but I'm typing this up using a Bluetooth keyboard with my iPad right now.
Original photos from Shutterstock