Last week, we sat down with Via to take a look at the reference design they're hoping will be the standard for UMPCs over the next year: the OpenBook. While the raw horsepower inside (their C7 and VX800 chips) isn't next gen (though it'll run XP, Vista Basic or Linux), Via is pushing it as the "most connected" low-cost, low-power UMPC to date, with the mobile broadband of your choice (WiMax, HSDPA or EV-DO), three USB ports, and a 4-in-1 card reader (also, it has not one, but two webcams).And it'll run between $500 and $800.
G/O Media may get a commission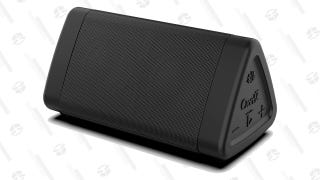 Save 31%
Oontz Angle 3 Portable Bluetooth Speaker

Part of the reason they're calling it the OpenBook is that part of the design is customizable, with CAD files of the external shell available for download so manufacturers who pick it up can be creative with it. Unfortunately, that doesn't drill down to the keyboard, which was noticeably cramped compared to an HP 2133 Mini-note, despite being of a very similar 8.9-inch form factor. The resolution's also lower, 1024x600 (same as the Eee 900) to the 2133's 1280 x 768.
It is light, though, a hair more than two pounds. And on its unimpressive 4-Cell, 2600mA battery, you get (supposedly) an impressive three hours (consider that the Eee 900's is twice as fat).
While not a giant leap ahead in UMPC design, it is a shimmy forward, bringing in some of the connectivity missed in some of the earlier notebooks in this category. More broadly, the simple fact that it's relatively low burden for a third party to pick up and hawk their own branded OpenBook could make this class of subnotebook even more mainstream. They haven't signed an agreement with a US manufacturer yet, but they do have a bunch of international makers onboard, and we should start seeing product in July or August.
Further down the road is the Isaiah chip, which will deliver 4x the performance of the C7 with the same power envelope. It's a complete redesign (though pin-to-pin same as C7 so backwards compatible with older mobos), which Via hopes will help them break into powering more mainstream 12- to 13-inch (and even 15-inch) notebooks. We'll hear more about that, as well as their "close" partnership with Nvidia at Computex in a couple weeks.
VIA Unveils VIA OpenBook Mini-Note Reference Design VIA offers case design and unique 3G and WiMAX wireless customization as well as new ultra mobile processor platform to bring new looks, global connectivity and better performance to the mini-note market Taipei, Taiwan, 27 May 2008 - VIA Technologies, Inc, a leading innovator of power efficient x86 processor platforms, today introduced the new VIA OpenBook™ mini-note reference design targeted at the rapidly growing global market for ultra-portable notebooks. The VIA OpenBook mini-note reference design introduces a host of new innovations, including the next generation of VIA Ultra Mobile Platform, based on the VIA C7®-M ULV processor and the new all-in-one VIA VX800 digital media IGP chipset. Together, this ultra compact, power efficient platform delivers richer computing and multimedia features, including a stunning 8.9" screen and greater video playback support, in a compact and stylish clamshell form factor that weighs just 1kg. The VIA OpenBook features a flexible internal interface for high-speed broadband wireless connectivity that provides customers with the ability to select from a choice of WiMAX™, HSDPA and EV-DO/W-CDMA modules appropriate to their market. In addition, under a unique collaborative approach, the CAD files of the external panels of the reference design are offered for download under a Creative Commons Attribution Share Alike 3.0 license to give customers such as OEMs, system integrators, and broadband service providers greater freedom in tailoring the look and feel of their device to meet the diverse needs of their target markets. "The VIA OpenBook builds on the great success of the VIA NanoBook reference design launched last year, which has been widely adopted by numerous customers around the world," commented Richard Brown, Vice President of Corporate Marketing, VIA Technologies, Inc. "Our unique open approach to case design customization and wireless connectivity flexibility, coupled with the higher levels of performance, further extends VIA's leadership in the global mini-note market." "VIA is a forward thinking company that has realized that sharing enables a healthy ecosystem which helps them provide an innovative product which supports their core business," commented Jon Phillips, Business and Community Manager for Creative Commons. "Making the actual raw CAD files available under a Creative Commons Attribution ShareAlike 3.0 license is a brilliant first step that clearly and legally allows others to emergently build upon VIA's open innovation."

Powered by the VIA C7-M ULV processor and the VIA VX800 digital media IGP chipset, the VIA OpenBook mini-note reference design is a small, 1kg, 8.9" mini-notebook form factor design that supports screen resolutions of up to 1024x600 and high performance VIA Chrome9™ DirectX™ 9.0 3D graphics. Advanced video acceleration for MPEG-2, MPEG-4, WMV9, VC1 and DiVX video formats, a VMR capable HD video processor and 8-channel HD audio make it a highly media rich mini-notebook platform.

The VIA OpenBook mini-note reference design offers unrivaled broadband connectivity options VIA OpenBook Reference Design (camera)though two internal modules, with the first one featuring WiFi, Bluetooth, and optional AGPS connections and the second one offering a choice of WiMAX, HSDPA, or EV-DO/W-CDMA options. In addition, the VIA OpenBook also comes with three USB 2.0 ports, a VGA port, and audio-in/audio-out jacks as well as a 4-in-1 card reader (SD/SDIO/MMC/MS) and a 2 mega-pixel dual-headed web camera.

The VIA OpenBook supports a wide range of operating system environments, including Microsoft Windows Vista Basic, Microsoft Windows XP, and various Linux distributions. The device features up to 2GB DDR2 DRAM and can be equipped with a choice of hard disk drive and solid state storage options.

Featuring a 4-cell 2600mA lithium-ion battery, the VIA OpenBook delivers up to three hours of battery life and measures just 240mm(W)x175mm (D) x36.2mm (H).

For more information, file downloads, video and images of the VIA OpenBook mini-note reference design please visit the VIA OpenBook website here:
www.viaopenbook.com

Enabling Global Broadband Wireless Coverage
The VIA OpenBook reference design has a unique internal interface for the addition of a choice of extended connectivity modules, enabling customers to offer HSDPA, EV-DO/W-CDMA, and WiMAX connectivity options to the their device that are appropriate for their target markets, and to forge deeper relationships with local carriers and service providers, creating new business models for the mini-note segment.

Making Customization More Accessible
The CAD files for the external panels of the VIA OpenBook mini-note reference design are being released under the Creative Commons Share Alike Attribution license, giving customers the flexibility to bring their own innovative style and brand value propositions to the mini-note market segment. Through this flexible approach, customers can reduce product development costs and speed time-to-market. The CAD files can be downloaded from the www.viaopenbook.com website.

About the VIA Ultra Mobile Platform
The VIA Ultra Mobile Platform is centered around the VIA C7-M ULV processor, an ultra power efficient mobile processor available in speeds of 1.0-1.6GHz with a maximum power draw (TDP max) of only 3.5 watts, and idle power as low as 0.1 watt, helping to ensure longer battery life. The number one choice for ultra mobile devices with over 30 global design wins, the most on the market today, the VIA C7-M ULV processor's low profile nanoBGA2 package measures just 21mm x 21mm, enabling device designs with drastically reduced weight, size, and thickness.

The latest generation of VIA Ultra Mobile Platform pairs the VIA C7-M ULV processor with the VIA VX800 digital media IGP chipset, which integrates all the cutting-edge features of a modern chipset's North and South bridges into a single chip package measuring just 33mm x 33mm, for a silicon real estate saving of more than 42% over traditional twin-chip core logic implementations. The VIA Chrome9™ HC integrated graphics processor with DirectX® 9.0 3D graphics provides support for brilliant 3D graphics, while the VIA Chromotion™ CE video display engine offers a stunning video experience through hardware decoding acceleration of MPEG-2, MPEG-4, WMV9 and VC1 video formats.

For more details on the VIA Ultra Mobile Platform, please visit the VIA website at:
http://www.via.com.tw/en/products/ultra_mobile/
[VIA]