With enough ingenuity, nearly anything is possible. Engineers on NASA's Orion crew module have found ways to cut down the number of main weld-points from 33 to just 7 in the latest prototype, dramatically reducing mass by the equivalent of several astronauts.
Engineers practiced on a full-scale barrel piece in August before starting manufacture on the actual spacecraft in September 2015. Image credit: NASA
The next test version of the Orion spacecraft is under construction for Exploration Mission 1. This is the third prototype of the spacecraft built by NASA, each improved by lessons learned during testing of the prior craft. The latest trick reduces main weld points from 33 in the original, 19 in the version flown in the test flight last winter, to just 7 for the latest version currently under construction. The change in assembly procedures is dropping total mass by 320 kilograms (700 pounds). Additional smaller welds will be necessary for start and stop holes left by the welding tools, but I'm seriously impressed they've found a way to streamline the spacecraft so dramatically!
G/O Media may get a commission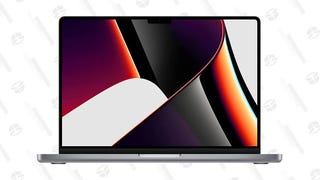 Save $300
2021 14" 1TB MacBook Pro
Just seven main welds hold together the Orion crew capsule. Image credit: NASA
The Orion crew module is made of seven components, large aluminum pieces firmly welded together. The tunnel and docking hatch weld onto the forward bulkhead. The bulkhead houses parachutes which deploy after reentry, and connects to three cone panels, then the main structural barrel, and finally an aft bulkhead holding the heat shield.
Engineers started welding the pressure vessel for Exploration Mission-1. Image credit: NASA/Radislav Sinyak
Before starting welding, engineers carefully prepared each component by cleaning and priming the segments, then outfitting each element with strain gauges to monitor the metal during construction.
An earlier version of the Orion spacecraft after a test flight in December 2014. Image credit: NASA
The test schedule for the Orion spacecraft has recently been revised, with the first crewed launch potentially pushed back until 2023. The next test flight, Exploration Mission 1, is currently anticipated for 2018.
Top image: An engineer welds pieces of Orion's primary structure at NASA's Michoud Assembly Facility in New Orleans. Credit: NASA
---
Contact the author at mika.mckinnon@io9.com or follow her at @MikaMcKinnon.