After Italy temporarily banned ChatGPT and announced an investigation into OpenAI, residents of the country apparently grew interested in VPNs. After the Italian Data Protection Authority announced the ban and investigation, search volume surrounding the VPNs reportedly spiked in Italy—likely in an attempt to research how to circumvent the AI ban.
Sam Bankman-Fried Using a VPN, McDonald's AI Drive Thru Fails, Buzzfeed AI Quizzes Suck | Editor Picks
As VPN provider PUREVPN argues in a blog post, VPNs are a safe way to access parts of the Internet that have been geoblocked—PUREVPN also reported heightened website traffic following the announcement of the ban. A VPN, or "virtual private network," is software that can protect a user's connection to the Internet, and can make it appear as if that user is in a different geographic location than they actually are.
Theoretically, those in Italy could still access ChatGPT during the ban by using a VPN to make it appear as if that user is accessing the artificial intelligence from another location on the planet. After Italian officials announced the temporary ban of ChatGPT, search volume for "VPN" spiked in Italy beginning later that day and has remained at a heightened level throughout the week.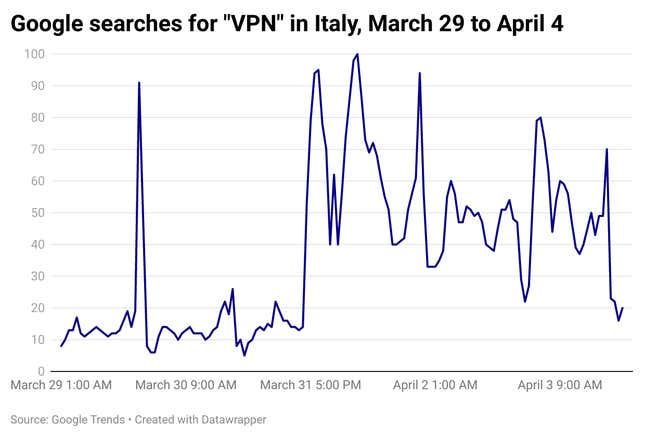 The Italian Data Protection Authority announced its ban of OpenAI's ChatGPT last Friday. Officials were concerned with how OpenAI and the chatbot collect and store user data, and pose that the tech company is breaking the European Union's privacy law. The Italian Data Protection Authority was also unhappy with ChatGPT's tendency to spew incorrect facts as well as a lack of age verification to access the software. Italy's ban is temporary and will be lifted when regulators determine whether or not ChatGPT has complied with the EU's laws.
As the novelty of ChatGPT continues to wear off, issues of privacy, job replacement, and ethics surrounding the AI are becoming more commonplace. ChatGPT was able to trick a human into solving a CAPTCHA code for it, raising questions about how the AI could be used to manipulate humans. The Center for AI and Digital Policy has called ChatGPT unethical, and urged the FTC to open an investigation into the chatbot. Also, 500 top tech experts and Elon Musk are demanding a six month pause on more powerful AI development, claiming that the current AI blitz could pose "profound risks to society and humanity" in a letter.
Want to know more about AI, chatbots, and the future of machine learning? Check out our full coverage of artificial intelligence, or browse our guides to The Best Free AI Art Generators, The Best ChatGPT Alternatives, and Everything We Know About OpenAI's ChatGPT.