Comic-Con ... I can't believe I'm still at Comic-Con. This year's show starts tonight with a preview of all the goodies on the floor, and goes through Sunday. We'll be here, bringing you news, reviews and videos of all the sights and sounds from this nuclear explosion of pop culture geekery. Here's how to find us!
You can follow all our stories here on io9, of course. But you can also follow us on Gizmodo's Twitter, Instagram, and Vine! And we'll be doing some Periscope broadcasts, too. So look out for those in our Twitter feed.
If you're here at Comic-Con, come meet us in person at the io9 panel on Friday night at 5pm, Room 25ABC. We'll be joined by Jane Espenson (Battlestar Galactica, Firefly), Ernest Cline (Ready Player One, Armada) and Javier Grillo-Marxuach (The Middleman, The 100).
---
Contact the author at annalee@gizmodo.com.
Public PGP key
PGP fingerprint: 85E3 8F69 046B 44C1 EC9F B07B 76D7 8F05 00D0 26C4
G/O Media may get a commission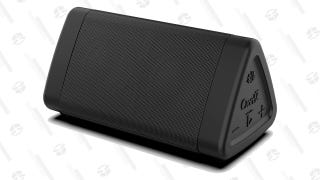 Save 31%
Oontz Angle 3 Portable Bluetooth Speaker