What can the Sharknado franchise do that it hasn't already done? Is there really any place for a whirling vortex of sharks to go? We talked to Sharknado 3 director Anthony C. Ferrante at Comic-Con, and he told us how the Sharknado series is going to jump the shark: with the help of George Washington.
Is AI Moving Too Fast? | Future Tech
Ferrante says he got obsessed with the idea of using the bust of George Washington in this movie somehow, since the opening sequence takes place at the White House. "I kept thinking about it, and I go, 'George Washington Shark Face!' I got obsessed with the idea of a shark with George Washington's face. And it's probably my favorite thing in this whole movie. Usually you have to compromise in the Sharknado movies—it's like, 'oh, we can't do this and that'—but I made sure that happened. It was like, 'We're doing this. If we going over, we're doing this.'"
Did any of the sharks have names? Yes, there's a shark in the second movie that bites off Tara Reid's hand—and it was named Bruce. But how do you have a shark named Bruce, and not give it a chainsaw fin? "That's an interesting idea," says Ferrante. "We might steal that."
"We have four ideas in this one movie, that [each] could have sustained a whole film," says Ferrante. "We do Washington, DC, we do Universal Orlando, we do a roadtrip, and we do something surprising at the end of the movie. We keep kind of mixing up the genres, and I think that's what keeps us fresh. The opening of the movie is White House Down with sharks."
G/O Media may get a commission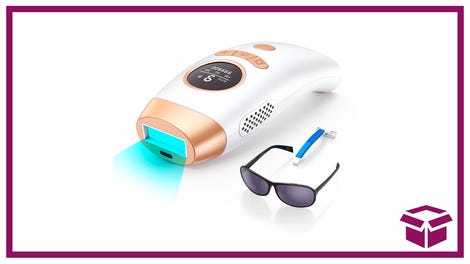 58% Off + Coupon
IPL Hair Removal Device
Ferrante says that star Ian Ziering has started trusting him, ever since they asked him to birth himself out of a shark in the first movie and it worked out. Now he's just gung-ho—"he just throws himself into these roles, each one of these films, with gusto."
What about Sharknado 4? There are still lots of places for the Sharknado series to go, Ferrante insists. He wrote the comic book Archie vs. Sharknado while shooting the third movie, and then started to think he'd gone as far as he could possibly go—but now, he's started to think otherwise. Because as long as people livetweet these movies, and they only cost beer money to make, then they'll keep happening.
Sharknado 3 airs tonight on Syfy.