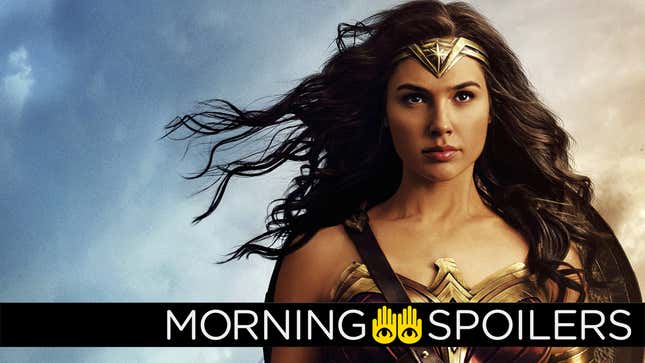 Danny Boyle is officially confirmed for Bond 25. Emilia Clarke has high hopes for David Benioff and D.B. Weiss' Star Wars trilogy. Emily Bett Rickards has heroic hopes for Felicity in Arrow's next season. Plus, new footage from Jurassic World: Fallen Kingdom and The Expanse. Spoilers, go!

Twitter Is Shifting Right | Future Tech



Wonder Woman 2
Domain Name Wire reports Warner Bros. has registered websites for the possible sequel titles Wonder Woman Arrives, Wonder Woman Cheetah, Wonder Woman Lives, Wonder Woman Minerva, Wonder Woman Returns and Wonder Woman Rises, as well as "Wonder Woman" followed by each year of the 1980s. Take your pick as to which could eventually become Wonder Woman 2's real name, but I'm going to lean towards Wonder Woman 1986, for no particular reason.
wonderwoman1980.com

wonderwoman1981.com

wonderwoman1982.com

wonderwoman1983.com

wonderwoman1984.com

wonderwoman1985.com

wonderwoman1986.com

wonderwoman1987.com

wonderwoman1988.com

wonderwoman1989.com

wonderwomanarrives.com

wonderwomancheetah.com

wonderwomanlives.com

wonderwomanminerva.com

wonderwomanpart2.com

wonderwomanpartii.com

wonderwomanreturns.com

wonderwomanrises.com
---
Bond 25
MGM has officially confirmed (though we already knew) Danny Boyle will indeed direct Daniel Craig in his fifth outing as James Bond, set for a US release November 8, 2019. [Variety]
---
The Predator
Speaking with Coming Soon, Shane Black revealed The Predator partly borrows from Black and (Fred) Dekker's unproduced 1988 script, Shadow Company.
Partly yes and partly no. I don't think it's giving a lot away to say that to the extent that this happens in a small town, that it's a small part of the movie. They said well, 'it's set in the suburbs'. Hmm, no (laughter) I mean there's scenes that happen that are set in suburban streets, but the idea that it's some Mahjong club fighting an alien isn't how it's gonna happen.
---
Jurassic World: Fallen Kingdom
The latest TV spot reveals Blue's DNA is central to the creation of the new hybrid dinosaur, the Indoraptor, and the two are destined to duke it out in a child's bedroom five miles from the compound in which it escapes.
---
Christopher Robin
Ewan McGregor is haunted by Pooh and friends on another new poster from Coming Soon.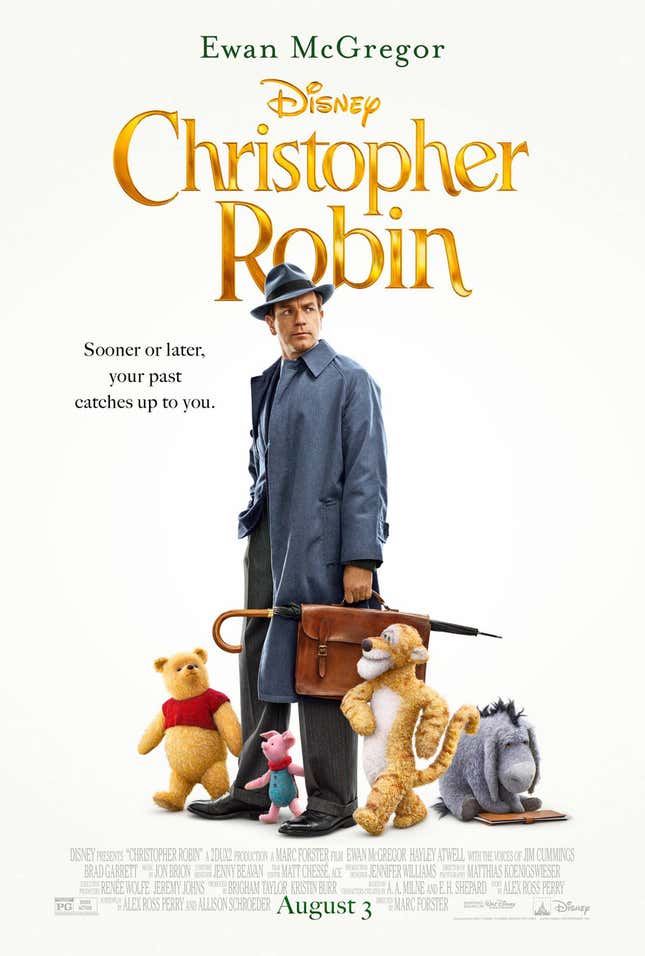 ---
The Benioff and Weiss Star Wars Series
Emilia Clarke anticipates the upcoming series of movies from David Benioff and D.B. Weiss will be "Star Wars on acid."
[They'll bring] what they brought to fantasy as a genre people are appreciating on a much grander scale. Putting all that creativity, all of that skill and all of that intellect into something that already is, or has, so much. I think it's just going to be Star Wars on acid.
---
Upgrade
A gory, red band (and thus pretty NSFW) trailer has been released for Leigh Whannell's upcoming cyborg action film.


---
The Flash
Showrunner Todd Helbing confirmed to TV Guide that season five will introduce (surprise) another new incarnation of Harrison Wells.
When I was up there shooting for the finale, [Tom Cavanagh] and I sat down and started talking about next season and a new character. I think we landed on one that's pretty funny and unique, and I think it will give Tom a lot of meat to chew on.
---
Arrow
Meanwhile, Emily Bett Rickards hopes season seven will have Felicity squaring off against supervillains instead of mothering children.
I don't know if I would be interested in exploring that storyline right now with Felicity. I feel like she deserves a little something more than that, and I don't want that to be taken the wrong way. I'd just be interested in seeing her, I don't know, like, deal with a villain face-to-face for a consistent number of episodes?
[TV Guide]
---
The Originals
Spoiler TV has synopses for June sixth's two-parter, "God's Gonna Trouble the Water" and "The Kindness of Strangers."
THE RETURN TO NEW ORLEANS - Ivy (guest star Shiva Kalaiselvan) reveals some startling news to Klaus (Joseph Morgan) about the dark magic that's been keeping him away from his family. Elijah (Daniel Gillies) turns to some unexpected allies to save Antoinette's (guest star Jaime Murray) life. Danielle Rose Russell, Charles Michael Davis, Riley Voelkel and Steven Krueger also star. Carl Seaton directed the episode written by Bianca Sams & Julie Plec (#507). Original airdate 6/6/2018.

CHAMBRE DE CHASSE - As pressing matters rage on in New Orleans, the Mikaelson siblings find themselves forced to set aside their differences and work together to escape a "chambre de chasse." Joseph Morgan, Daniel Gillies, Charles Michael Davis, Riley Voelkel and Danielle Rose Russell also star. Kellie Cyrus directed the episode written by Beau DeMayo & Carina Adly MacKenzie (508). Original airdate 6/6/2018.
---
Castle Rock
Entertainment Weekly has new images of Bill Skarsgård, Scott Glenn, Sissy Spacek and Andre Holland from the premiere of Stephen King's Castle Rock TV series.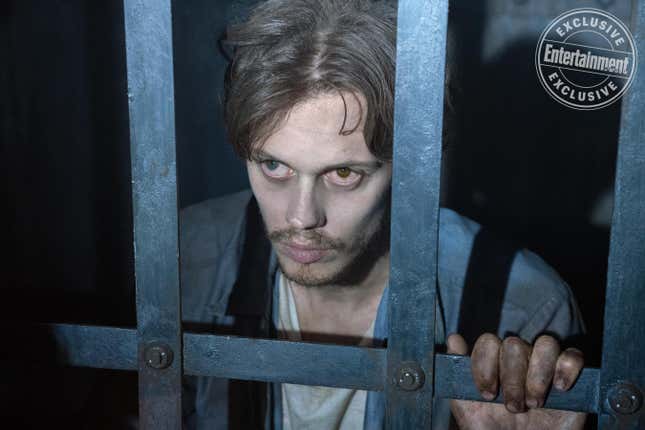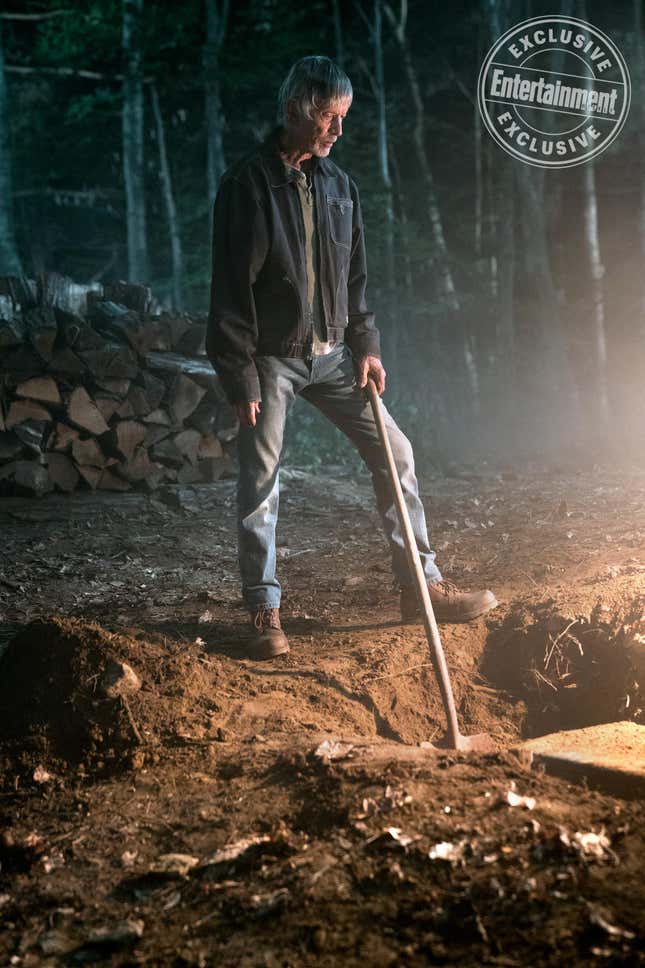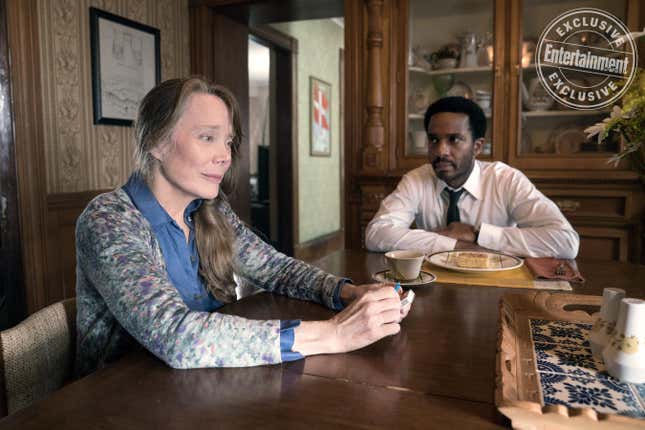 Meanwhile co-creators Sam Shaw and Dustin Thomason's told the outlet they envision Castle Rock as a "Fargo-like series in which each season not only matches King's tone and aesthetic, but also plucks characters and settings directly from his work."

---
The Boys
Production has begun on The Boys, according to director Dan Trachtenberg on Instagram.
---
Jon Favreau's Star Wars
That Hashtag Show reports The Jungle Book production designers Doug Chiang and Andrew L. Jones have boarded Jon Favreau's live-action Star Wars series.
---
The Expanse
Syfy has released a clip from May 30th's episode, "It Reaches Out."


---
Too Old To Die Young
Here's a new trailer for Nicholas Winding Refn's Amazon series about samurais in Los Angeles.
---
Krypton
Finally, Superman's crest disintegrates in a teaser trailer for Krypton's second season.
---
Banner art by Jim Cooke.