The Fantastic Beasts franchise has had its own beast to contend with, after the controversial decision to keep Johnny Depp as the series' antagonist after allegations of domestic abuse from his ex-wife, actress Amber Heard. A few weeks ago, director David Yates decided victim-blaming was his way to respond to the issue; now Harry Potter author J.K. Rowling herself has weighed in. Basically, she's down with Depp, too.

On her official website, Rowling defended keeping Depp in the pivotal role of Grindelwald after Heard's allegations—and Depp and Heard's joint statement last year that "neither party [had] made false accusations for financial gains," something Heard pointed out on Twitter. Here's Rowling's statement in full:
When Johnny Depp was cast as Grindelwald, I thought he'd be wonderful in the role. However, around the time of filming his cameo in the first movie, stories had appeared in the press that deeply concerned me and everyone most closely involved in the franchise.

Harry Potter fans had legitimate questions and concerns about our choice to continue with Johnny Depp in the role. As David Yates, long-time Potter director, has already said, we naturally considered the possibility of recasting. I understand why some have been confused and angry about why that didn't happen.

The huge, mutually supportive community that has grown up around Harry Potter is one of the greatest joys of my life. For me personally, the inability to speak openly to fans about this issue has been difficult, frustrating and at times painful. However, the agreements that have been put in place to protect the privacy of two people, both of whom have expressed a desire to get on with their lives, must be respected. Based on our understanding of the circumstances, the filmmakers and I are not only comfortable sticking with our original casting, but genuinely happy to have Johnny playing a major character in the movies.
I've loved writing the first two screenplays and I can't wait for fans to see 'The Crimes of Grindelwald'. I accept that there will be those who are not satisfied with our choice of actor in the title role. However, conscience isn't governable by committee. Within the fictional world and outside it, we all have to do what we believe to be the right thing.
To be fair, after Yates basically accused Heard of lying, it's nice to finally have someone in the Fantastic Beasts world acknowledge that what's going on is both complex and genuinely unpleasant. But Rowling's response is immensely disappointing, given that she's spoken up for victims of sexual assault in the past.
To call keeping Depp on board "the right thing"—without Rowling explaining why it's "right," or who it's actually "right" for—invites the most cynical of explanations, chief among them that it's in the best interests of the film franchise's box office. That Rowling never mentions Heard or even uses the word "abuse" in her statement alarmingly implies that the only issue she and Warner Bros. had with Depp was that some potential ticket-buyers were upset.
G/O Media may get a commission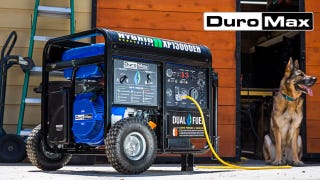 Black Friday Sale
DuroMax Generator Sale
Speaking of Warner Bros., the company also released an official statement defending its choice:

We are of course aware of reports that surfaced around the end of Johnny Depp's marriage, and take seriously the complexity of the issues involved. This matter has been jointly addressed by both parties, in a statement in which they said "there was never any intent of physical or emotional harm."
Along with producer David Heyman, Yates has also released a new, less hostile, but also contradictory statement on the casting:
None of us involved in Fantastic Beasts would ever let our appreciation of talent obscure other, far more important considerations. We recognized the magnitude of the issues raised and understood the strength of feeling expressed. We hoped and strived at all times to be sensitive to both parties. We stand by our decision to have Johnny in the films.
Heard accused Depp six months before the first Fantastic Beasts and Where To Find Them movie came out in November 2016. The studio could've easily replaced him in the film's post-production, considering his super brief role in the first film. After Depp and Heard released their joint statement, the role of Grindlewald could certainly have been recast—and given that magic reveals a different face on the character at the end of the first film, there wouldn't even need to be a continuity problem.
But no.
Depp keeps the role, and Rowling, Yates, and Warner Bros, while tacitly acknowledging the concerns are real, have each found their own justification for not doing a damn thing about it. Yates blamed the victim, Warner Bros. says it's a non-issue, and Rowling just wants everyone to move on, because she's "genuinely happy" Johnny Depp is starring in her new movie. Too bad almost no one else is.
Update: Added a link to Heard's response.