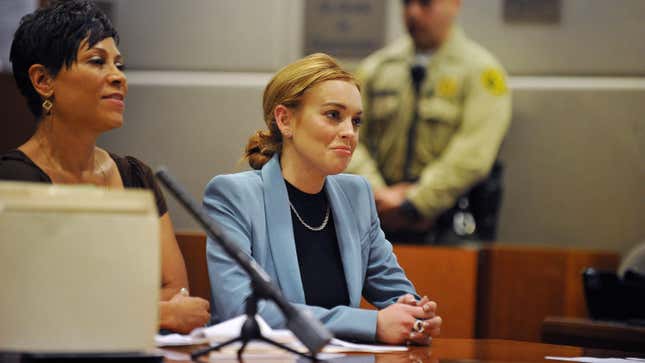 The Securities and Exchange Commission has a message for celebrities eyeing paid deals to promote cryptocurrencies: Disclose you're getting paid, or else.
The SEC revealed on Wednesday that it had charged eight celebrities, including actress Lindsay Lohan, influencer Jake Paul, rappers Lil Yachty and Soulja Boy, singers Akon and Ne-Yo, and more for promoting the tronix (TRX) and bitTorrent (BTT) tokens on social media but not revealing they had been paid for doing so, which is illegal. The regulator claims the celebrities were paid by Justin Sun, the founder of the Tron blockchain, who provided them with specific text to promote the tokens and instructed them not to disclose their compensation.
"Exploring #DeFi and already liking $JST, $SUN on $TRX. Super fast and 0 fee. Good job @justinsuntron," Lohan said in a tweet in February of 2021, for which she was paid $10,000 by Tron through an intermediary, the SEC said.
Sun didn't escape SEC scrutiny, either. The agency charged him and his companies, Tron Foundation Limited, BitTorrent Foundation Ltd., and Rainberry Inc., with offering and selling unregistered crypto assets. The SEC also accused Sun and his companies of engaging in "wash trading," a process during which individuals buy and sell a security almost simultaneously to make it appear actively traded, and for organizing a "celebrity touting campaign" and lying to conceal it.

Gurbir Grewal, director of the SEC's division of enforcement, said in a statement that the agency was neutral about the technologies in the case, but stressed that this was a matter of investor protection.
"As alleged in the complaint, Sun and others used an age-old playbook to mislead and harm investors by first offering securities without complying with registration and disclosure requirements and then manipulating the market for those very securities," Grewal said. "At the same time, Sun paid celebrities with millions of social media followers to tout the unregistered offerings, while specifically directing that they not disclose their compensation. This is the very conduct that the federal securities laws were designed to protect against regardless of the labels Sun and others used."
In a statement on Twitter, Sun, who identifies himself as "His Excellency," likely because he serves as Grenada's permanent representative to the World Trade Organization, said the SEC's claims lacked merit.
"It is no secret that the SEC's regulatory framework for digital assets is still in its infancy and is in need of further development," Sun said. "We are eager to collaborate with governments and regulatory bodies globally that are dedicated to establishing transparent guidelines for regulating and working with the cryptocurrency industry given the important role it can play."
The other celebrities charged were Austin Mahone and Michele Mason (Kendra Lust). Lohan and five of the other celebrities charged agreed to pay more than $400,000 combined in disgorgement, interest, and penalties to settle the charges, the SEC announced. Their settlement does not constitute an admission or denial of guilt. Only Soulja Boy and Mahone didn't settle with the agency.
Click through to learn more about how the celebrities promoted Sun's cryptocurrencies and how much they were paid.