Spoilers are controversial: Peter David backpedaled on his spoiler-phobic posture, and a Heroes scribe is in trouble for Twittering a script pic. But James Cameron's allowed to describe Avatar, Shia LaBoeuf can hype Transformers, and Will Ferrell can spoil Land Of The Lost. Plus New Moon, Supernatural and True Blood.

Avatar:
So James Cameron came to E3 and talked up his decade-in-the-making space epic. It's set on Pandora in the Alpha Centauri star system, in the 22nd century. It's an Earth-like lush planet with thousand-foot trees and beautiful and scary creatures. The natives are the Na'vi, ten-foot-tall blue-skinned humanoids with tiger-like stripes and tails. They live in a primitive society, and they're ferocious warriors when provoked, but harmonious if you leave them alone.
And the story is about a human/Na'vi hybrid, known as an Avatar — this isn't like The Matrix, and the Avatars are not synthetic alter egos. Humans can be linked to Avatar bodies while they're in a coma, so they can live on the planet. Jake Sully (Sam Worthington) is a marine who got wounded in combat, so he gets put into an Avatar. There, he falls in love with a Na'vi girl, and there's smoking hot character action. So Sully has to choose between his new Na'vi friends and the human military-industrial dudes. The movie includes crazy fights with helicopters, crazy/scary military shit, and fantastical monsters like the Banshees, and some others whose name you can't even spell.
So all in all, it sounds similar to the scriptment Cameron put out a million years ago. [Destructoid]
G/O Media may get a commission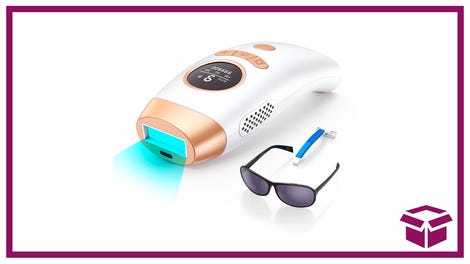 58% Off + Coupon
IPL Hair Removal Device
Transformers: Revenge Of The Fallen:
How is this movie different from the first one? Let Shia LaBoeuf explain:
It's bigger, faster and stronger than what we did the first time. We're blowing everything up. I was just at Holloman Air Force Base, where we blew up an entire town! There are new characters that are interesting. Our banter is fast and it's fun, it's table tennis.
Somehow now I'm picturing ping pong where the ball blows up after every point. And he gives a capsule plot summary:

There's cool stuff that happens to Sam. Sam starts to lose his mind. He starts having visions of his grandfather, Archibald Witwicky, and that's fun to play around with. And recess time with John Turturro [who plays the addled fed constantly at odds with Sam] is always fun….
[IESB]
New Moon:
A set pic shows our first look at Dakota Fanning as Jane. [Shockya]

Land Of The Lost:
Apparently there's a scene where Will Ferrell's character goes off by himself feeling sad, and he has to make amends to the rest of their group of explorers. And the song he plays on the banjo for the rest of the group is actually the original Land Of The Lost theme song. And it sounds like there's a second Matt Lauer scene towards the end of the movie, bookending the one at the start. (The one that's in all the trailers.) And in the ending scene, Lauer tackles Ferrell.
Also, there's a scene where Danny McBride 69s with Chaka. And our heroes eat giant crab legs. [IESB and IESB]
Supernatural:
Yesterday we showed you the Smallville season nine poster, now here's the Supernatural season five poster. Mostly, it's just awesome-looking and will make your desktop happy. But also, it does spell out that season five will be about the Winchester brothers fighting the Devil. (In case you didn't know.) [The ODI]

Chuck:
Zachary Levi wants to do more action, including shooting guns and shit, next season. There will be "catches" to the physical skills he gets from the Intersect. And he offers this somewhat confusing quote:

There will continue to be a lot of tension between Chuck and Sarah, which people love to hate to love, but that's TV, and it's good TV. There will be more love interests that kind of pop in and maybe even at the Buy More, stuff like that.
Heroes:
Hiro's headaches and nosebleeds won't be going away next season — and in fact, they'll be cause for speculation that we'll be losing yet another hero. [E! Online]
True Blood:
Is Lafayette alive? It doesn't sound good. Star Stephen Moyer says "I hope he does come back... but who knows." But on the plus side, there will be lesbianism! Sophie the vampire queen and Sookie's cousin Hadley Hale will end up sucking face. [E! Online]
Bill can't keep his fangs off Sookie, but don't count out Eric, who's always had the hots for her. Boots are knocking all over Bon Temps, and everyone gets a romantic arc. The Fellowship Of The Sun, the cult Jason gets involved in, has a huge dark side. When Bill and Sookie visit Dallas, they stay in a vampire hotel that serves up humans as room service. There will be tons of surprises. And a new creature is in town doing horrible things. [TV Guide Magazine via True Blood.net]
The Vampire Diaries:
Here are a few clips from this new CW show about sexy vampires and their pointy love triangles. [ShockTillYouDrop]
Additional reporting by Alexis Brown.