Months after the release of Guardians of the Galaxy Vol. 2, we're still talking about the film's five end-credits scenes, some of which could have huge repercussions on the Marvel Cinematic Universe moving ahead.
The film is on digital download today, and writer-director James Gunn took the occasion to straighten out some potential misconceptions fans could have about the scenes.
If you haven't seen the movie yet, these are obviously major spoilers.
First up are the two most potentially impactful scenes: the reunion of the original comic book Guardians of the Galaxy (lead by Sylvester Stallone's Stakar) and the cocoon of Adam Warlock. When the film was released, Marvel Studios president Kevin Feige said told me that neither of those would be explored again until at least Guardians of the Galaxy Vol. 3. Some assumed that meant they would absolutely be in Vol. 3, but Gunn clarified that to Cinemablend.
I didn't promise either of those things are coming together in Vol. 3! I am just sowing the seeds for what's going to be in the future of the Marvel Universe. I mean, we saw Thanos how many years ago? You know what I mean? So I want to make clear that I'm not promising those things in Guardians 3.
G/O Media may get a commission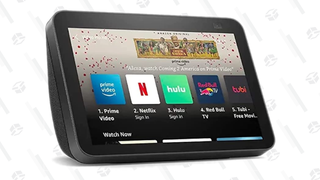 Now, to be fair, no one "promised" it, but the odds are much better than not. Even if they are in the film, Gunn has to say this because the film is still being written, nothing is for certain until it's in theaters, and, most importantly, he doesn't want to have to answer spoiler questions from fans and press for three years. Best to keep everyone guessing and the answers vague. So, despite not promising, I still think both of those things will be in the film.
Then there's adolescent Groot. You see him in the fourth scene, a growing Groot about four feet tall, being very angsty to Star Lord, who has finally learned to speak Groot. Well, that Groot looks very similar to the Groot Marvel revealed in the Avengers: Infinity War footage, and Gunn confirmed to Cinemablend that it is indeed the same Groot.
"That's exactly the Groot we designed for Infinity War," Gunn said. And, when asked if that meant that scene took place around the time of Infinity War, he said "Basically." Which means, even if you haven't seen the Infinity War footage, you have seen a glimpse at the film.
Guardians of the Galaxy Vol. 2 is out now on digital download. It's out on Blu-ray August 22.