Acting is a tough business. Acting like you're an ethereal, centuries-old being innately aware of the turn of the cosmos and with a mastery of time and space? Even tougher! But you too can pull it off if you have an iPhone, a box of wires, and the 13-year professional acting career of Jodie Whittaker. Some of which might be easier to acquire than others.

Speaking to Entertainment Weekly about the fateful path that led to her becoming the first official female incarnation of the galaxy's favorite time traveller, Whittaker discusses the early moments on her path to joining the show, including a meeting with incoming showrunner Chris Chibnall—who had worked with her on the British crime drama Broadchurch—that ended up being a surprise pitch for the actress to join Doctor Who:
It was hilarious because, I was going, 'Are you looking forward to starting your new job?' And he said, 'It's interesting that you bring that up. Would this be a part you'd consider auditioning for?' It took me [just] a second to go, 'I'm throwing my hat in the ring.'
You can catch a few other new images in the video from EW below:
G/O Media may get a commission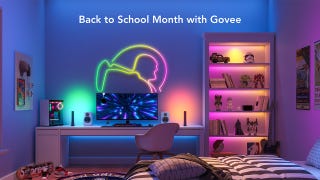 Back to School
Back to School Month with Govee Sale
Whittaker met with Chibnall and other Who producers for initial auditions and then was asked to film herself coming to grips with the most Doctor Who problem of all: the made-up sci-fi nonsense that has served as the basis for the Doctor's vast cosmic knowledge since 1963.
I had an iPhone, wires, in a box. I pretended to defuse something, and I loved it.
I'm willing to believe, in my heart, that she reversed the polarity of the neutron flow, and I will not hear otherwise. The good news is, it won't be that much longer before we get to see just how well the new Doctor can spout off some fictional nonsense as she saves the day: The very first trailer for Doctor Who's eleventh season is set to air during the World Cup final this Sunday, July 15. Here's an extremely brief, non-footage teaser they released today.