Disney might have soured a few people on Edgar Rice Burroughs' classic scifi saga, but John Carter and the world of Barsoom, Mars have been reborn with a new roleplaying game.

Modiphius Entertainment has announced its latest tabletop game, John Carter of Mars: Adventures on the Dying World of Barsoom. Working in cooperation with Burroughs' estate, the pulp-action RPG lets players take on iconic roles like John Carter, Dejah Thoris, and Tars Tarkas (or a made-up character) "as they travel, battle, and romance their way across the wondrous and dangerous world known to its natives as Barsoom." John Carter of Mars launched today on Kickstarter, and it's already nearly tripled its fundraising goal.
G/O Media may get a commission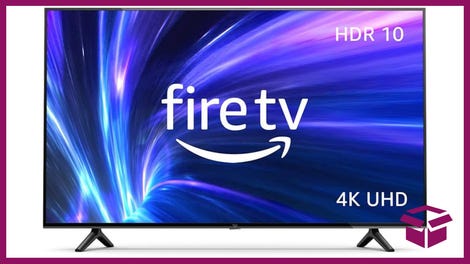 42% Off
Amazon Fire TV 50" 4K Smart TV
Burroughs first developed John Carter and Barsoom in a 1911 pulp serial that was later turned into a novel titled A Princess of Mars. The character was an iconic part of early science fiction, starring in several books that spanned decades. Disney acquired the rights to Burroughs' work and produced a 2012 movie called John Carter, which is now known as one of the biggest box-office flops of all time. A couple of years later, the Burroughs estate regained the movie, television, and merchandising rights, and Modiphius quickly pounced.

"I have always loved the classic planetary romance novels which were the very early forms of science fiction. John Carter of Mars has been close to my heart since I was a kid, so when by chance my co-founder and wife Rita met the Edgar Rice Burroughs Estate I jumped right in asking if we could license the rights," Modiphius co-founder Chris Birch told me. "I think we were at just the right time."
Birch said he's been reading Burroughs' books since he was about eight years old, starting with A Princess of Mars, and said it was always a dream to bring John Carter and other classic pulp fiction characters into roleplaying games (Modiphius also developed a Conan the Barbarian RPG, in cooperation with the Robert E. Howard estate). In fact, Birch said John Carter was one of the reasons he started his tabletop RPG company in the first place.

"I've lived and re-lived John Carter's many adventures time and again in my mind, so when I started the tabletop games publishing company Modiphius it was one of my hopes that I'd someday be able to share this amazing storyline with the roleplaying world," Birch said.
John Carter of Mars' core book is already complete—and now that funding is guaranteed, the company is looking to release the game this fall. Birch added there's also a deluxe Barsoom edition in the works, which will feature a core book that has a leather cover, gold finish, and engraved metal corners, created by a Spanish artist. For more information on John Carter of Mars, including the game's rules, you can visit the RPG's Kickstarter page.
And, for the record, Birch thinks the Disney movie was pretty good.