Idris Elba confirms he will be back for Thor 2. Does the Prometheus soundtrack listing reveal major plot points? Alfonso Cuaron's Gravity gets delayed. A Robert Heinlein classic is getting adapted. Plus what's ahead on the next season of The Vampire Diaries!
Spoilers from here on out!
Top image from Prometheus.
Iron Man 3
Iron Man and Iron Man 2 director Jon Favreau confirms he will still be involved in the production process now that Kiss Kiss, Bang Bang director Shane Black has taken over:
Yeah, down in Wilmington, it's starting to shoot in a couple weeks. I was just talking to Shane Black and Downey and look, I think it's a really smart way to go. After Avengers, you want to start with something really bold and inspired, and if you've ever seen Kiss Kiss, Bang Bang you've seen that when Downey and Shane get together, interesting and unexpected things happen, and I'm happy to see that it's taking a bit of a tonal shift from The Avengers and it's going to be something completely different and exciting, and I'm happy to be a part of it.

What kind of tonal shift? Darker?
No, just a little bit more offbeat, I'd say. Shane and Robert definitely have an original point of view and an original take on the character, and I think it delves deeper into what makes Tony Stark tick and plays on the unexpected original unpredictable quality of the character that I think fans gravitate to.

Are you going to be involved on a daily basis?
I'll be very involved on that one. I've already been talking to them and I feel a tremendous connection to that franchise and that character, and I'm very proud to see it moving forward in a way that re-enforces that story.
---
Thor 2
The Wire and Luther star Idris Elba confirms he will be back as Heimdall:
Yes, I am. I'm definitely going to do my man in a suit film.

What are you most excited about getting to do in the sequel?
I'd just like to get to know him a bit more. Who is Heimdall? He guards the gate. Okay. Is there anything else? I don't know what is in the script because I haven't read it yet. But, the audience has responded to Asgard and wants to know more about who lives there and what it's about. I'm sure, if they do that, Heimdall will be featured more.
G/O Media may get a commission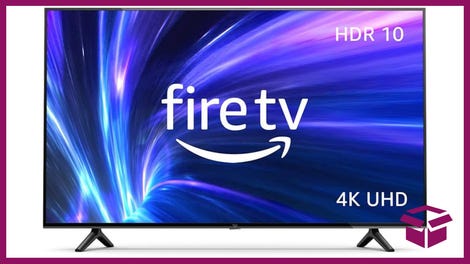 42% Off
Amazon Fire TV 50" 4K Smart TV
[Collider]
---
The Amazing Spider-Man
Here are various images, including promo art and a screenshot. [Coming Soon]
---
Star Trek 2
Peter Weller, Robocop and Buckaroo Banzai himself, offered some cryptic hints about his character, which according to his agent is a substantial role as some sort of villainous CEO:
"I can't tell you. I'm sworn to secrecy. It's something very cool. [On whether he's playing an alien] No. Do I look like an alien to you? No man. Let me put it this way. I have my own ship.
And Leonard Nimoy reveals just why he recently visited the set, and he claims it has nothing to do with all those rumors that he would be making a cameo as the Spock:
I visited the set one day and that started some speculation about whether I was doing the film. It's all speculation. I talk to these people regularly. Zachary Quinto and I have dinner whenever we can. We just had dinner three or four weeks ago. I talk to J.J. about family. His parents and I go back a number of years as friends. I knew them long before I ever met J.J. So we talk regularly. I visited the set one day because I had never seen the bridge. When I was in the last film, none of my work was on the bridge of the Enterprise. So I wanted to see the bridge, and the bridge was extraordinary. It's beautifully designed and put together. We talk. It's great. I expect that it's going to be a gigantic film. Look, I think he's put together a wonderful cast of people. His writers are imaginative and energetic. I think we're going to see another great Star Trek movie.
---
Prometheus
The track listing for The Grey composer Marc Streitenfeld's score has been released, and it certainly looks like the twenty tracks could function as a very basic plot summary of the movie, particularly since early tracks are called things like "A Planet", "Going In", "Weyland" (an aged version of Guy Pierce's Peter Weyland supposedly makes a previously recorded appearance early in the movie), and "Discovery." As such, later track titles like "Earth", "Hello Mommy", "and "Friend From The Past" are pretty intriguing, though perhaps none more so than the final track being called "Space Jockey." Well, other than track eleven, which has the awesomely enigmatic title "Hammerpede." Seriously, "Hammerpede"? Why isn't that the title of the movie? Anyway, here's the full list:
. A Planet
2. Going In
3. Engineers
4. Life
5. Weyland
6. Discovery
7. Not Human
8. Too Close
9. Try Harder
10. David
11. Hammerpede
12. We Were Right
13. Earth
14. Infected
15. Hyper Sleep
16. Small Beginnings
17. Hello Mommy
18. Friend From The Past
19. Dazed
20. Space Jockey
---
Gravity
Children of Men director Alfonso Cuaron's 3D epic about a pair of stranded astronauts, played by Sandra Bullock and George Clooney, who try to make their way to the International Space Station after the space shuttle is destroyed, has had its released date pushed back. Originally set for November 21, 2012, the movie has been pushed to some undetermined date in 2013. [Coming Soon]
---
Total Recall
Here are some new promo photos for Underworld and Live Free or Die Hard director Len Wiseman's Total Recall reboot, which stays on Earth and stars Colin Farrell, Jessica Biel, Kate Beckinsale, and the reliably tremendous Bryan Cranston. [Shock Till You Drop]
---
The Hobbit
Immortals actor Luke Evans talks about his role as Bard the Bowman:
There's slightly more Bard in the movie than is in the novel. Everything in the book is definitely in the film but… [whispers] I'll have my tongue cut out if I say anything else. Let's put it this way – I shoot a lot of arrows…

What's it like, walking onto that set for the first time?
I can't really describe it. When I first arrived I went straight to Bilbo's house. I saw it on the big screen when I was 21 and there I was, walking around it in costume – a very special moment. I'll look back on that in 20 years and hopefully be as proud as I am now.
---
Tron 3
It's still unclear whether a third Tron movie is even happening, but Edward Kitsis, who wrote the Tron: Legacy script with fellow Once Upon a Time showrunner Adam Horowitz, gave this update:
We were actually beginning to write the sequel, and then Once Upon A Time happened and we had to step off. Adam and I have been made co-producers of it, and Disney hired a great writer, Dave DiGilio. We've seen the first draft and we're very excited.
[Collider]
---
Predestination
Ethan Hawke is teaming up again with his Daybreakers directors Michael and Peter Spierig in this loose adaptation of quite possibly the greatest time travel short story ever written, Robert Heinlein's "—All You Zombies." Specifically, the story "chronicles the life of a Temporal Agent sent on an intricate series of time-travel journeys designed to ensure the continuation of his law enforcement career for all eternity. Now, on his final assignment, the Agent must recruit his younger self while pursuing the one criminal that has eluded him throughout time." Presumably, the "to ensure the continuation of his law enforcement career" bit refers to some or all of the wonderfully psychotic twists in the Heinlein story, while the criminal bit is being added to expand the story out to movie length. Here's what the Spierig Brothers had to say in a statement for the movie, which will start shooting in Australia in early 2013:
"Predestination is based on the classic Robert A. Heinlein short story '-All you Zombies-'. No, it's not a Zombie flick. This is one of our favourite short stories for the simple fact that we can confidently say, this is unlike anything you've ever read before, truly original. The short is on many sci-fi lists as one of the greatest short stories of all time, and the mother of all time paradox tales. Heinlein is considered one of the great science fiction masters along side Phillip K. Dick, Isaac Asimov, and Arthur C. Clarke."
---
Sin City: A Dame to Kill For
Here's a teaser poster for the Sin City sequel from original co-directors Frank Miller and Robert Rodriguez. [Film School Rejects]
---
Game of Thrones
Here's a preview for next Sunday's episode, "The Prince of Winterfell."

---
True Blood
Here are some character posters featuring season five's tagline, "Everything Is At Stake." [SpoilerTV]
---
Once Upon a Time
Showrunners Adam Horowitz and Edward Kitsis discuss how the end of season one has planted seeds for season two, some less obvious than others:
Horowitz: Sure. If you want to be able to have a Season 2, you need to find the way to set up your story so you can get there, and you hope that you have an audience that wants it and allows that to happen.
Kitsis: You plant the seeds. Whether they get to grow or not, you still have to plant them. Somewhere around Christmas, we started to say, "Okay, well, they picked us up for a full season. Provided that the second half of the season does well, we should start thinking about Season 2." You just start dropping in little things. You have to because you're telling one large story. What you want is for the audience to go back and say, "Oh, okay, they did set it up." If people go back and watch Season 1 on DVD this summer, they'll see that a lot of the stuff we did this year was set up in episodes way before. We showed the puppets that turned out to be Geppetto's mom and dad, a couple weeks before we even told that story.
---
Grimm
Here are three sneak peeks for this Friday's first season finale, "Woman in Black."

---
Revolution
Iron Man director Jon Favreau directed the pilot for the upcoming NBC series from J.J. Abrams and Supernatural creator Eric Kripke. He describes the post-energy world of the show, which just released its first trailer:
Yeah, we wanted to make it actually hopeful, even though that doesn't sound like it really fits with the dystopian world that postapocalyptic stories are usually set against. But the feeling was that there was a whole younger generation that grew up without power, and that when nature begins to reclaim what we've built — whether it's cities, you see the city of Chicago 15 years after it's been all but abandoned — you see that the plants start to grow back over things and there's a lushness and a greenness, and the green shoots of new life that have come over society. So it's kind of an interesting, different spin on it that was something we really did and planned for and discussed.

How much involvement will you have with the show going forward?
I'm going to be involved. I'm going to be a producer on the show, and I'm as soon as I'm done out here, I'm going to go back and hit the writers room and Eric is going to be breaking stories for the new season with J.J. and myself, and then hopefully either direct or be involved some way for future episodes.
---
666 Park Avenue
Here's the official description for ABC's newly picked up supernatural series:
666 Park Ave. features a young couple (Dave Annabele, Rachael Taylor) who accept an offer to manage one of the most historic apartment buildings in New York City as they unwittingly begin to experience supernatural occurrences that complicate and endanger the lives of everyone in the building. Based on the book by Gabriella Pierce. Lost's Terry O'Quinn, Vanessa Williams, Mercedes Masohn, Robert Buckley and Helena Mattsson co-star; Erik Palladino appears in the pilot.
---
The Vampire Diaries
Executive producer Julie Plec says there's pretty much no way out - Elena is going to become a vampire:
They're going to try to pull out all the stops to try to prevent it when we come back, but I think the writing is on the wall as far as her journey.

In the past, Elena's been very adamant about not wanting that life. How will this affect her?
It's going to affect her in a lot of ways. It changes everything for her. It's not going to be easy. It's going to be a struggle. It's going to illuminate a lot of things about who she is, and it's going to screw with her head and her emotions. It's going to be tough. But the beauty of Elena is now we'll get to see her try to rise above it and be a champion in spite of this. We'll see how hard that is and how long it takes her to become a functioning vampire, if at all.

Given how crazy her life has become and all the supernatural elements in it, was this inevitable for Elena?
Yeah, I think so. Who knows if the books hadn't turned her into a vampire at the end of book one if we would have gone down this road or if it never would have occurred to us to go down this road? That's hard to say. But when [executive producer Kevin Williamson and I] signed on to this project, we did know that, at some point, we would be turning her. It really just was a matter of when. It's definitely the next chapter in her story.
There's more at the link. [TV Line]
---
Tron Uprising
Tron: Legacy writers Adam Horowitz and Edward Kitsis discuss why the animated spin-off Tron Uprising allows them to go deeper into this virtual world:
Horowitz: In writing Tron: Legacy, we had two hours to tell a story and a world that was so exciting and rich to explore. Tron: Uprising has been an amazing opportunity to explore the time between Legacy, when we see Clu overthrow Flynn and Sam's arrival at the beginning, and take that time period and really go out into the Grid and see what happens.
Kitsis: When we wrote the movie, you would see a scene where they would pass through other sectors, and we always wanted to explore one of those sectors. So, for us, Tron: Uprising really explores the Grid, what it means to be a Program, what it means to be a Program going from living under Flynn to living under Clu, and we really get to dig deep into the world. This will allow us to really explore it in a deeper way. Not deeper than the movie, but we really get to explore the little sections of the Grid that we didn't have time to show you.
[Collider]
---
Teen Wolf
Here are some promo photos for the second season of the MTV series that prominently involves both werewolves and lacrosse, yet tragically is somehow not about werewolf lacrosse. [SpoilerTV]
---
Additional reporting by Ben Vrignon and Charlie Jane Anders.