The star of Mad Men might be a serious candidate to play the new Man of Steel. Warner Bros. might have found the right star for Alfonso Cuarón's Gravity. Plus lots of spoilers for Fringe, Chuck, Clone Wars, and more!

Superman Reboot:
Those Jon Hamm rumors are maybe picking up some steam. An inside source says TV's Don Draper is being "seriously considered" for the role, although apparently nobody has met with anybody yet. This should probably all be taken with the standard grain of salt that befits any inside source rumor, but this at least might mean Hamm's age (he's 39 now, and would be in his 40s once the new Superman franchise gets going) isn't automatically disqualifying him from consideration. [TMT]
Gravity:
Although Alfonso Cuarón reportedly really wants Natalie Portman to play the lead - so much so that he's reportedly willing to cut the budget to get Warner Bros. to sign off on the decision - and Portman is apparently currently considering the offer. However, the studio may want someone with even more star power. Sandra Bullock has reportedly emerged as the studio's first choice to take on the role, which does make a great deal of sense, at least from a financial perspective - after her Oscar win, she's one of the very few actresses in Hollywood on the same level as original intended star Angelina Jolie. [/Film & CinemaBlend]
G/O Media may get a commission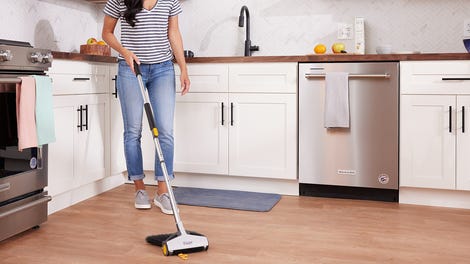 BOGO 50% Off
Flippr - BOGO 50% Off
Alien Prequel:
Gemma Arterton clarified the recent, apparently contradictory casting rumors by saying she will be meeting with Ridley Scott to discuss a role in one of his upcoming movies. That only means there's about a 1 in 6 chance it's for the Alien prequel, because Scott is also developing The Kind One, Stoker, a Gucci biopic, The Wolf of Wall Street, and, of course, an adaptation of the board game Monopoly. Arterton does say she'd love to be in the prequel, for whatever that might be worth. [Entertainment Weekly]
Let Me In:
And a bunch more promo photos are out: [IGN]

Devil:
Co-director brothers John and Drew Dowdle explain how they shot different parts of the movie:
John: One thing we learned from Quarantine is how difficult subjectivity is. If you're in one place, moving through a space, that's a powerful first-person thing. When you're in this elevator in Devil, we tried to show one character and then what they were seeing and it places the audience in the elevator and it saved us from doing 500 shots in just this single elevator.

Drew: When we're outside of the elevator we tried to shoot in a more objective style. The audience won't notice the difference in styles, probably, but you'll feel it.
They also say about 36-40% of the movie is just in the elevator. [ShockTilllYouDrop]
The Bay:
Barry Levinson's environmental science fiction movie, which was previously known as Isopod has started filming in Georgetown, South Carolina, including a big scene on a highway bridge. There's also plans to film a fake Fourth of July Festival, and some hospital scenes. [The Sun News]
Fringe:
Here's a new promo for the season premiere, "Olivia": [SpoilerTV]
The DVD commentary on the season two finale suggests William Bell only "apparently" died, and the showrunners very much want to lure Leonard Nimoy out of retirement for more episodes. [@HercSpoils]
And a video of a truly insane stunt. It gets good in the final ten seconds or so: [SpoilerTV]
Chuck:
SNL alum Ana Gasteyer will reportedly appear in the seventh episode, "Chuck vs. The First Fight." She will reportedly play Dasha, "a ruthless operative for the nefarious Volkoff organization" who specializes in torture with small implements. [Fancast]
NBC has released a short synopsis for episode four, "Chuck vs. the Suitcase":
When Chuck (Zachary Levi) and Sarah (Yvonne Strahovski) go undercover in Milan, Chuck realizes the "Achilles' Heel" in their relationship, but must set personal issues aside for the mission. Meanwhile, Morgan (Joshua Gomez) recognizes a fatal flaw that compromises the new Buy More. Elsewhere, Casey struggles to put down roots in Burbank.
[KSiteTV]
Star Wars - Clone Wars:
A whole bunch of videos have been released promoting season three. Check them out:
And a couple awesome pics:

Eureka:
The first half of the season has ended, but the show will be back in December with a special holiday episode. Here's the promo: [SpoilerTV] Click to view

Haven:
Here's a promo for the tenth episode, "The Hand You're Dealt": [SpoilerTV] Click to view

This interview with star Emily Rose includes some general discussion about where the show is headed, plus the possibility of a romance between Nathan and Audrey: [SpoilerTV]
Sanctuary:
The first promo for season three is out: [SpoilerTV] Click to view

The show reportedly returns on October 15, and will air in its old Friday 10pm slot. [TV Guide]
Smallville:
Aquaman actor Alan Ritchson says the show will get a lot darker this season, and his character in particular:
"Aquaman is such a bubble-gummy type of character [who] doesn't get a lot of respect as a superhero, so to be able to come and play a darker side is going to be a lot of fun. He's a limited character-as far as needing a lot of water around-but there are ways to justify it. Plus, I like to think of him as quite a cool superhero, and having the chance to go back for the final season [of Smallville] is huge."
V:
Jane Badler says she didn't just have the role of Diana 2.0 handed to her - she had to beat out a lot of other actresses to get the role. She describes how her daughter Anna has imprisoned her, and she admits she will be bringing a bit of the old Diana performance to the new role:
"I'm still the way I've always been - lots of hair and eyes. A bit Raquel Welch-ish. I'm the queen in exile, locked away in a dungeon for 15 years. It's mother abuse!"
[TV Guide]
The Gates:
Here's the promo for the first season finale: [SpoilerTV]
No Ordinary Family:
ABC has released synopses for the show, as well as for the pilot episode. Here's the overall summary:
The Powells are about to go from ordinary to extraordinary. After 16 years of marriage, Jim (Michael Chiklis, "The Shield," "Fantastic Four") feels disconnected from his workaholic wife, Stephanie (Julie Benz, "Dexter"), and two teenage children, Daphne (Kay Panabaker, "Summerland") and JJ (Jimmy Bennett, "Star Trek"). To encourage family bonding time, Jim decides the family will join Stephanie on her business trip to South America. When their plane crashes into the Amazon River, they barely enjoy a moment to celebrate their survival before returning to the grind of everyday life. But they will soon realize that their lives have been forever changed. Each member of the family starts to show signs of new, unique and distinct super powers. Will their newfound abilities finally bring them together or push them further apart?
And here's the synopsis for the pilot:
On the premiere episode, "Pilot," the Powell family must learn to deal with the super powers each has mysteriously acquired after the crash of their plane in the Amazon River. Jim discovers that he has the power of super strength and immediately feels a new sense of purpose and empowerment. With the aid of his best friend and confidant, George, he sets his sights on becoming a hero. Stephanie struggles to balance her family life with working 80 hours a week as an award-winning scientist, and after developing the power of speed, she can now move effortlessly through her daily responsibilities. Always the scientist, Stephanie immediately questions the phenomenon and, with the aid of her lab tech, Katie, the two begin to research the mystery behind the powers. For 16-year-old Daphne, she turns telepathic and hears other people's hopes, dreams, fears and joys, whether she cares to or not. And 14-year-old JJ struggles constantly to satisfy his parents and teachers as he grapples with a learning disability and bad grades. But he suddenly finds his mental abilities strengthened to a super genius level.
[KSiteTV]
Here are new interviews with the children, Kay Panabaker and Jimmy Bennett, plus costar Romany Malco: [SpoilerTV]
Finally, the show will be shown twice during its premiere week. After the Tuesday night premiere on September 28, the show will air again on Friday, October 1. [KSiteTV]
Additional reporting by Mary Ratliff and Charlie Jane Anders.