As far as we know, the pilot for the S.H.I.E.L.D. TV series hasn't finished filming yet — but Joss Whedon is already working on scripts for the following episodes, according to ABC TV President Paul Lee. Lee told Crave Online's Fred Topel that the network is hoping Whedon will be involved in the day-to-day running of the TV show as much as possible, even as he works on Marvel films and ramps up for The Avengers 2 — they're shooting on Los Angeles, at least on the pilot, so Whedon can be present as much as possible. And they're coordinating his schedule with Marvel Studios, so he can be involved on an ongoing basis.
Lee hasn't seen the pilot yet, but the network has "fast-tracked" it, and they're "hopeful that [it] goes to series." On a panel at the Television Critics Association, he added that "the script's great."
And talking to Topel, he said S.H.I.E.L.D. would have a fairly high budget, similar to Once Upon a Time:
On the one hand, we have to make shows that can sustain for many, many years and we'd love to see 'S.H.I.E.L.D.' go not just from pilot but to series, and not just from series but to last a long time. We're a long way from that. We'd love to do that and we're able to be much more ambitious on television because of the technology available. At the same time, look, we are ambitious with the show and we're certainly investing to the levels of 'Once Upon a Time' and that's an ambitious show.
And Lee described the show in a way that makes it sound like classic Whedon:
The truth about Joss is he has some great relationships in it so there are a lot of really funny male/female relationships that go through it. But it's also Joss too and there's a lot of action.
G/O Media may get a commission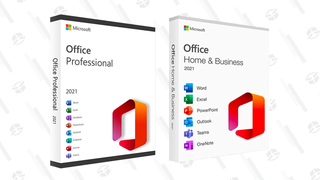 89% off
Microsoft Office Professional 2021 Lifetime License
Tons more details at the link. [Crave Online]