This beautiful photo of a wolf jumping over a fence elicited the usual rabble of "fake!" claims when it won a prestigious wildlife photography competition. The photographer denies the claims, but he's just been stripped of the award.
Unusually, nobody doubts that it's a real wolf (as opposed to some sort of photo manipulation)—the controversy is that the wolf pictured may in fact be a tame wolf by the name of Ossian. The evidence: It's an exceedingly rare species, hardly ever seen in the wild; a wild wolf would be more likely to squeeze through the fence than leap over it; and, um, it looks like Ossian (I guess there are people out there who can tell wolves apart; I can barely tell that it's not my neighbor's dog). Jesus termed it "the ultimate FAKE internet whining."
The judges for the Natural History Museum have decided after awarding this photo the top prize that the wolf pictured is in fact a tame specimen, which breaks the rules of the competition.
Jim Brandenburg, a judge and a wildlife photographer with 45 years experience of taking pictures of wolves, marvelled at the image of the animal, captured so clearly and apparently hunting a farmer's livestock. He declared it "a masterfully executed moment", but having studied pictures of Ossian and Rodriguez's image, he is now "99.9%" sure it is a tame wolf, according to Carwardine.
G/O Media may get a commission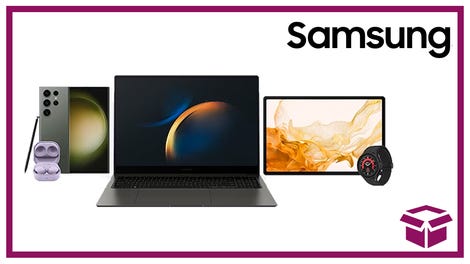 24 hour deals
Discover Samsung - Daily Deal
So, internet, you win this round. Sort of. [The Guardian, thanks to everyone who sent this in!]