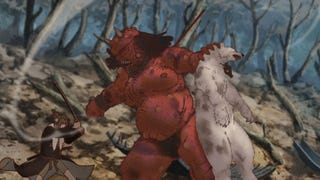 ELEVEN ARTS and Sentai Filmworks has just announced that Short Peace, an animated collection of short films compiled by Katsuhrio Otomo, will be released in approximately 45 theaters across the US starting April 18. Plans for a Canadian release are aiming for May 2014.
Short Peace is an anthology of four animated films from Japan's most acclaimed anime creators, such as Shuhei Morita's Possessions, an Academy Award nominated film about a traveler who is confronted by strange spirits at a derelict shrine. Another of the films is called Gambo and is the story of "a mysterious white bear defend[ing] the royal family from the predations of a red demon." Gambo is directed by Hiroaki Ando with character designs by Neon Genesis Evangelion's Yoshiyuki Sadamoto. The third film is A Farewell To Arms, lead by Mobile Suit Gundam's Hajime Katoki. This story is an action-packed science fiction romp that takes place in a post-apocalyptic Tokyo and involves battling robotic tanks. Finally, Otomo's short Combustible tells a tale set in ancient Japan that has romance, firefights, and honor.
Information on the the screening locations can be found on the ELEVEN ARTS' website.
[via scifijapan.com]