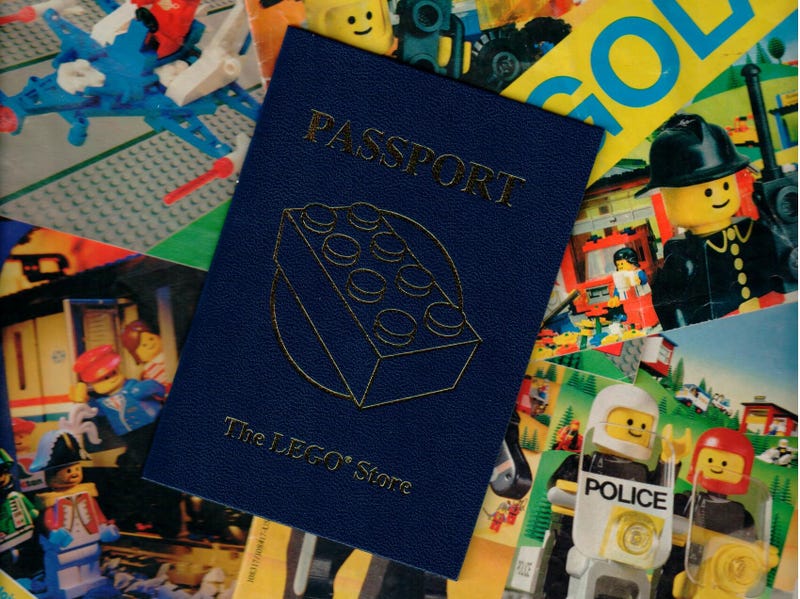 During the monthly mini build last week, Lego brand stores began to hand out this free new giveaway which should delight AFOL and child alike. This Lego store passport has a cover that mirrors an actual passport with gold embossed printing and a 2x4 brick on the front. Open the cover and it's all very official.
The Secretary of The LEGO® Stores hereby requests all whom it may concern to permit the citizens of the LEGO named herein to pass without delay or hindrance and in case of need to give all lawful aid and protection.
Inside the 12 page passport, there are places to get the visa stamps that each store has been provided.
I do always make it a point to visit the Lego store in my travels if there is one close by. This will be a wonderful keepsake for anyone who might do the same and pop into different stores on their journeys. There are also places in the book where the Lego store can stamp for participation in the free mini builds or Lego club meetings that they have in the store each month.
Now if I can get the Sikkerhedskontrollen in Billund to stamp this thing in addition to my actual passport, it can truly be complete.
---
You're reading Leg Godt, the blog with the latest Lego news and the best sets in the web. Follow us on Twitter or Facebook.