Ken Denmead, editor of Wired's Geek Dad blog, joins us to discuss Nerf weaponry, the balloon boy hoax, and how to raise the next generation of mad scientists.
Father and daughter photo by Cayusa.

Geek's Guide to the Galaxy is hosted by John Joseph Adams and David Barr Kirtley.
You can download the MP3 for this episode here, subscribe to The Geek's Guide to the Galaxy podcast feed here, and browse other episodes here.
This episode includes:
Part 1: Interview with Ken Denmead (1:23)
Topics covered: Ken's origin story, getting involved with the Geek Dad blog, the Geek Dad books, the balloon boy hoax, moonbots, raising geeky kids, favorite science fiction, are we too dependent on gadgets?, a Geek Dad movie?
G/O Media may get a commission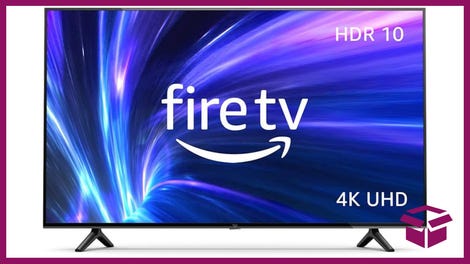 42% Off
Amazon Fire TV 50" 4K Smart TV
Part 2: Dave and John Discuss Whether We're Living in a Simulated Reality (27:42)
Topics covered: Theoretical physicist Jim Gates wonders if we're living in the Matrix, techno-immortality, self-aware computer code vs. brains in vats, movies that question reality, Dark City, the Matrix, Idlewild, Star Trek: TNG, can a long-running story all turn out to be a dream/simulation?, Philip K. Dick, Nick Bostrom, feasibility issues with fake realities, detecting glitches, The Lathe of Heaven
Thanks for listening!
John Joseph Adams is an anthologist, a writer, and a geek. He is the bestselling editor of the anthologies Brave New Worlds, Wastelands, The Living Dead, The Living Dead 2, By Blood We Live, Federations, The Way of the Wizard, and The Improbable Adventures of Sherlock Holmes. Forthcoming anthologies include The New Adventures of John Carter of Mars (Simon & Schuster, 2012), Armored (Baen, 2012), and The Mad Scientist's Guide to World Domination (Tor, 2012). He is a 2011 Hugo Award-nominee for Best Editor (Short Form), his books have been nominated for the World Fantasy Award, and he has been called "the reigning king of the anthology world" by Barnes & Noble.com. He is also the editor of Lightspeed Magazine and Fantasy Magazine. Find him on Twitter @johnjosephadams.
David Barr Kirtley has published fiction in magazines such as Realms of Fantasy, Weird Tales, Lightspeed,Intergalactic Medicine Show, On Spec, and Cicada, and in anthologies such as New Voices in Science Fiction,Fantasy: The Best of the Year, and The Dragon Done It. Recently he's contributed stories to several of John's anthologies, including The Living Dead, The Living Dead 2, and The Way of the Wizard. He's attended numerous writing workshops, including Clarion, Odyssey, Viable Paradise, James Gunn's Center for the Study of Science Fiction, and Orson Scott Card's Writers Bootcamp, and he holds an MFA in screenwriting and fiction from the University of Southern California. He also teaches regularly at Alpha, a Pittsburgh-area science fiction workshop for young writers. He lives in New York.
Friend us on Facebook and follow us on Twitter. If you enjoy the show, please consider making a donation via PayPal and/or signing up for a free trial with our sponsor, Audible.com.