Lea Thompson has a bold plan for a Howard the Duck reboot. There's a glimmer of hope for Lucifer's future, courtesy of Amazon. Lewis Tan teases a Bat-family role at DC. Plus, new pictures from Cloak & Dagger, and a new look at the Supergirl season finale. Spoilers, away!



Marvel Phase 4/Ms. Marvel
Speaking at the Produced By Conference, Kevin Feige stated he "can't promise" future Marvel movies will be directed exclusively by women, but "a heck of a lot of them will."
I cannot promise that all 20 Marvel movies will have female directors but a heck of a lot of them will. Agencies are sending more female directors than men for Marvel directing jobs.
Feige also revealed Phase 4 will focus on "different incarnations of characters we know," further hinting at a future Ms. Marvel movie starring Kamala Khan.
We're doing Captain Marvel right now. Captain Marvel's shooting right now with Brie Larson. Ms. Marvel, which is another character in the comic books, the Muslim hero who is inspired by Captain Marvel, is definitely sort-of in the works. We have plans for that once we've introduced Captain Marvel to the world.
We wanted to get Captain Marvel out there first so that there is something for a young Muslim girl to get inspired by.
G/O Media may get a commission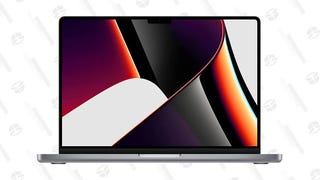 Save $300
2021 14" 1TB MacBook Pro
[/Film]
---
Howard the Duck
In a recent interview with The Inquistr, Lea Thompson — the original Beverly Switzler, herself — revealed she's meeting with Marvel to pitch a brand-new Howard the Duck movie. If everything goes to plan, Thompson will also direct the ornery, alien duck in his own reboot.
Thompson: Oh my god, from your lips to God's ears. I don't know. To tell you the actual truth, I am going to Marvel to pitch 'Howard the Duck,' a new movie.

Inquisitr: Really?

Thompson: Uh-huh.

Inquisitr: Wow.

Thompson: In like three weeks. I want to direct the 'Howard the Duck' remake [laughs]. Why not dream big, right?

Inquisitr: Absolutely!

Thompson: I'm into it.
---
Undisclosed DC Property
Holding a stack of Batman comics, actor Lewis Tan (Deadpool 2, Iron Fist) revealed he's slated to appear in an adaptation of an upcoming DC property.


---
Incredibles 2
In light of the Disney/Marvel merger, Fandango asked Brad Bird if an Incredibles/Avengers crossover movie was in the cards. Short answer: "No."
At Pixar we've always felt like Marvel is Marvel, and Pixar is Pixar, and Lucasfilm is Lucasfilm. And they serve everyone better, including Disney, if they're separate. If you start crossing them too much it's like when you blend too many colors together, it starts turning into mud. So, that may make a marketing guy's mouth water but I don't think it makes artists excited.
---
Ant-Man & The Wasp
Empire has two new images of Giant Man and The Wasp.
Meanwhile, Marvel recently shared the film's IMAX poster on Twitter.
---
The Meg
A 90-foot Megalodon terrorizes Fan Bingbing and a small dog in the latest TV spot.
---
Westworld
Variety confirms Sela Ward has joined the cast as a later version of William's wife, Juliet. Ward will make her debut in next week's episode, "Vanishing Point."
---
Tell Me a Story
Paul Wesley is the latest actor to join Kevin Williamson's "dark fairy tale thriller" as Eddie, "a derelict and troubled individual whose petulance is fueled even more by his problems with drugs and alcohol." [Deadline]
---
The Outsider
Deadline reports Jack Bender and Marty Bowen are producing a ten-episode limited series adapting Stephen King's latest novel, The Outsider. Richard Price (Mad Dog & Glory, The Color of Money, Clockers) is slated to write.
---
Lucifer
Speaking to Deadline, Amazon Studios head Jennifer Salke revealed that the company is very interested in reviving Lucifer for a fourth season:
We were talking about Lucifer. I'm not sure where we are on that. I know that international, especially the UK group, was really bullish on that show, I haven't checked in on that today, but I heard conversations were ongoing on that yesterday.
---
Fear the Walking Dead
Spoiler TV also has word Fear the Walking Dead returns on August 12 with the final eight episodes of season four. [Comic Book]
---
Away
Stealing some of Pale Blue Dot's thunder, Netflix has ordered a new series detailing the love lives of astronauts on Mars from executive producer Matt Reeves. [Coming Soon]
---
Cloak & Dagger
KSiteTV has images from the next two episodes of Cloak & Dagger, "Stained Glass" and "Call/Response." Head over there to see the rest.
---
The Outpost
KSiteTV also has the poster for Dean Devlin and Jonathan Glassner's new CW series starring Jessica Green as Talon, a vengeance-driven survivor hunting down members of the fanatical religious order who killed her family.


---
The 100
Octavia and Bellamy butt heads in a clip from June 19th's episode, "Acceptable Losses."
---
Supergirl
Finally, Supergirl may be forced to reevaluate her ethics in the trailer for "Battles Lots and Won," the season three finale.
---
Banner art by Jim Cooke.