Find out how Avengers 2 will come out of a whole new raft of solo superhero movies. Chloe Moretz talks Dark Shadows and the Carrie remake. James Cameron still hasn't abandoned Battle Angel Alita. New videos for Brave, Men in Black 3. Plus intriguing spoilers for the Once Upon a Time finale!
Spoilers from here on out!
Top image from The Amazing Spider-Man.
The Avengers
In what has to be the single least surprising announcement ever, Disney CEO Bob Iger says he wants to move ahead with a sequel to that movie that made $200 million last weekend:
"The Avengers isn't just a film. It's a franchise from our perspective. Obviously, it was helped a lot by the success of the 'Iron Man' movies and of 'Thor' and 'Captain America'. From 'The Avengers' we get a chance to make 'Thor 2' and 'Captain America 2' and 'Iron Man 3' and hopefully another 'Avengers' movie. So this one film that is immensely successful... is going to get a number of other films and franchises...We have an ability to leverage what was a very fun film done by a great group of filmmakers into something much bigger for the company," he continues, "and the effect will be prolonged and that's very, very exciting for us."
[CNBC via Coming Soon]
---
The Amazing Spider-Man
Here's a pair of new photos of Andrew Garfield as Peter Parker and Emma Stone as Gwen Stacy. [Coming Soon]
G/O Media may get a commission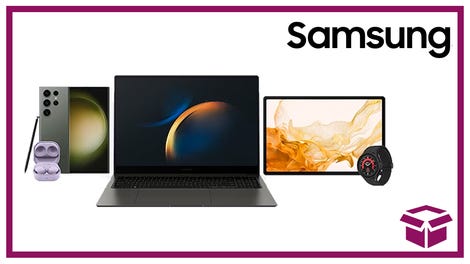 24 hour deals
Discover Samsung - Daily Deal
---
Battle Angel Alita
Although James Cameron recently seemed to swear off any future non-Avatar films, he has now said that this long-simmering adaptation of the manga about a cyborg is still a definite possibility:
"No. I still love that project. But Battle Angel is not going to happen for a few years."
[/Film]
---
Dark Shadows
Let Me In and Kick-Ass actress Chloe Moretz discusses her role as Carolyn in Tim Burton and Johnny Depp's latest:
In this, she doesn't want to be part of the family and has a very dark secret. She's a very special character. Carolyn is this young Woodstock-type girl who's all about free love and open but, at the same time, she's dealing with more stuff than anyone can even imagine. She's not just going through the transitional phase of 15, but she's dealing with stuff that no one can understand.
She also confirms that her character performs with Alice Cooper, something she calls the highlight of her career. [Shock Till You Drop]
---
Carrie
Chloe Moretz also discusses her upcoming title role in Boys Don't Cry director Kimberly Peirce's new adaptation of the Stephen King story:
I start that June 1st. I can't really say much about it, but keep an eye out. I'm doing a lot of pre-production. You can check out Kimberly Peirce's Facebook page. She's keeping everyone updated on what I'm doing...It's going to be very well done. I don't want to jinx it, but she's is a genius, genius, genius director. I would never do it with someone that I don't trust. I trust her more than a lot of the directors I've worked with. She's the right woman for the job...For Carrie, I'm actually not looking at the original even though De Palma's movie was one of the best movies ever made. It's completely iconic and I'm proud to be able to be doing a retooling of it. We're kind of going off the book. It's darker and much more psychological. More Black Swan. You're really looking into her mind and it really looks into the relationship of Margaret and Carrie. It's set in modern time, so it's a lot different.
---
Kick-Ass 2
Apparently Kick-Ass artist Jon Romita, Jr. is way more reliable when it comes to sequel talk than Kick-Ass writer Mark Millar, because Romita's recent statements that a sequel is underway are reportedly true. Specifically, Universal is said to be close to signing Cry Wolf writer-director Jeff Wadlow to direct the sequel, working from his own screenplay. This is reportedly being done with the full support of original director Matthew Vaughn, who is now moving onto the X-Men: First Class sequel, and original stars Aaron Johnson, Chloe Moretz, and Christopher Mintz-Plasse will soon enter negotiations to return. The film would shoot this summer for an early 2013 release. [Deadline]
---
Brave
Here's a hilarious new video for Pixar's Scottish fantasy movie, in the form of a fake fashion commercial. [iTunes Movie Trailers]
---
Men in Black 3
Here's the latest TV spot. [Coming Soon]

---
G.I. Joe: Retaliation
Here's the latest poster. [/Film]
---
Resident Evil: Retribution
Here's a poster for the fifth Resident Evil movie. [Coming Soon]
---
Fringe
Here's an interview with John Noble and Leonard Nimoy in which they discuss the ever evolving relationship between Walter Bishop and William Bell. [TV Line]

Here's another trailer for this Friday's finale, "Brave New World: Part 2." [TV Guide]

---
True Blood
Here's a first look at Law & Order: SVU star Christopher Meloni, who is joining the show this season. [E! Online]
New cast addition Scott Foley, who plays an army veteran named Patrick who reunites with his old friend Terry, discusses their storyline in season five:
"Most of the time we are out in the greater 50 states tracking down other members of our platoon trying to get some closure to this event that happened over in Iraq. [There's] a lot of running and fighting and jumping. There's a lot of physicality."
[TV Line]
---
Once Upon a Time
Showrunners Adam Horowitz and Edward Kitsis discuss the finale, including how Emma and Regina team up to save Henry:
Kitsis: Well, what we can say about it is they're still enemies and at odds, but they now have found a common purpose throwing them together in the finale, and it's an uneasy alliance. The antagonism between the two of them that started in the pilot continues to grow and boil in the finale.

Does Henry's situation affect anyone else besides Emma and Regina?
Horowitz: I think what's interesting is that it affects everyone, in a way. In this season, Henry — by bringing Emma into town — touched everyone's lives in a real and meaningful way, in that he is a true believer and believes he can help these people. Him being in jeopardy definitely has an effect on everyone.
They also discuss whether Emma will finally accept the seemingly impossible truth that all these fairy tales are real:
Horowitz: I would seriously say that question gets asked and explored.
Kitsis: We've been building it in the last two episodes particularly, exploring the nature of Emma's relationship to the town and what's going on with it, and that intensifies to a degree.
Horowitz: Obviously if [someone] came to you and said, "Hey, you're the daughter of Snow White and Prince Charming, you need to save everyone from this curse," you'd think they were crazy. For us, we really wanted to earn [Emma's] belief and earn her arc based on who she is as a character and the way she grew up. We understand that there's a frustration, but there's also a reality and we think that the finale will really explore that.
Kitsis: It's not easy for Emma, just like it wouldn't be easy for any person from our world to deal with this kind of idea. One of the things we're excited about with the finale is really ratcheting up the intensity on her.
There's still more at the link. [EW]
Elsewhere, Kitsis discusses Jamie Dornan's return appearance in the finale:
"I can say that it is one my favorite reveals of the entire year, and to spoil it would be so heartbreaking. We moved heaven and earth to get that man from London. Or, we put him on a plane."
The fact that his return is such a huge reveal might well suggest he will be back not just as the Huntsman, but also as the seemingly dead Sheriff Graham. [TV Line]
---
Grimm
Here's a pair of sneak peeks for this week's episode, "Big Feet." You can also check out another sneak peek at the link. [TV Line]

---
Being Human (US)
Here are some early details for season three:
Being Human is time jumping a year into the future. Nora is definitely in the mix. She'll be helping Josh locate Sally. But will come across some trouble of her own when she clashes with the wolf twins' father.
---
The Secret Circle
The show reportedly is not on any of the CW's schedules for the 2012-2013 TV season, and it's generally considered as good as cancelled. Meanwhile, the network's genre pilots Arrow, Beauty and the Beast, and The Selection are all reportedly likely to get season orders. [SpoilerTV]
And on that cheery note, here's a sneak peek at what is increasingly looking like the series finale, "Family", which airs tomorrow night. [TV Guide]

Here's an introduction to the episode from executive producer Andrew Miller. [KSiteTV]

---
Additional reporting by Jennifer Griffith-Delgado.