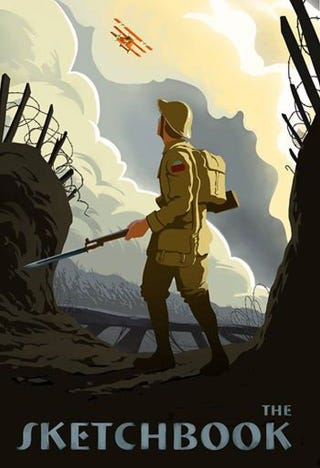 It's a well known fact that World War I is full of untold stories, but one animator is trying to tell at least one more. Chris Williams, an animator who has worked on movies like Wreck It Ralph and Epic and supervised Cloudy With A Chance Of Meatballs, has a new Kickstarter. If it's funded, Williams and a team of accomplished animators from all the best studios out there will work to bring The Sketchbook to life.
Inspired by the art of George Pratt's ENEMY ACE, The Sketchbook will tell the story of a 15-year-old kid who joins the army in an attempt to reunite with his father. His story will be told on the pages of an artists' sketchbook that the boy meets on the front-lines. It'll first be animated in CG but will be touched up with traditional, hand-drawn animation afterward.
There's just a little more than a month left, so spread the word. This is a project worth the investment.