The Old Man's War universe isn't just for men any more. A new quasi-sequel will follow the old man's daughter into more battles with claim-jumping aliens. That's just one of the many, many books that military SF maven John Scalzi is putting out in 2008 and 2009. Scalzi's newly announced pipeline also includes a sequel to his blue-sheep comedy The Android's Dream. All the dirt, below the fold.


The Old Man's War trilogy isn't becoming a tetralogy, insists Scalzi. Zoe's Tale, coming in August, is a stand-alone book featuring Zoe, the daughter of the trilogy's hero. In the OMW universe, habitable planets are rare and we have to fight aliens for them. You have to be over 75 to join the Colonial Defense Force and join the brutal, bloody conflict in space. No clue whether the story jumps ahead to Zoe's 75th birthday.
The third book in the OMW trilogy, The Last Colony, comes out in paperback around the same time as the hardcover Zoe's Tale. John Perry is living on a colony world with his wife Jane and his teenage daughter Zoe, when he and Jane are asked to govern a new colony called Roanoke.
Also coming soon in paperback: a new, updated version of Agent To The Stars, Scalzi's first (and maybe silliest) novel, about aliens who want a Hollywood agent. You can still read the original "shareware" version of Agent here. (Yes, Scalzi's a scab.)
In early 2009, Scalzi aims to put out The High Castle, a sequel to The Android's Dream with another Dickian title. The first novel followed Harry Creek, a State Department alien-wrangler who has to deliver the last genetically engineered "electric blue sheep" to an alien ceremony and avert an intergalactic war. No details on Castle, except that its first chapter is just as crazy as Dream's. So expect more chapter-long fart jokes, maybe.
G/O Media may get a commission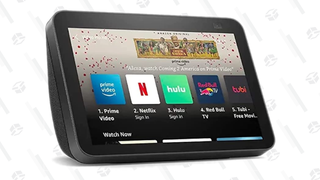 Coming at some point later, but maybe still in 2009, are Untitled 2008 John Scalzi Novel, an untitled fantasy novella, and a short novella for an anthology called Godlike Machines.
Scalzi also has two nonfiction books coming out in 2008: A new edition of his astronomy book The Rough Guide To The Universe, and a collection of his online columns, Your Hate Mail Will Be Graded.
Zoe's Tale cover art from Irene Gallo. [Whatever]