You've been standing in line for 15 minutes already as the neck-beards behind the counter discuss the high points of the latest Vampire Weekend release. Do you really pay $5 a cup to put up with this shit? Instead, invest your hard-earned cash in a barista that will get your order right every, single, time.
What Is It?
It's a barista in a box—a self-contained coffee grinder, drip/espresso maker, and milk frother.
Who's It For?
Folk that want pro-quality lattes without having to endure the unwashed masses at the local coffee house.
G/O Media may get a commission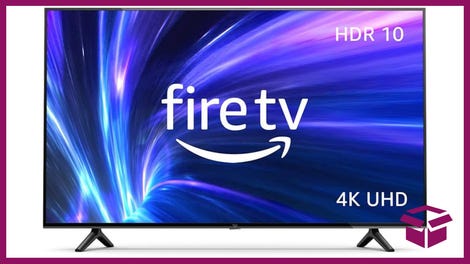 42% Off
Amazon Fire TV 50" 4K Smart TV
Design
Sleek and modern, the complete opposite of the hissing stainless steel monstrosities at the coffee shop, the EA 9000 fits easily onto a kitchen or office counter and runs on a 120V power supply. The water tank is hidden behind the front right panel while the front left conceals the coffee ground ejection tray and cleaner solution pump. The integrated grinder is fed through a hopper on the top of the machine, and the pre-ground hopper is located directly in front of that, accessible via an activation button on the right of the unit's touchscreen display. Coffee and espresso are ejected from a height-adjustable dual-outlet spout and the milk frother is stored behind the filling station.
Using It
Oh wow. Oh wow, oh wow, oh wow. Setup was easy; take it out of the box, install the water tank, ground collector, and drip tray, and turn it on. You'll have to input a bit of initial information—your relative water hardness, for example—but that's an easy task on the large touchscreen. All your commands and drink orders, in fact, are input through the screen, save for powering on the device.
The EA9000 takes about half a minute to preheat after it's initially been turned on and will make a 30 ml cup of ristretto in 42 seconds, one 60 ml espresso in 45 seconds, a 180 ml cup of coffee in 1:05, a 300 ml cappuccino in 1:49, and a 260 ml latte in 1:57. This thing is phenomenal.
The Best Part
The consistency of the drinks is fantastic, every espresso and latte comes out tasting exactly the same as the last. Also the entire process outside of refilling the bean hopper and water tank is completely hands off and absurdly entertaining to watch in action. Plus, it delivers potent little nitrogen-packed discs of grounds at the end of the coffee making process which do wonders in the garden.
Tragic Flaw
There is always something that needs rinsing or washing or emptying or refilling in this machine. It seems you can't go more three drinks without having to expunge the drip tray or reload the water tank. It's exhausting.
This Is Weird...
Your cappuccino is always watching you.
Test Notes
Strength of brew and size of serving are both adjustable from the drink order menu.
Hopper holds approximately half a pound of whole beans.
Water tank holds enough reserves for 4-5 large coffees. The integrated filter lasts an average of 50 tank refills.
Should I Buy It?
Do you have $2500 burning a hole in your pocket? If so, by all means yes. This thing is freakin' sweet.
Krups EA 9000 Specs
Dimensions: 22.6 x 14.9 x 19.5 inches
Weight: 25.7 pounds
Operating Voltage: 120V
Tank Capacity: 1.7 liters
Coffee Varieties: ristretto, espresso, drip coffee, cappuccino, latte, warm milk, hot water
Coffee Types: ground or whole
Price: $2500 at Amazon