Newly released body camera footage from a hit-and-run arrest in April appears to show two LAPD officers planting drugs in a suspect's wallet, selectively filming only portions of the arrest to implicate the man for drug possession.

Sam Levine, the suspect's defense attorney, alleges that the officers staged the recovery of a baggie of drugs during his client's arrest. As Levine told the judge during a pre-trial hearing, he thinks the officers accidentally filmed themselves planting cocaine, unaware that Axon body cameras save 30 seconds of footage before police actually press the record button.
The footage, obtained by CBS Los Angeles, is damning. First we see Officer Gaxiola pick up a baggie containing white powder, show it to Officer Lee, and then place it into the wallet:
Gaxiola then presses record on his body camera (immediately capturing the previous 30 seconds), and "finds" the baggie in the man's wallet. Moments later, he gets Lee's attention, alerting him to the drugs "recovered" from the suspect's wallet. Lee, of course, is on video 10 seconds earlier looking directly at Gaxiola when he picks up the baggie and puts it in the man's wallet.
Officer Lee said the baggie had simply fallen on the ground while the man was being searched. The suspect's defense attorney has a different theory: Gaxiola planted evidence.
G/O Media may get a commission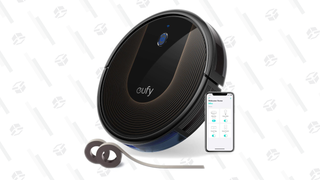 48% Off
Eufy BoostIQ RoboVac
During the hearing, Levine showed the judge the above clip, arguing that the tiny white square is the baggie in Gaxiola's hands. Levine believes that it proves Gaxiola planted the drugs himself, then staged recovering it.
Neither Gaxiola nor Lee are facing disciplinary measures for the footage. As noted by CBS LA, the case has many troubling overlaps with an ongoing body cam scandal in Baltimore. Dozens of cases have been thrown out, while nearly 100 are still under review after officers admitted to "re-creating" finding evidence on suspects by turning on their body cameras to film themselves finding something they'd already found off-camera.