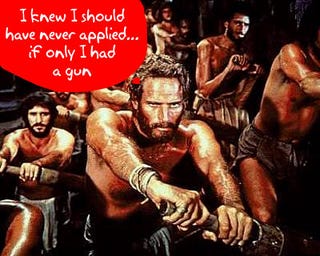 Hey guys, just a reminder that applications to be our New Year NYC intern are due tonight by 11:59PM EST. Here's what you need to know and what we want out of you:
What You Need
• Gadget love and knowledge
• An alarm clock, 'cause you'll be up early every morning
• Basic experience with HTML, Flickr—the internets, essentially
• An NYC address (really, we need you in the city)
• Dedication—the job's fun (so I've been told), but it's definitely work.
What You'll Be Doing
• Spotting amazing stories
• Helping us pull together stories
• Supporting editors in the field doing live reporting, SWAT-team style
• Writing, eventually, if you're awesome (see: John Herrman and Dan Nosowitz)
Pay is not amazing (really, don't expect to pay your rent with it) but you'll get top-notch experience with the well-oiled blog machine that is Giz, learn lots of dirty jokes, and yes, get to play with (and very possibly keep) cool gadgets. Keep in mind, it's a Mon-Fri, 9-5 gig. Send your resume—NO ATTACHMENTS, DEAR GOD, NO ATTACHMENTS—and tell us why you're the best person on earth, or at least in NY, to tips@gizmodo.com, with NYC INTERN in the subject line, otherwise we might miss it. Good luck!