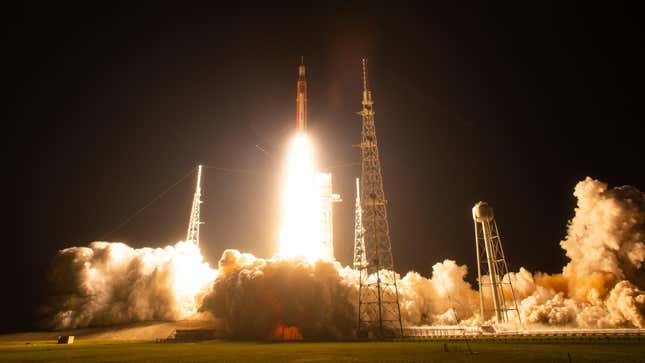 A lawsuit filed by Wilson Aerospace, an aerospace hardware company, alleges that Boeing has stolen ideas from the company for various projects, including those involving NASA and Boeing's own 787 Dreamliner.
Three Astronauts May Be Stranded on the ISS After Disturbing Soyuz Coolant Leak
The Colorado-based Wilson Aerospace was Boeing's collaborator for two years, developing hardware to assist with the installation of Space Launch System (SLS) engines, according to the lawsuit filed on Wednesday in Seattle—Boeing's former HQ.
According to Wilson's lawsuit, Boeing sought the company's expertise in 2014 to address the challenge of installing engines into the megarocket, given the limited and confined physical space available. However, after Wilson Aerospace designed a special version of its Fluid Fitting Torque Device, it says that Boeing abruptly cancelled its contract with the company in 2016, taking proprietary information with it.
"This lawsuit seeks to hold Boeing accountable for the repeated and deliberate misappropriation and infringement of Wilson's intellectual property, and to prevent Boeing from doing the same to other victims," Wilson Aerospace wrote in the suit. "Unfortunately, like it has done so many times before, Boeing refuses to acknowledge the critical safety risks that it has created, and it continues to deny and deflect attention from its misconduct."
Wilson further claims that Boeing also approached the company in 2012 to design tools for installing bolts during the assembly of Boeing's own 787 Dreamliner's carbon fiber wings. After Wilson developed a multiplier for Boeing to use, the company informed Wilson that it would be pivoting away from the bolts the multiplier was designed for—an assertion Wilson says in the lawsuit is false. Wilson says that it also developed a version of the Fluid Fitting Torque Device for Boeing, which could be used by astronauts to tighten specific fittings on the International Space Station.
A Boeing spokesperson told Bloomberg that the "lawsuit is rife with inaccuracies and omissions," and that the company "will vigorously defend against this in court."
Boeing and NASA have had quite the fruitful relationship, with the company being one of the agency's contractors of choice for all things International Space Station. One of Boeing's more recent projects is the CST-100 Starliner, a reusable spacecraft with the mission of transporting passengers and cargo to the ISS and other destinations in low Earth orbit. However, the road to getting Starliner to the finish line has been bumpy. A test of the vehicle was meant to occur this past February, before it was pushed to April, only for Boeing to indefinitely delay the Starliner test entirely, citing two safety hazards.
For more spaceflight in your life, follow us on Twitter and bookmark Gizmodo's dedicated Spaceflight page.