A leaked The Dark Knight Rises screenplay is either the real deal or the most convincing hoax yet. Plus Joe Johnston explains why Captain America is better than his last movie, Stan Lee talks his Spider-Man reboot cameo, and more!

The Dark Knight Rises
A new screenplay has been floating around, and it may well be a leaked draft for the third Batman movie. There have been lots of hoax Batman 3 scripts, but this one is supposedly far more authentic than usual. As Script Flags puts it, "if it is fake, [it's] the best fake we have ever come across." That still doesn't mean all that much, so take this with heaps and heaps of salt until we learn anything more. This, however, is a brief synopsis of what we know about the script thus far:
The assassin Deadshot is broken out of prison and brought to Gotham City
Crime is way down in Gotham, and Batman has become more of a myth than anything else
Batman has a Batwing-like aircraft called "The Wraith", a rebuilt Wayne Manor and Batcave, and an EMP-equipped Batmobile
Wayne Enterprises is struggling with competition (and a lawsuit) from Daggett Industries, and Lucius Fox feels he must turn against the irresponsible Bruce Wayne
The villainous Black Mask has hired Deadshot and is working with Roland Daggett, although it's unclear who he's been hired to kill (probably either Batman or Bruce Wayne, of course)
Edward Nashton has the Riddler's name but Hugo Strange's character, as he has figured out Batman's identity and uses this to mess with the Dark Knight's head
Commissioner Gordon and a Detective Adams are heading up a taskforce to catch Batman
Talia al Ghul makes a brief appearance
Personally, I'm still pretty skeptical that this screenplay is on the level, and Script Flags themselves point out there's a lot here that doesn't quite fit with either Christopher Nolan's previous approach or what is already thought to be known about the movie. For instance, the film lacks either of the two female leads Nolan is supposedly looking for. So, if this is a legitimate screenplay, then it is likely a relatively early draft before some major changes were made to the story. Tons more details at the link. [Script Flags]
Detroit may well be taking over for Chicago as a stand-in for Gotham City, as reports are coming in that the production team has chosen Detroit as their third and final location, along with the UK and New Orleans. Don't take this as anywhere near confirmed yet - the Michigan Film Office hasn't received any applications for filming yet, and there's been lots of contradictory reports about just where the movie is filming anyway. [ReelChicago and The Detroit News]
Captain America
Director Joe Johnston explains what drew him to the story of Captain America: [ComicBookMovie]
I went into this wanting to make a great version of a comic book film…MY version of a comic book film. I've turned down other superhero movies because I never related to the superpower thing but I love the idea of Steve Rogers/Captain America from the beginning. Here's a guy who is basically Everyman…actually less than everyman. He's a 98-pound weakling who becomes the perfect human specimen in the space of a few minutes. Think of the world's greatest Olympian…the fastest runner, the strongest weightlifter, an unbeatable fighter…and add another 50%. Every feat of strength or speed that Steve Rogers performs is awesome, but totally believable. I think that grounding the visual effects in the laws of physics (and I'm very fond of the laws of physics) helps to engage the audience in the character's journey.
G/O Media may get a commission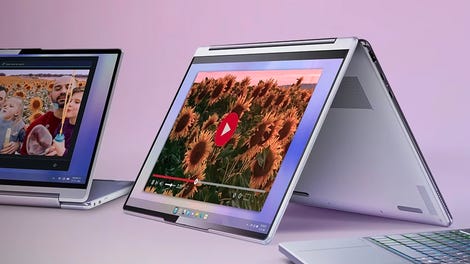 up to 70% off
Lenovo Spring Clearance
Johnston also explains why you should give him another chance after his work on the disastrous The Wolfman - as he frankly admits, he did it purely for the money, had three weeks of prep time, and the film was brought down by constant infighting and interference. Captain America, he says, is completely different:
I had thirty weeks of prep on Captain America. I have a small team of qualified, supportive, creative producers who are actually helping me achieve my vision of the film. I had a dream cast headed by Chris Evans. I had the best designers, artists, sculptors, craftspeople…a creative team that could design, build and photograph anything and have it look amazing and beautiful. We had unbelievable luck with the weather wherever we shot in England. The weather was so good we were compelled to make it rain for a couple of sequences just for some variety. At times I felt as if the gods were saying, "Ahem, sorry about that Wolfman thing…let us make it up to you." Captain America was probably the most universally positive experience I've had in this mad business.
Check out the link for a complete explanation as to why The Wolfman failed, and why Johnston is confident that Captain America won't. [ComicBookMovie]
Spider-Man Reboot
Here's an interview with Andrew Garfield in which he discusses the feel of his Spider-Man costume, as well as how much he enjoys working with Emma Stone: [Extra] Click to view

Stan Lee confirmed he will cameo in the new film, in a typical display of lovable Lee lunacy:
"My pal Avi Arad, producer of the new Spider-Man movie, called to tell me how excited he is about the film. Then came the surprise - Avi told me my cameo is all set for Spidey 4, and when he described it, I realized it's the best, most unusual one yet! I wish I could tell you what my cameo is, but that would kill the surprise. But I'll tell you this much-I'm finally in an action scene! Since it's common knowledge that people go to the movies just to see my cameos, I don't know why EVERY movie doesn't have one for me. After we save the world, our next mission will be to convince Hollywood to have an Oscar for Best Cameo. Till then-Excelsior!"
C. Thomas Howell, who appeared in a ton of iconic 80s movies like ET, The Outsiders, Red Dawn, and, um, Soul Man, announced on his Facebook page that he has been cast in the movie and that he begins work on January 25. It's not known what role he will play, although it will probably be a relatively minor part. [ComicBookMovie]
Green Lantern
Here's some slightly cheesy artwork for upcoming kid-oriented tie-in books. It includes some good looks at Kilowog: [ComicBookMovie]

Ghostbusters 3
Ghostbusters director Ivan Reitman says "virtually everything" we've heard about the film is completely wrong, which is kind of funny when you consider most of the things we've heard about Ghostbusters 3 have come from Dan Akyroyd. In any event, he says that Gene Stupnit and Lee Eisenberg's screenplay was only finished a month ago, and now that he's given it his approval it has been sent on to Bill Murray. Because at least one detail we keep hearing does seem to be completely true - without Bill Murray, there's no movie. [Cinemablend]
Wrath of the Titans
There a ton of casting rumors out for the Clash of the Titans sequel. Edgar Ramirez, who played notorious assassin Carlos the Jackal in Carlos, is reportedly up for Ares, the god of war, while the reliably awesome Bill Nighy is reportedly in talks to play the god Hephaestus. Hayley Atwell, who plays Peggy Carter in Captain America, is reportedly the main contender for the role of Andromeda, although Georgina Haig, Janet Montgomery, Dominique McElligott, and Clemence Poesy are also reportedly testing for the part. Finally, Sorceror's Apprentice baddie Toby Kebbell is reportedly in line to play Agenor. [The Wrap]
The Hunger Games
Director Gary Ross reveals that his adaptation of Suzanne Collins's young adult novel will indeed be PG-13, although he doesn't think that will take away from depicting the darkness and brutality of her world: [EW]
"It's not going to be an R-rated movie because I want the 12- and 13- and 14-year-old-fans to be able to go see it. This book means too much to too many teenagers for it not to be PG-13. It's their story and they deserve to be able to access it completely. And I don't think it needs to be more extreme than that. I don't need to have a huge prosthetic budget or make this movie incredibly bloody in order for it to be just as compelling, just as scary, and just as riveting. [Suzanne Collins hasn't] written in any way an overly graphic book. Even things like the Tracker Jacker sequence, while horrific, it's the ideas that Suzanne has created that are so harrowing."
The Dark Tower
Naomie Harris, best known for playing Tia Dalma in the Pirates of the Caribbean sequels, is reportedly being considered for Susannah Dean, the main female part in Ron Howard's adaptation of the Stephen King saga. This should be taken with massive grains of salt until we know more, particularly considering the source... [The New York Post]
Ghost Rider: The Spirit of Vengeance
Nicolas Cage revealed that Crank directors Mark Neveldine and Brian Taylor are bringing an entirely new approach to Ghost Rider (which, judging by the last movie, can only be a good thing), both in terms of film-making and storytelling:
"[It's going to be] very different. A completely new experience and that's how the directors choose to see it. I mean there's even a new origin sequence. [Neveldine and Taylor are] not like anybody else I've worked with. They do things with the camera that are just extraordinary. "They're brand new. The director's on rollerblades and hanging from wires with the camera, holding on to the motorcycle and it's going to be really wild."
[UKPA]
Breaking Dawn
Producer Wyck Godfrey revealed some key details about the final, two-part chapter of the Twilight saga:
Q: Where does the story split in half?
A: "We basically want to take the audience through the emotional part of Bella's journey as she becomes a vampire. The first part will cover the wedding, the honeymoon and the birth."
Q: The book has three segments, two of which present Bella's point of view and a middle that's devoted to the perspective of her rejected werewolf suitor, Jacob (Taylor Lautner). How is that handled?
A: "The story will break from her and follow Jacob throughout the course of the movie as he struggles with his own dilemma. There is a sense that as Bella and the Cullens (Edward's makeshift vampire clan) deal with her pregnancy, the world is still turning outside with Jacob."
Godfrey also says that Edward and Bella's sex scene won't be softcore porn, but instead "legitimate and important part of the movie, romantic and sensual." The second of the two movies is much more an action film than the first half, and the filmmakers will get around the bone-crunching horror of Bella's childbirth by only showing it from her perspective, which will help them avoid any R-rated horror. [USA Today]
Transformers: The Dark of the Moon
Here are some more photos of various cars that feature in the third movie: [Beyond Hollywood]

Jay and Seth vs. the Apocalypse
Seth Rogen and writing partner Evan Goldberg's long-simmer horror/science fiction comedy is still very much happening, and Seth Rogen shares some of the plot details: [ShockTillYouDrop]
"We've been writing our apocalypse movie, which is coming along. It's crazy, it's kind of a horror-comedy. We like those movies like 'The Mist' and stuff where it's a bunch of people trapped in a place together and something horrible is happening outside, so that's probably what it will be like."
Fringe
Here's a synopsis for the mid-season premiere "Firefly", guest-starring Christopher Lloyd:
In the midseason premiere, which kicks off a string of six all-new episodes of FRINGE, an Observer makes contact with the Fringe Team to help rectify a mistake. Meanwhile, Walter befriends Roscoe Joyce (guest star Lloyd), keyboardist for Walter's favorite 1970s band, "Violet Sedan Chair." Walter will learn the real reason the band broke up, and realize that the lives of these two men, who have never met before, overlap in strange and unexpected ways.
And here's a photo of the confrontation between Walter and the Observer: [E! Online]

Torchwood: Miracle Day
The newly retitled fourth series has just released a ton of details, but despite what we reported on Friday, we still don't know the transmission date. There was some thought that the series would premiere on July 1 in both the US and the UK, but this was in fact not an official report. [Doctor Who News Page]
Some behind the camera personnel have also been announced. Kelly Manners of Angel and Buffy the Vampire Slayer is producing the series alongside The Sarah Jane Adventures producer Brian Minchin. Bharat Nalluri is set to direct the first episode, who has previously directed the first episodes of such BBC hits as Life on Mars, Hustle, and Spooks (known as MI-5 in the US). The Walking Dead production designer Greg Melton is sharing design duties with Torchwood stalwart Ed Thomas, while costumes are being handled by Angel and Firefly's Shawna Trpcic and makeup is being done by Todd McIntosh of Pushing Daisies and Buffy the Vampire Slayer. The director of photography is Nate Goodman, who previously worked on Heroes. And, though these names have been known for a while now, it's worth reminding that the series writers will be Jane Espensen, John Shiban, Doris Egan, and John Fay. [Doctor Who News Page]
Chuck
Here's a synopsis for episode 12, "Chuck vs. the Gobbler": [ChuckTV.net]
SARAH EMBARKS ON A MISSION THAT COULD BE HER LAST – MEKENNA MELVIN, LINDA HAMILTON AND TIMOTHY DALTON GUEST STAR – Sarah (Yvonne Strahovski) takes dangerous measures to help Mary Bartowski (guest star Linda Hamilton) bring down Alexei Volkoff (Timothy Dalton), as Chuck (Zachary Levi) worries that she may be getting in too deep. Sarah, though, must enlist the help of Chuck, Morgan (Joshua Gomez) and Casey (Adam Baldwin) to complete her undercover mission. Meanwhile, Ellie (Sarah Lancaster) and Awesome (Ryan McPartlin) are at odds over what to name the baby.
And here's a promo for the show's return: [ChuckTV.net]
Supernatural
New promo photos are out for episode 12, "Like a Virgin": [SpoilerTV]

Primeval
Here's a lengthy sneak peek at the first eight minutes of the second episode of series four: [Blastr]
And here's a trailer for episode three: [ComicBookMovie]
Smallville
Here's a synopsis for the January 28 episode "Collateral", featuring the return of Chloe: [ComicBookMovie]
CHLOE SULLIVAN RETURNS TO SMALLVILLE - Clark (Tom Welling), Oliver (Justin Hartley), Lois (Erica Durance) and Dinah (guest star Alaina Huffman)are released by the VRA after being captured at Hawkman's funeral but each of them have flashbacks of Chloe (Allison Mack) holding them against their will. When Chloe returns, Dinah warns the others that Chloe may now be a traitor. Oliver dismisses her concerns but Clark is unsure if he can trust Chloe after she disappeared without an explanation. Cassidy Freeman also stars.
Serinda Swan says she would love to reprise her role as Zatanna, and the production team wants to bring her character back, but making the schedules fit together might prove impossible: [IGN]
"We were talking to them, actually, at the end of last year, about trying to make the schedules work. I think our scheduling might not work properly, but they definitely called and we've been talking and I love Zatanna and would love to get her back. They were sort of the first people that gave me a big, chunky, juicy role and so we'd love to be able to go back and kind of finish it off with them. But we'll see. Hopefully with schedule permitting, we'll be able to do something! It's not like I can go in and shoot two days and come back, because of the flight and with the time difference and all of that, it's definitely a little bit difficult. But if we can make it work, I will have top hat on, fishnets and boots. I'm ready to go!"
Additional reporting by Chelsea Lo Pinto and Charlie Jane Anders.