Sonos is getting ready to expand its home theater lineup, according to multiple leaks that surfaced in the past few days. Photos of a new Sonos product called the "PlayBase" speaker have been featured in a B&H Listing, several tweets, and FCC listing. Base speakers of this kind—which sit directly under a TV—have typically received poor reviews from audio fans, but Sonos' proprietary sound-tuning software could give this thing hope.
Based on the photos, the PlayBase speaker looks like a flat speaker system that literally serves as a base for your TV. In the past, similar speakers like the Vizio Sound Stand and LG Sound Plate were criticized by audio fans for their poor audio quality and vibration problems. Sonos might be able to overcome some of those issues with its Truplay software.
Developed in 2015, Truplay is a configuration procedure that—in theory—makes your speakers sound better no matter where you have them set up in the house. Once you've placed your Sonos speaker, you can quickly start the tuning process from the companion app's settings.
G/O Media may get a commission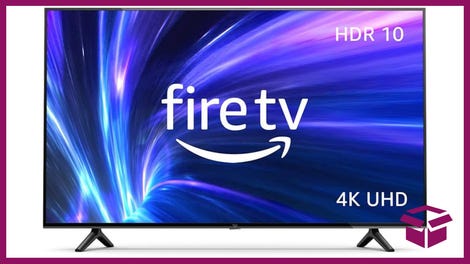 42% Off
Amazon Fire TV 50" 4K Smart TV
The speakers play a test tone while you sweep the room with your phone or tablet in areas you'll be listening to to the speaker. After listening for about a minute, the software takes what your device's microphone picked up and uses it to tune the speakers, so that music sounds just right. We can assume that the Sonos PlayBase will include this speaker-tuning software because all of the company's products currently support it.
Whether this new speaker (combined with existing software) is enough to pull the company out of its rut is an entirely different question. Sonos is in desperate need of a hit following last years' layoffs and restructuring. In a blog post last year, CEO John Macfarlane said, "As we look to the future there are two big areas that we're leaning into: paid streaming services, and voice control."
It's unclear, however, if that is still the new focus of the company. In January, MacFarlane unexpectedly resigned after 15 years of leading Sonos as CEO. Started in 2002, the young company is a rarity in consumer electronics, an industry that is mostly dominated by larger conglomerates.
Sonos has been considered a market leader in wi-fi audio for nearly a decade, but in the past few years, a surge in competing products from brands like Bose, Samsung, Polk, Yamaha, and Denon have forced the company to recalibrate its business strategy. The company announced last year that it will begin integrating Amazon's Alexa service to provide voice controls on its speakers.
There aren't any details about whether the PlayBase will include voice control. Luckily, we won't have to wait too long to find out. If we're to believe the B&H listing, it said the speaker will be available in March for $700.
This isn't the first time Sonos has made a speaker made specifically for use with your home theater, either. The company released the PlayBar in 2013, a slightly thinner speaker meant to sit in front of your television rather than underneath it. The PlayBar is also priced at $700, meaning the company might begin cannibalizing its own lineup.
Sonos declined to comment on whether the leaks are real, though given how much info is out there, it's safe to assume something is in the works. Despite the fact that early base speakers were sort of a lop, the space-saving concept is very attractive, so we hope that Sonos can use its expertise to make a product that doesn't suck.