Swimming from one end of a pool to the other in a straight line is a lot easier than trying to stay on track when swimming in a lake or open water. But a new pair of swim goggles can keep track of what direction you're heading and help keep you swimming in a straight line using a pair of subtle LEDs.
Powered by a high-precision compass, accelerometer, and a microprocessor, the On Course Goggles are incredibly easy to use use while you're out on the water. You just look at a far-off target where you want to end up—like an anchored buoy—push a button on the side of the goggles to lock in that destination, and you're ready to swim.
When you're swimming in the right direction, an LED above each eye glows green. When you start to veer off course, the individual LEDs will switch to yellow, and then red, to indicate that you're swimming in the wrong direction. Once you reach your checkpoint and want to set a new course, you just look in the direction of another target and hit the button on the side of the goggles again.
The creators of the On Course Goggles are using Kickstarter to sell pre-orders and help raise $60,000 to bring the goggles to consumers. When eventually available they're expected to retail for about $200, but you can pre-order a pair for just $150 as long as you don't mind waiting until February of next year (at the earliest) to get your hands on them.
G/O Media may get a commission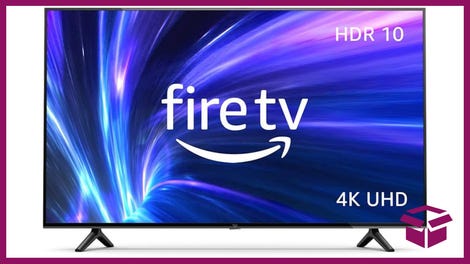 42% Off
Amazon Fire TV 50" 4K Smart TV