London toy fair is in full swing and Brick Fanatics is in attendance to let us know just how light our wallets are going to be later this year. The great news is the rumored Scooby Doo Lego sets have been confirmed and are at the show. Unfortunately, no photography is allowed inside the toy fair so I can only update you with descriptions of the sets at this time. Pictures inevitably do get taken all stealth like, so if those pop up, I'll be sure to share them with you. All pricing is in Pounds.
Scooby Doo
BF reports that the sets are Classic 70's not based on any new incarnation of the franchise. Box art is of the gang being chased by monsters. There is a different Scooby snack in each set. The minifigures featured are as follows: Shaggy, Velma, Daphne and Fred. There are two different Scoobys, non-posable (paw up, paw down), Black Knight, Dracula, Ghost (glow in the dark), Headless Horseman (pumpkin headpiece which lifts to reveal the baddie), Zombie, Mummy and Lighthouse Keeper. The sets are named as follows:
Mummy Museum Mystery (75900) - £11.99
Mystery Plane Adventures (75901) - £19.99
Mystery Machine (75902) - It's not big enough for the whole gang. Back doors swing open to reveal a kitchen in the back. - £29.99
Haunted Lighthouse (75903) - £39.99
Mystery Mansion (75904) - This apparently comes with a bunch of the figs. Purchase this and the Mystery Machine to get the whole gang. - £99.99
Technic
Mercedes Benz Arocs Dump Truck (42043) - Late 2015 release - £169.99
Jurassic World
Pteranodon Capture (75915) - £Unknown
Dilophosaurus Ambush (75916) - £29.99
Raptor Rampage (75917) - Contains the Chris Pratt character (Owen) this is the set with him riding a motorcycle and being flanked by two raptors - £49.99
T-Rex Tracker (75918) - £59.99
Ultra Dino Breakout (75919) - This set includes the D-Rex fig and a mosquito in amber brick - £99.99
Raptor Escape (75920) - Contains two Velociraptors - £39.99
Lego City
There are two new play themes for 2015: Deep Sea Explorers and SPACE stuff! That is so damn exciting.
G/O Media may get a commission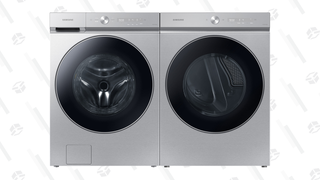 Get $500 back in credit
Last Chance: Samsung Bespoke AI Washer and Dryer Preorder
City Square (60097) - This set sounds awesome. 14 minifigures, a coffee shop, Lego store with PAB wall, Truck, Garage, Tram, Hot Dog Cart and a Police Station. - £139.99
City - Space
Space Starter Set (60077) - £8.99
Utility Shuttle (60078) - £17.99
Training Jet Transporter (60079) - £39.99
Spaceport (60080) - £69.99
City Deep Sea Explorers
Deep Sea Scuba Scooter (60090) - £4.99
Underwater Starter Set (60091) - £8.99
Deep Sea Submarine (60092) - £24.99
Deep Sea Helicopter (60093) - This name made me laugh, but it is a helicopter with a deploy-able submersible. - £39.99
Deep Sea Exploration Vehicle (60095) - £79.99
Minecraft
Dungeon (21119) - £39.99
Snow Hideout (21120) - £39.99
Desert Outpost (21121) - This is a community designed set. - £59.99
Nether Fortress (21122) - Comes with a new mob called Blazes, yellow skinned with black eyes - £69.99
Star Wars
There were no Episode VII: The Force Awakens sets shown at this show.
2015 Lego Star Wars Advent Calendar - Has C-3PO Santa Claus, R2-D2 reindeer and a mini sandcrawler - £Unknown
Flash Speeder (75091) - £34.99
Naboo Starfighter (75092) - £54.99
Death Star Final Duel (75093) - £69.99
Imperial Shuttle Tydirium (75094) - Smaller version of the UCS with non geared wings - £79.99
Imperial Assault Carrier (75106) - Carrier holds 4 mini Tie fighters - £99.99
Ultra Agents
Ultrasonic Showdown (70171) - £17.99
Antimatter's Portal Hideout (70172) - £49.99
Ultra Agents Ocean HQ (70173) - £79.99
DC Comics Super Heroes
Batboat Harbor Pursuit (76034) - With Batman, Robin and Deathstroke figs - £Unknown
Jokerland (76035) - Bigger and better than Funhouse Escape (6857). Brick built Joker face at the top, vine tower ride, wheel of ducks, Keaton era Batmobile, Zip wire, Comes with Starfire, Beast Boy, Robin, Harley Quinn, Poison Ivy, Penguin, Joker and Batman - £89.99
Marvel Super Heroes
They also had the Avengers: Age of Ultron sets at the show, but we've already given you the lowdown on those.
Carnage vs Spider Man (76036) - Comes with Miles Morales - £Unknown
Sandman Ambush (7603?) - Spider Man, Iron Spider, Sandman and Rhino minifigure fits in a brick built Rhino
Chima
Bad new for fans of this theme, it will be going away this year.
Mixels
There were a couple of new Mixels series featured. Mixels are going to space with more glow in the dark. There are also a few new Nixels.
Ninjago
This theme releases some new stuff this summer. The theme is Ghosts and many glow in the dark elements are featured.
Chain Cycle Ambush (70730) - £Unknown
Cole's Earth Bike (70733) - £Unknown
Master Wu Dragon (70734) - £Unknown
Ronin Rex (70735) - £39.99
Ghost Dragon (70736) - £Unknown
Titan Mech Battle (70737) - £39.99
Final Flight of Destiny's Bounty (70738) - £99.99
Friends
Emma's Tourist Kiosk (41098) - £Unknown
Heartlake Skate Park (41099) - £17.99
Heartlake Private Jet (41100) - £24.99
Heartlake Grand Hotel (41101) - New mini dolls for Nate and Susan - £89.99
Pop Star Recording Studio (41103) - £12.99
Pop Star Dressing Room (41104) - £Unknown
Pop Star Show Stage (41105) - £34.99
Pop Star Tour Bus (41106) - £49.99
Grocery Store (Unknown) - £34.99
Elves
Aira's Pegasus Sleigh (41077) - £Unknown
Skyra's Mysterious Sky Castle (41078) - £Unknown
[Photo: BTHA]
---
You're reading Leg Godt, the blog with the latest Lego news and the best sets in the web. Follow us on Twitter or Facebook.