What's the biggest problem people thought we'd be facing in the 21st century? Mid-air jetpack collisions? Disobedient robot servants? No, the greatest problem of our futuristic world was supposed to be too much leisure time.
It was believed that a push-button future of automation would bring about a world of unprecedented convenience and leisure. The question was only how to pass the time.
Many imagined a leisure-centric society driven by wholesome degeneracy, jet-setting golfers and sixteen hour work weeks. The mundane nature of such a simple push-button future would even drive people to suicide!
In reality, the amount of time spent on purely enjoyable activities hasn't really changed much in the last hundred years. But to steal a line from one W. Elias Disney, if we can dream it, we can do it! Feel free to leave your comments below about how to push ourselves into such a wondrous dystopia of automated despair.
The March 26, 1906 New Zealand Star told the story of leisure one hundred years into the future, through the lens of a more efficient and time-saving bath. Onward into our freshly scrubbed dystopia!
Probably the speediest dresser of our own day does not consume less than a quarter of an hour over his morning tub and the operation of drying himself. A hundred years hence people will be so avid of every moment of life, life will be so full of busy delight, that time-saving inventions will be at a huge premium. It is not because we shall be hurried in nerve-shattering anxiety, but because we shall value at its true worth the refining and restful influence of leisure, that we shall be impatient of the minor tasks of every day. The bath of the next century will lave the body speedily with oxgenated water, delivered with a force that will render rubbing unnecessary, and beside it will stand the drying cupboard, lined with some quickly moving arrangement of soft brushes, and fed with highly dessiccated air, from which, almost in a moment, the bather will emerge, dried, and with a skin gently stimulated and perhaps electrified, to clothe himself quickly and pass down the lift to his breakfast, which he will eat to the accompaniment of the morning's news, read out for the benefit of the family, or whispered into his ears by a talking machine.
G/O Media may get a commission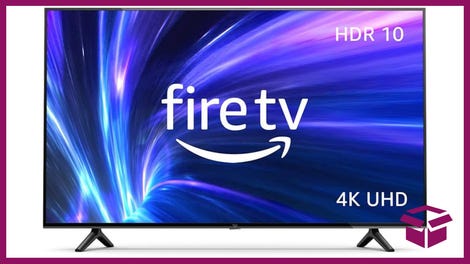 42% Off
Amazon Fire TV 50" 4K Smart TV
This post originally appeared at Paleofuture.com.