The LaVie Z is the newest ultrabook from Lenovo. At just 2 lbs, it's the lightest in its class. Does that make it the perfect adventure-travel companion? We've been carrying it everywhere to find out.
Update: As multiple readers have pointed out, Lenovo has a huge problem with spyware right now. Consider that before you consider a purchase.
What Is It?
The LaVie Z 360 ($1,380) is a 13" ultrabook running Intel's 2.4Ghz 5th generation CORE i7 processor. It has a 2560x1440 touchscreen LED, 8GB of RAM, a 256GB SSD, and gets up to nine hours of battery life. Oh, and it's light. Really light.
The LaVie Z fits on US Airways' tiny tray tables, even in coach.
Why Does It Matter?
As an professional adventurer, I seek out the lightest, highest-performing outdoor gear that will allow me to get my job done, because ounces equal pounds and pounds slow you down. However, as a writer, photographer, and videographer I'm also lugging around lots of camera and computer gear on my adventures. If I'm saving weight with my outdoor gear, shouldn't I be saving weight with my other equipment too? That's where the LaVie Z comes in.
G/O Media may get a commission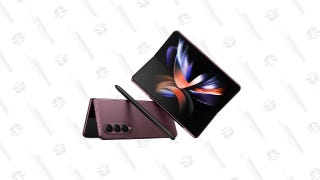 Save Up to $300
Galaxy Z Fold4
The 13" LaVie Z redefines the term "lightweight." At just a hair more than two pounds, it's nearly a third lighter than the 13" MacBook Air. It weighs nearly half a pound less than the Surface Pro 3 (with the Type Cover attached.) It feels light! Impossibly so!
For those who need to move quickly as they compute, the LaVie Z delivers. Though the question must be asked: at what cost does that weight savings come?
Full-sized ports are practically arranged, offering great connetivity for such a slvete device.
Features
The LaVie Z has a bright, full-swivel touchscreen LED which works great for photo and video presentation. Presenting on a larger screen? A full-sized HDMI port allows for super easy screen projection, without the need for an adaptor or specialty cord. (This obviously also makes the LaVie Z your best friend for streaming movies and TV on Netflix or Popcorn Time.)
The screen can swivel to a tent position (also good for media presentation) or all the way back to take on a tablet form factor. In the latter of the two, Windows 10 automatically detects the change and will prompt to enter "Tablet Mode." (We recommend giving the OS permission to enter Tablet Mode automatically after the first prompt.)
Once in Tablet Mode, a more touch-friendly interface takes over. The reclaimed Start Menu from Windows 10 reverts back to the same full-screen interface found in Windows 8. Programs handle more like apps and touch interactions like Snap are given precedence. Flip the screen back around to a normal laptop configuration; the OS automatically switches out of Tablet Mode.
Two USB 3.0 ports and an SD card reader make it possible to quickly backup photos and videos to two hard drives at once, enabling content creators to streamline their mobile workflow. (This was a major pain point on the Surface Pro 3.)
Port and button placement on the LaVieZ makes sense.
Performance
I've been using the LaVie Z for three different tasks; often simultaneously: writing and research (10+ tabs Chrome open at any given time,) RAW photo processing and editing (using both Lightroom and Photoshop CC 2015,) and light video editing (using Premiere Pro CC 2015.)
The 5th generation Intel CORE i7 processor and 8GB of RAM allow the LaVie Z to juggle a couple dozen Chrome tabs while streaming music on Spotify without any lag.
The computer begins to chug a bit through Premiere while editing and color grading 1080p video files, but that's to be expected. Rendering is obviously slower than on a dedicated desktop workstation too, but it's doable — patience is key.
The most notable instance of lag I have experienced is while using Lightroom to cycle through RAW photos that are stored on a USB 3.0 external hard drive. There is definitely a bandwidth bottleneck; it takes each 12-megapixel photo about five seconds to fully load. Drag those photos over to the LaVie Z's internal 256GB SSD though; the lag disappears. Photos load instantaneously. As is the case with most machines, working locally will provide the best performance.
A sharp-angle bevel makes the LaVie Z easy to open and close.
Design
Simply put, the LaVie Z's design is minimalist. When the lid is closed, it forms a simple, matte-black rectangular slab. The computer's body is just as thin as its screen; each end features a full-length bevel, enabling easy opening.
The HDMI port, both USB ports, the SD card reader, and 3.5mm jack are all on the right side. On the left is a security port, power port, the power button, and physical volume controls. All of the ports and buttons are smartly placed and well-spaced.
The LaVie Z's biggest selling point is its insane lightness. How light is a 2 lb laptop in practice? Try handing it to anyone unfamiliar with the device; watch their surprised reaction. Everyone who holds it immediately stops, stares, and responds "Wow... That's light."
To achieve such great lightness, Lenovo used a specially-designed light-but-tough magnesium-lithium for the computer's frame. The material looks nice, but if it is tough, it doesn't feel like it.
What it does feel like, however, is cheap plastic. It is so thin that you can feel (and see) it depress when resting your palms on the base. Pinch the closed device between your thumb and forefinger; you can feel that same depression. It hasn't been broken or scratched after a couple months or well-traveled use, but it definitely doesn't feel like the premium device its price tag commands.
The computer's cheap feeling frame material can be overlooked, but where the LaVie Z really falls short is its keyboard. Instead of using a standard US keyboard configuration, Lenovo slapped a Japanese one on there.
The LaVie Z's keyboard configuration is abhorrent.
This presents several hurdles when typing. First, the [Ctrl] key is not in the lower left. The [Fn] key is. [Ins] and [Del] are crammed into the lower right by the Spacebar. The right Shift key has been cut in half and crammed into the wrong side of the arrow keys. Backspace has been cut in half; a useless FWD Space key occupies the extra real estate.
Though the keys feel great to type on, the placement flat-out sucks; it took me a month just to adapt to it. To make matters worse, the keyboard is not backlit, so good luck trying to find the correct finger placement for odd keys in the dark which, as a frequent traveler, is frequently.
For comparison, the Surface Pro 3 Type Cover doesn't have any key placement issues, is just as compact (if not more so), backlit — and a joy to type on.
A simple, black slab doesn't beg for attention.
Like
The LaVie Z is fast enough to handle some heavy-duty creative work, while remaining unfathomably lightweight and compact. Its design is simple — almost utilitarian so. Port and button placement is smart and simple. The touchscreen LED is bright and features rich colors.
If Lenovo adopted the same keyboard configuration from their Yoga line, the LaVie Z would be much easier to adapt to.
No Like
The LaVie Z doesn't use a US keyboard, which makes typing cumbersome and difficult. The keyboard's confusing configuration is compounded by the fact that it is not backlit either.
The computer's frame feels plasticky; not like a premium computer should.
The speakers are not very loud at all; their sound quality is poor.
Should You Buy It?
If you're in the market for a high-performance touchscreen ultrabook that is lighter than anything else available, look no further than the LaVie Z. Its extra USB 3.0 port and full-sized SD card reader give it a leg up on the Surface Pro 3, while still remaining lighter than Microsoft's hybrid.
Make no mistake: the computer's keyboard is definitely a pain point for the device. However, if you're willing to adapt, the LaVie Z's computing power and light weight are a force to be considered.
Specs, as tested:
| | |
| --- | --- |
| Processor | Intel Core i7-5500U Processor( 2.40GHz 1600MHz 4MB) |
| Operating System | Windows 10 (64-bit) |
| Graphics | Intel® HD Graphic 5500 |
| Memory | 8GB LPDDR3 |
| Display | 13.3" WQHD (2560 x 1440) LED (touch panel) |
| Dimensions (W x D x H) | 12.56" x 0.67" x 8.35" |
| Weight | 2.04 lbs |
| Storage | 256GB SSD |
| Webcam | 720p HD |
| Audio | YAMAHA AudioEngine™ utility |
| Battery | Up to 7 hours MM12, Up to 9 hours Video Playback |
| Communication | WiFi 802.11 a/c + Bluetooth® 4.0 |
| Ports | 2 x USB 3.0, 1x HDMI-out, SD card reader, Combo Head phone and 1 x mic |
About the Author: Chris Brinlee Jr. is an adventurer and storyteller who can't stay put for more than a few weeks at a time. Follow his adventures on Instagram:@chrisbrinleejr.
Photos: Chris Brinlee, Jr.
IndefinitelyWild is a new publication about adventure travel in the outdoors, the vehicles and gear that get us there and the people we meet along the way. Follow us on Facebook, Twitter, and Instagram.