The Lenovo ThinkPad T400s looks like your boring tray-table business notebook. But what the flight attendant doesn't know is that the Windows 7 14.1-inch capacitive touchscreen laptop is the first capable of four finger multitouch and it's fingertastic!
Four Freakin Fingers
Up until now most notebooks with multitouch have pretty much blown (including the Dell XT2 and the HP Tx2). Most of that was because of the Windows Vista interface and sluggish screen technology. The Windows 7 ThinkPad T400s with its capacitive touch screen changes that and almost makes me forget about the all out brawls I once got into with older tablets. However, while the hardware is strong, the success of the T400s depends on it getting good software and applications to run on top of it.
The screen is pure beauty. Like a capacitive touchscreen phone, light taps on the display are responsive and you don't have to think about positioning your finger in a certain way to open apps or rearrange windows.
G/O Media may get a commission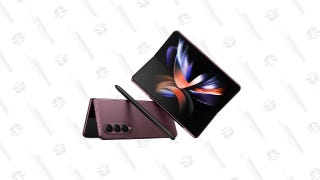 Save Up to $300
Galaxy Z Fold4
Now, that doesn't mean you can do everything in Windows 7 with your finger, which is why Lenovo put on its own widget style SimpleTap user interface. SimpleTap lets you control the volume or adjust the screen brightness with fat finger like controls. You get to the SimpleTap interface by either double tapping on the screen or selecting the red dot on the top right corner of the screen.
SimpleTap helps, but there is still a crapload that you can't do with your fingers on the screen. So, the T400 keeps its notebook form factor with the wonderful ThinkPad keyboard, touchpad, and pointing stick in tact.
No one will ever complain that there aren't enough ways to move the mouse around on the screen.
Unfortunately, these peripheral controls are so integral to the laptop that the T400's screen doesn't even rotate—it's not a convertible as you may have thought. More than once, I just wanted to enjoy a clean tablet design while surfing the web or playing a game, though the screen does tilt all the way back. Which brings me to actually testing the screen with my fingers.
With two fingers you can do the typical mutlitouch stuff you are used to. Pinch to zoom in or out, drag two fingers down the screen to scroll and twist to rotate images. But you can also add another two fingers into the mix. And using Windows 7's touchpack applications (which are preloaded), you can even have another person's two fingers on the screen to help edit photos or play a game. This is the kind of thing that is better seen in video so check out the video of me playing a game with a friend and editing photos.
Yeah, it's more than freaking cool, but what the hell are you really going to use that for? Beyond the picture and games I showed you, the answer is "not much right now." Lenovo will remind you that there are more programs like Space Claim coming soon, which lets designers use multiple fingers to move around objects (you can see the app in action here). But those programs are going to be few and far between until multitouch starts to take off on PCs.
Performance
Like most ThinkPads, the T400s can handle some pounding. Multitasking (watching a 1080p video, with 7 tabs open in Firefox, while running three IM clients and editing photos in GIMP) was smooth and I wasn't waiting around for things to load. Also boosting performance is the 128 GB SSD which boots Windows 7 in less than 40 seconds. It also launches Photoshop damn fast.
However, its battery life leaves more to be desired. This thing isn't going to make it through my flight next week from New York to San Fransisco. On a Wi-Fi battery test (it is the LAPTOPMAG Battery Test) that cycles through the top fifty sites on Firefox the six-cell battery pushed out 4 hours. The battery life isn't unbearable, though it will be interesting to see what other multitouch laptops provide in terms of juice.
Actually Good Speakers
The ThinkPad T400s nails both touch and performance, but it also makes a decent phone and music player. Apparently the model has been super popular for making VoIP calls so Lenovo upped the quality of the webcam and the speakers. The speakers are actually excellent for a business class notebook; Black Eyed Pea's "Ive Got a Feeling" sounded seriously full on the speakers that straddle the keyboard.
Price
$2,479 (as configured with a multitouch display, 2.53 Intel GHz core 2 Duo P600 processor, 4GB RAM, 128 GB Toshiba SSD)
Verdict
The ThinkPad T400s has always been a solid notebook, and now it's the world's first to have a screen capable of recognizing four fingers at once. But in my mind, the T400s' screen is a lot like the Etch A Sketch I got when I was six: it's fun to play with, but you aren't going to use it all that much (at least until we have more compelling applications). And keep in mind, $2,000+ is a lot to pay for a Etch A Sketch.
Seriously responsive capacitive display


Recognizes not two, or three, but four fingers on the display


Superfast solid state drive that opens programs quickly


Meh, battery life


Kind of wish the screen rotated