I didn't think Lenovo branding would be the thing to re-interest me in Motorola, which Lenovo bought in 2014, but here we are. The Lenovo ThinkPhone by Motorola is precisely what it sounds like: it's an amalgamation of all the reasons you'd choose a Lenovo Thinkpad over other Windows laptops, but made by Motorola. It even has the signature red button. The ThinkPhone is mainly geared toward enterprise users, as business is what ThinkPad is about, but the premise seems exciting for Motorola, which has been struggling to turn heads in the Android world.

The ThinkPhone looks like the ThinkPad had a baby with a recent Motorola smartphone. It's a simple design with a similar look to Lenovo's ThinkPad laptops, right down to the signature red button, a tribute to the trackpoint mouse nub. The red button can be programmed to do simple things like bring up an oft-used app or start a screen recording. You can even program it to instantly pair the ThinkPhone with a Lenovo ThinkPad laptop using Motorola's ReadyFor app.
The ThinkPhone has a 6.6-inch FullHD pOLED display and a 5000 mAh battery, which is quite hefty for a phone this size. It runs on a Qualcomm Snapdragon 8+ Gen 1 processor, the same chip inside Samsung's latest foldables. It's available with 8 or 12GB of RAM and up to 512GB of storage space. The phone ships with Android 13 out of the box. When I asked, a Motorola spokesperson said the Lenovo ThinkPhone would get four years of security updates and three years of software updates.

Motorola's key selling point for this business-centric phone is that it has more security features than many other Android smartphones. The security platform on the ThinkPhone is called ThinkSheild, which works similarly to Samsung Knox in that it can encrypt data at the hardware level. There's also Moto KeySafe, which is described as a separate processor that isolates PINs, passwords, and cryptographic keys, "storing them in a tamper-resistant environment, protecting the data from the inside out."
G/O Media may get a commission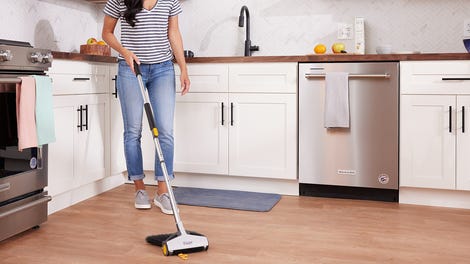 BOGO 50% Off
Flippr - BOGO 50% Off
The ThinkPhone is MIL STD 810H certified, which means it's durable enough to survive a more than 5 foot fall (though I didn't want to test it by throwing it at the wall). Though it's made of aramid fiber, which is supposed to be stronger than steel, the ThinkPhone doesn't feel hefty. The display is reinforced with Gorilla Glass Victus, which you'll find on most Android devices out on the market. There's also IP68 certification for splashes and the occasional drop in a vat of water.

Like Motorola's flagship devices, I worry about the Lenovo ThinkPhone's camera capabilities. The rear-facing 50-MP camera and the 13-MP ultrawide camera will be fine for what these phones will likely be used for: scanning barcodes and archiving inventory. But even with a few test shots, I could see the camera struggling in ways other Android cameras do not. In particular, Motorola's phones can zoom in quite a ways, but the result tends to be a little sharp for my liking. The front camera is a 32-MP sensor, which will be fine for video calls—it's better than what's on the Pixel 7.
Lastly, the ThinkPhone will ship with a 68-watt charger in the box. That means the phone will not only charge up fast, but you'll also be able to charge up a ThinkPad laptop with the same charger. Lenovo and Motorola promise the ThinkPhone can charge up to 50% in 15 minutes.
There's no pricing on the Lenovo ThinkPhone by Motorola yet. The phone will be available in the "coming months" in the U.S., Europe, Latin America, the Middle East, Australia, and select countries in Asia. It'll be interesting to see how this sells among Lenovo and Motorola's enterprise customers and if it helps with Motorola's market share in various pockets of the world.
Lenovo Tab Extreme: A giant ass Android tablet
Lenovo made many announcements as part of its maelstrom of CES 2023 news. This also includes the Lenovo Tab Extreme, a 14.5-inch Android tablet with a killer screen. The display is a 3K OLED with a DCI-P3 color gamut and a 120Hz refresh rate—cloud gaming will look clutch on this. The tablet can also be used in portrait mode, so if you like to watch TikTok like me, you may never leave the matrix once you get your hands on this ginormous screen. There are eight speakers to accompany this portable entertainment system: four woofers and four tweeters provided by JBL and enhanced with Dolby Atmos. I listened to a bit of a live set of Tiesto through YouTube to quickly test it out—in the spirit of EDM-obsessed Las Vegas—and it sounded bassy and crisp.

Inside, the tablet is powered by a MediaTek Dimensity 9000 octa-core processor, the chip maker's latest flagship processor, and 12GB of RAM. Lenovo promises up to 12 hours of battery life with its 12,300 mAh battery, which is also compatible with that 68-watt charger mentioned earlier. And there's support for the Lenovo Precision Pen 3, which feels relatively smooth even if I am out of practice with a stylus.

The Lenovo Tab Extreme starts at $1200 and will be available later this year.