Lev Grossman, author of The Magicians and The Magician King, joins us to discuss goofing on Narnia, reviewing for Time, and rebelling against your parents when you're 35.
Geek's Guide to the Galaxy is hosted by John Joseph Adams and David Barr Kirtley.
You can download the MP3 for this episode here, subscribe to The Geek's Guide to the Galaxy podcast feed here, and browse other episodes here.
This episode includes:
Part 1: Interview with Lev Grossman (1:11)
Topics covered: The Magician King, response to The Magicians, likeable protagonists, Christian subtext in Narnia, Philip Pullman, magicians vs. muggles, parents who don't like fantasy, advocating for fantasy at Time, public response to "Good Books Don't Have to Be Hard," mortal enemy Edward Champion, short stories, sequel to The Magician King, TV adaptation
G/O Media may get a commission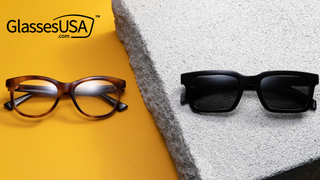 60% off frames
GlassesUSA.com Back to School Sales
Part 2: Guest Geek Douglas Cohen Joins Us to Discuss George R. R. Martin's A Dance with Dragons (23:17)
Topics covered (WARNING: DISCUSSION CONTAINS MASSIVE SPOILERS): Discovering A Game of Thrones, ranking the books, reading Dance with Dragons, are certain deaths for real?, where is a certain character?, too many POVs?, not enough plot development?, how many more books?, killing Starks, is a certain character being led into a trap?, sympathy for villains, the epilogue, new member of the kingsguard, false dragons, Ashara Dayne, pork pies, how will it end?, Mirri Maz Dur's prophecy, are the gods real?, Azor Ahai, Coldhands, POVs we want more of, Dunk & Egg, three dragonriders, who's pulling the strings?, the last line
Thanks for listening!
John Joseph Adams is an anthologist, a writer, and a geek. He is the bestselling editor of the anthologies Brave New Worlds, Wastelands, The Living Dead, The Living Dead 2, By Blood We Live, Federations, The Way of the Wizard, and The Improbable Adventures of Sherlock Holmes. Forthcoming anthologies include Under the Moons of Mars: New Adventures on Barsoom (Simon & Schuster, 2012), Armored (Baen, 2012), and The Mad Scientist's Guide to World Domination (Tor, 2012). He is a 2011 Hugo Award-nominee for Best Editor (Short Form), his books have been nominated for the World Fantasy Award, and he has been called "the reigning king of the anthology world" by Barnes & Noble.com. He is also the editor of Lightspeed Magazine and Fantasy Magazine. Find him on Twitter @johnjosephadams.
David Barr Kirtley has published fiction in magazines such as Realms of Fantasy, Weird Tales, Lightspeed,Intergalactic Medicine Show, On Spec, and Cicada, and in anthologies such as New Voices in Science Fiction,Fantasy: The Best of the Year, and The Dragon Done It. Recently he's contributed stories to several of John's anthologies, including The Living Dead, The Living Dead 2, and The Way of the Wizard. He's attended numerous writing workshops, including Clarion, Odyssey, Viable Paradise, James Gunn's Center for the Study of Science Fiction, and Orson Scott Card's Writers Bootcamp, and he holds an MFA in screenwriting and fiction from the University of Southern California. He also teaches regularly at Alpha, a Pittsburgh-area science fiction workshop for young writers. He lives in New York.
Friend us on Facebook and follow us on Twitter. If you enjoy the show, please consider making a donation via PayPal and/or signing up for a free trial with our sponsor, Audible.com.