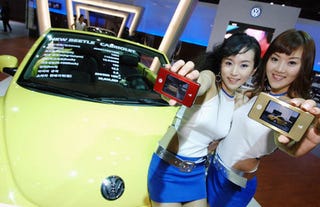 Looking for every angle to avoid commoditization, LG teams up with Volkswagen for a painted-up version of the FM37 PMP first announced last October, a little media player that matches the colors of the VW Beetle. It'll be available in Salsa Red, Shadow Blue, and Sunflower Yellow, just like the car.
In case you don't recall the LG FM37, it has a nice clean design because LG has eliminated most of the buttons up front in favor of a 2.4-inch touchscreen LCD. It can play back 4GB worth of your favorite MPEG-4, Windows Media9, MP3, WMA and Ogg files, and we're told that it'll be first available only in Korea. Too bad those two young lovelies won't be included, but you can click over to the next page and see one more picture of them.


What does the FM37 have to do with the Beetle? Besides the colors, maybe its e-book support will make long trips in the tiny VW bug seem more pleasant. Now we're just wondering about the price, which some sources say is $200 but when we saw it in January it was $320.
LG FM37 PMP in tune with the Volkswagen Beetle [Newlaunches]