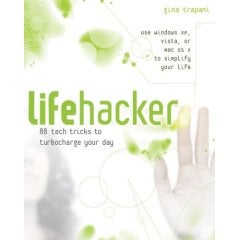 Our blogging cohorts at Lifehacker are releasing a book! The book is appropriately titled: Lifehacker: 88 Tech Tricks to Turbocharge Your Day. If you enjoy reading Lifehacker this may be the perfect book for your collection. I'll let Amazon explain it for those of you who are still reading this but have no clue what the hell I'm talking about.
A "life hack" is a clever shortcut or a lesser-known, faster way to complete a task. Lifehackers are redefining personal productivity by tweaking, modding, mashing up, and repurposing web apps, desktop software, and common everyday objects. This book presents 88 of the best life hacks from the Lifehacker.com web site archive.
And for $16.49 it is practically a steal. Now go pre-order it, you sheep. It will even be available for the holiday season. Congrats, Gina and the Lifehacker crew.