With the WWDC kickoff only days away and the launch of the 3G iPhone imminent, many hardcore geeks will brave the elements outside of their local Apple store in an attempt to be among the first to score a shiny new phone. If you happen to be one of those geeks, the following tips and gadgets will help you survive the crowds and emerge victorious.
•Tip #1: Stay informed. Waiting in lines for hours on end to purchase gadgets is borderline crazy. Waiting for gadgets that may not actually show up to the party is full-on crazy.
•Tip #2: Make sure things are cool at work. The iPhone is great and everything, but it is not worth losing your job over. Make sure you have the vacation time and / or you come up with a great excuse to be out of work for a day or so.
•Tip #3: Get there early. It seems like common sense, but keep in mind that there are always people out there willing to go the extra mile.
G/O Media may get a commission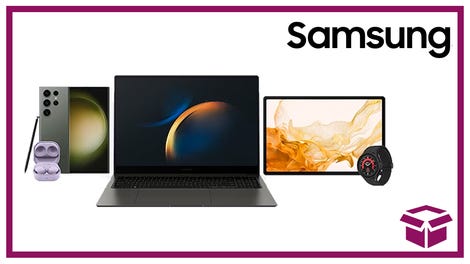 24 hour deals
Discover Samsung - Daily Deal
•Tip #4: Dress appropriately. If it is hot, wear shorts. It is as simple as that. However, wearing an iPhone or Apple related shirt might earn you some respect from your fellow line nerds.
•Tip #5. Bring a friend. You will need someone to talk to (and hold you) when things get rough. Plus, who will watch your spot when you have to go to the bathroom? If you don't have any friends, try and make some in line with your irresistible charm, wit and good looks.
•Tip #6:Bribes can't hurt. Bring a box of donuts or soft drinks to distribute to your fellow campers. It will go a long way to help you make friends and acquire information. Cash always works too.
•Tip #7: Stock up on non-perishable foods like beef jerky and Twinkies. You will need the beefy, spicy sugary energy to stay alert.
•Tip #8. Entertainment is essential. Handheld game systems, portable DVD players, and portable web-enabled devices should do the trick. Just remember to bring backup batteries.
•Tip #9: Stand your ground. If you let people cut you in line a stampede is likely to breakout. Let those dorks know you are one geek that is not to be trifled with.
•Tip #10: Last but not least, make sure you are properly equipped to handle everything that mother nature can throw at you while you are waiting in line. The following gadgets can offer some assistance in your iPhone quest:
Tents are not always necessary, but If you plan on hunkering down for a long time, this Woods solar-powered E-Z Tent with interior LEDs is the way to go. Four to six hours of sunlight on the solar panels will yield 2 to 4 hours of light in the tent. You can even use the panels independently to charge up your gadgets. Available for $100-120 (4-6 person tents). [Camping Outlet]
Earlier I mentioned that it is a great idea to bring a friend so that you can take care-free bathroom breaks. But with this Coleman portable flush toilet you could pinch a loaf right there in line. Although, I recommend that you do so inside a tent or away from prying eyes. Dropping a deuce in public is generally frowned upon and will not go over well with both your fellow line nerds and the authorities. Available for $74.95. [Sunny Sports]
Staying clean is crucial. It boosts morale and your clean fresh scent will be intoxicating to those around you. Thanks to this pocket shower, you can enjoy a good seven minutes of washing up using 10-liters of water. Plus, the black casing absorbs heat from the sun, so your shower will be nice and warm. Again, think of the people around you when using this. Public nudity is a no-no. Available for $24.95. [REI]
In order to survive, you are going to need food. As mentioned earlier, non-perishable items are key when line camping, but if it is a hot meal you crave this portable solar cooker can get the job done. All you need is a black pot to cook things like fish, poultry and red meats, stews, casseroles, eggs, veggies, grains, bread, cakes and desserts. It can even help you purify water should you be forced to drink your own urine. Available for $24.90. [Safety Central]
Finally, you are going to need some sort of cooler to keep drinks and other items cold. If you are going to be in line for an extended period of time, this solar power refrigeration unit can keep your beverages frosty using the power of the sun. Unfortunately, the privilege is going to cost you somewhere in the neighborhood of $1000 for 5-8 cubic feet of fridge or freezer space. [Parts on Sale]
Naturally, this advice would work for any big product launch line camping scenario-but over the years I have learned that waiting in an endless line for a gadget is more trouble than it's worth. This is especially true when you consider that there where plenty of original iPhones at launch. If you have some patience, it is a good idea to make friends with store employees or ask questions about when shipments arrive. If you know when product comes in, you stand a much better chance of being there first when it is restocked. Using this technique, I managed to score a Wii at a Toys R' Us only a week after launch.