Logitech's latest laser tracking technology in their Performance MX and Anywhere MX mice, Darkfield, promises to track even better than standard lasers multiple surfaces not possible before. The most impressive one? Glass.
The Price: $80 for the Anywhere Mouse, $100 for the Performance Mouse
The Technology: A new lasering scheme called "Darkfield Laser Tracking", which gives the mouse enough fidelity to illuminate even glass (as long as it's more than 4mm thick). The laser (or standard optical) illuminates the different terrains on a surface, which the mouse can then track to see which direction you're moving your hand in. The more differences the mouse can "see", the more fine-grained the movement. The Darkfield tech works by blocking out light from the central area, then allowing light to enter at an angle, which is more refined in seeing abnormalities. Both these mice use two lasers to help track dust, scratches and other identifying features.
The Verdict: It works! It works so well that it tracks just fine on a glass sliding door. And using it on regular mousepads, like the MacPadd aluminum mousepad, works even better than last-generation Logitech mice at providing a smooth, uninterrupted mousing experience.
G/O Media may get a commission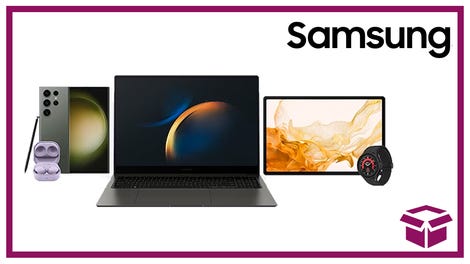 24 hour deals
Discover Samsung - Daily Deal
The Big One: The Performance Mouse MX is similar to the MX Revolution and the MX 1100 in that it's fully loaded, meant for the hardcore mouse user and only really usable for right-handed people. But there are some slight differences. The Performance mouse has its forward and back thumb buttons have moved slightly higher to make room for a zoom button underneath. It's also slightly narrower and smaller, pushing your hand further back on the mouse instead of firmly in your palm area.
To us, that's a slight step backwards in design. We prefer the fatter mice that fits in your hand like a comfortable pebble, but this should probably be fine for people with smaller hands that complain about the size of the previous two MX devices. So, great for Chinese children forced to farm gold in World of Warcraft all day.
The Performance MX takes one AA battery and comes with one rechargeable Eneloop, which is great. Other than that, it's basically the mouse you loved before but with increased tracking capability with the Darkfield laser.
The Small One: The Anywhere Mouse is like a travel mouse with benefits. It has the two forward and back thumb buttons, a separate middle click/app switcher button and the same Darkfield laser. It's also slightly larger than usual travel mice, but still small enough to fit easily in bags without bulging out too much.
It takes two AAs and actually has a slot inside the mouse for the Logitech Unifying adapter, preventing it from being lost in the bowels of your briefcase. It's definitely one of the best travel mice we've used, and the fact that it has better trackability with Darkfield means you won't need to bring a mousepad along with you—you can just mouse anywhere.
Final Thoughts: Although the Performance Mouse MX is slightly smaller than we'd like, it's still one of the best-tracking mice we've ever used. If you've got a glass table, or if you just like slightly better fidelity with your input devices, Logitech's new Darkfield is probably as big a step forward as the jump from optical to laser.