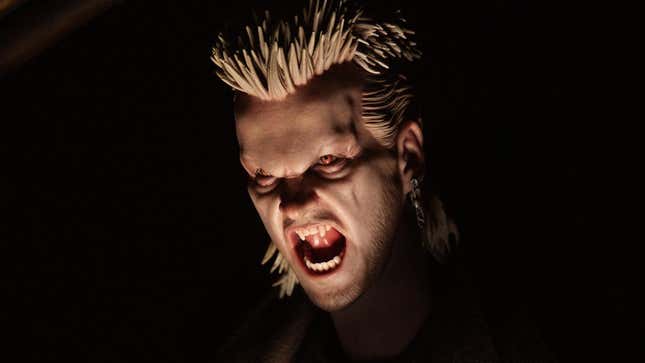 If there are two things I love in this world it's The Lost Boys and wasting money. So it should be of little surprise to my friends, family, and you readers that I am salivating over Sideshow Collectables' latest announcement: a 1/6 scale collectible of Kiefer Sutherland's iconic character David from The Lost Boys.
The Lost Boys, if you haven't seen it, is an unforgettable 1987 vampire film about two brothers (Corey Haim and Jason Patric) who move to Northern California and find themselves wrapped up in a rising, teen vampire culture. Sutherland is the main vampire villain, Corey Feldman is in it along with Dianne Wiest, Edward Herrmann, a Sexy Sax Man, and more. It's the best.
And though there have been some 6-inch figures and Funko Pops, there's never been anything like this. Check it, and its incredible accessories (Noodles! Maggots! Hanging feet!) in the following slideshow. David is available to preorder for $285 at Sideshow, a page I totally do not have up in a Tab at all times.