Asgardian warrior Jaime Alexander reveals what to expect from a darker, more cosmic Thor: The Dark World. The actor behind Emperor Xerxes previews 300: Rise of an Empire. Plus some hints that Revolution might finally crank up the action when it returns.
Spoilers from here on out!
Top image from Thor.
Thor: The Dark World
Jaime Alexander says she's concluded her filming as the Asgardian warrior Sif. She offers this preview of what to expect:
It's going to be a bit of a darker feel. Obviously a lot more action... We get to explore different realms a lot more. And you see a lot more Asgard and you get to know the people of Asgard.
A little more more character development for Sif?
Yes, there is that, yes. And, I don't know if I can say this, we sort of explore the Sif/Thor relationship a little bit.

In a romantic sort of...?
Yeah, kind of. It's more just like getting a feel of who these people are and how they are the way they are with each other.
You can watch the entire interview below. [I Am Rogue]

---
Guardians of the Galaxy
We can add one more name to the list of supposed contenders to take on the main role as Star Lord, a list that has at one time or another reportedly included Joseph Gordon-Levitt, Joel Edgerton, Jack Huston, Jim Sturgess, James Marsden, Lee Pace, Eddie Redmayne, Zachary Levi, and Michael Rosenbaum. The latest addition is reportedly The Office star John Krasinski, who was previously very strongly linked to the role of Captain America before Chris Evans ultimately emerged with the role.
G/O Media may get a commission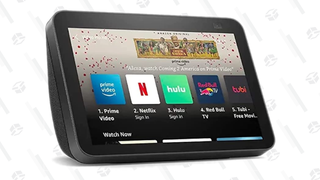 Meanwhile, the same report indicates the movie is looking to cast the role of Drax the Destroyer, who in the comics was an average human given great powers by Kronos to avenge the death of his family at the hands of Thanos. The three current contenders are reportedly Generation Kill's Brian Patrick Wade, former WWE wrestler Dave Bautista, and Old Spice pitchman Isaiah Mustafa, who has been on the verge of a big breakout role for a couple years at this point. All that said, it's probably best to take this with a grain of salt for the time being. [Comic Book Movie]
---
Star Wars: Episode VII
Slashfilm's Peter Sciretta sent out this tweet, then didn't have much to add to it when his own site reported on it:

Sciretta's coyness might imply he has inside information, and said information would seem to turn on the possibility that the lead of the new Star Wars film will either not be male, not be a star, or both. Of course, unless you're going to argue Liam Neeson was the star of The Phantom Menace — which I guess you could, but that doesn't seem quite right somehow — then none of the previous six Star Wars have had stars in the lead role, so the much more intriguing possibility is that the gender of the lead is what's in question here. So, there you go — there might be a female lead for the new Star Wars film, and this tweet might even be a legitimate indicator of that possibility. But yeah, best to take all this with a grain of salt for now.
---
X-Men: Days of Future Past
Beast actor Nicholas Hoult, who just worked for returning director Bryan Singer on Jack the Giant Slayer, pretty much confirms that he will indeed be back for more while praising his director:
" We've gotten along really well. He's fantastic on the X-Men films. He really knows what's going on. And from what I've heard about the script, I think it's going to be a really cool film. I'm looking forward to it. I like that character as well. I don't think we start for another few months."
---
The Wolverine
Here's a promo photo. [USA Today]
---
Oblivion
Here's a photo spotlighting star Tom Cruise's captivity at the hands of Morgan Freeman's mysterious freedom fighter in Tron Legacy director Joseph Kosinski's post-apocalyptic epic. [USA Today]
---
After Earth
Here's a promo photo from Will and Jaden Smith's upcoming post-apocalyptic sci-fi movie — which is directed by M. Night Shyamalan, but everyone involved would really appreciate it if you just ignore that. [IGN]
---
World War Z
Here's a promo photo from Quantum of Solace director Marc Forster's delayed, reportedly troubled adaptation of Max Brooks's acclaimed zombie novel, starring Brad Pitt and The Killing's Mirielle Enos. [USA Today]
---
Jack the Giant Slayer
Here's a new poster for X-Men director Bryan Singer's gritty fairy tale adaptation, starring X-Men: First Class's Nicholas Hoult alongside an impressive cast that includes Ian McShane, Ewan McGregor, Stanley Tucci, and Bill Nighy. [Coming Soon]
---
Oz the Great and Powerful
Here's a new batch of promo photos from Sam Raimi and James Franco's Wizard of Oz prequel. [/Film]
---
Warm Bodies
Here's a bunch of promo photos from the zombie romantic comedy, starring Nicholas Hoult and I Am Number Four's Teresa Palmer alongside Con Air's John Malkovich and Children's Hospital star Rob Corddry. [Shock Till You Drop]
And here are some behind-the-scenes images.
And here's Teresa Palmer on what sets the film apart from other zombie movies:
"When you think of zombie movies you think of R-rated, everyone eating brains, blood and gore, craziness like that. In our film, it's great because we sort of get the best of both worlds and we get to see that typical zombie genre, but then there's also a lot more emotional depth to our film and there's a love story and these zombies they were once real people and they still have the same feelings and thoughts, especially R."
---
300: Rise of an Empire
Rodrigo Santoro discusses his return to the role of the Persian emperor Xerxes in the long-simmering, oft-changed 300 follow-up:
It would be about Xerxes at first, but then they changed the whole thing. I would say that you get to know a little bit about [Xerxes'] backstory, which I thought is pretty cool. It's more like you have the new Athenian, Sullivan [Stapleton]. You have Eva Green's character, which is a commander, a naval commander, my naval commander, and you have Xerxes. It gravitates between all three, what's going on.

I think it will match [the previous film], because the idea is matching — characters and style and all that. Especially because they're calling it like a spinoff, you get bits of the first movie. There's a place where they meet, the first movie and the second movie, but it's a different director. I didn't see the movie yet, the final result, but the experience — I mean, Zack [Snyder] was pretty much involved because he wrote it and he's producing it. His hands are there, but [director] Noam [Munro] will have his own take on directing it. I think it's going to be pretty awesome, and the fans are going to be pleased."
---
Fringe
Here's a pair of promo photos for the two-hour series finale, "Liberty"/"An Enemy of Fate", which airs January 18. [KSiteTV]
---
Person of Interest
Here's a promo for the twelfth episode, "Prisoner's Dilemma", which airs this Thursday, January 10.

---
Revolution
Here's a promo for the show's return on March 25 — yes, that's March 25 — featuring new footage. This was shown at the Television Critics Association over the weekend.

Creator Eric Kripke and executive producer J.J. Abrams discuss what to expect from the second half of the season:
Kripke: [The hiatus gave us] the ability to take a breath, look at what we've done and really analyze it. I think we did a lot of things right. But I felt like we could pick up the pace of the stunning revelations. [We'll be] making [the show] more shocking more often. [The rest of the season is] its own continuous piece that is bigger and better and even more exciting. Giving [Monroe] power was more about making him an unstoppable force. We start to deliver on the promise of the title. The revolution begins.
Abrams: Power is possible, but will it remain on constantly all the time too early? Based on what Eric's pitched to us, the answer is no.
There's more about what to expect at the link. [TV Line]
Meanwhile, NBC head Robert Greenblatt explains why the decision to keep Revolution off the air until late March, despite it being a cornerstone of NBC's relatively successful 2012, will pay off in the end:
"Is it uniformly terrible, or uniformly terrible for terrible shows? The safer play for us was not to do what I think is equally bad, to put on one episode, then three repeats, then one on, one off... If you market properly and have the goods, and you can run them all in a row... that's the better long-term play."
[TV Line]
---
Grimm
Here's a preview for the second half of Grimm's season, which begins March 8.

---
666 Park Avenue
Here are some promo photos for the tenth episode, "The Comfort of Death", which at this point won't actually air until sometime this summer, if at all. So, um, enjoy these photos in lieu of the actual episode, I guess. [SpoilerTV]
And here are some promo photos for the following episode, "Sins of the Father", just to prove that these episodes do really exist, much as ABC might prefer not to acknowledge that. [SpoilerTV]
---
Arrow
Here's a couple of new promo photos of the cast. [SpoilerTV]
---
American Horror Story: Asylum
Here are some promo photos for episode eleven, "Spilt Milk", which airs this Wednesday. [SpoilerTV]
Here's the brief rundown for January 23's second season finale:
Chapter 13 - "Madness Ends" (Airs January 23, 10:00 pm e/p) - Johnny sets out to complete his father's work. Lana leads the charge to finally shut down Briarcliff. Written by Tim Minear; directed by Alfonso Gomez-Rejon.
---
Lost Girl
Here are some promo photos for the third season premiere, "Caged Fae", which debuted last night in Canada but premieres January 14 on Syfy here in the United States. [SpoilerTV]
And here's the synopsis for the following episode, "SubterrFaenean":
When Kenzi's childhood friend is snatched away before her eyes, Bo follows her underground to help find him. Meanwhile, Dyson's new partner looks like trouble for Bo.
---
Beauty and the Beast
Here are some promo photos for the tenth episode, "Seeing Red", which kicks off the second half of the season on January 24. [SpoilerTV]
---
Additional reporting by Amanda Yesilbas and Charlie Jane Anders.