Up until now, pretty much your only option for a Windows RT tablet was the Surface 2. But now Nokia is giving you another choice, in the form of the Lumia 2520, a colorful line of tablets that look even larger versions of its rainbow phones.
What Is It?
A colorful Nokia tablet running Windows 8.1 RT. It's LTE-equipped, and $400 on-contract, and $500 unbridled.
Why Does It Matter?
This is the first Windows RT tablet since last year. And the only current one out there that's not Microsoft hardware. Variety is good in general, and it's nice to have options on any platform, having a second, up-to-date Windows RT tab is good for both the platform and for anyone using it.
G/O Media may get a commission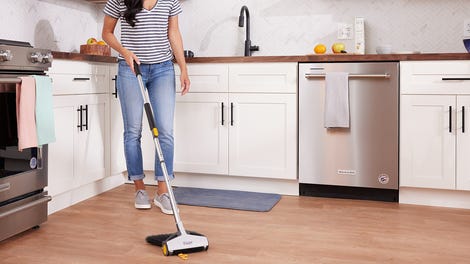 BOGO 50% Off
Flippr - BOGO 50% Off
Design
It looks like a giant Lumia. In a way, it's not much of a departure from the massive 1520. This tablet version looks like it could be the phone's scaled up twin. Its size—the well-tested 10.1 form factor that's treated Apple so kindly in the past—is great for your typical couch-bound tablet stuff, like streaming video, surfing the internet, maybe peeking at Twitter.
The Lumia 2520's screen is lovely at full 1080p with 1920 x 1080 resolution, which comes out to 218 pixels per inch, making it a slightly better than the Surface 2's meager 207 PPI. But the iPad Air has it beat with a solid 264, and Kindle Fire HDX with its ludicrous 339. The Lumia 2520 has a 6.7 megapixel Zeiss lens on the back and a 2-megapixel shooter on the front, compared to the Surface 2's 5- and 3.5-megapixel duo.
The 10-inch 2520 comes in shiny candy hues of red, white, cyan, and black, which I quite like. Seriously, can we get more colorful gadgets? Because colors are fun and playful and just plain black and white are straight boring.
Using It
The screen is bright and pretty and nice to look at and use. The tablet is mostly comfortable, if not a little awkward to handle at times. It's sort of heavy, but not as heavy as the Surface. But it definitely made the iPad Air feel light as a dang feather. The camera is really fast, and that's nice, but also a little irrelevant because we're talking tablets here, and you shouldn't be using them to snap a lot of photos unless you're trying to look like a tool. But in a pinch, this camera holds up better than your average tablet shooter. I could get on Skype with a clear, crisp connection, but using the Lumia almost makes you miss the Surface 2's kickstand. I mean, if you're going to be using RT, it's nice to have those sort of hardware perks to make up for the sometimes lacking ecosystem.
Games (the ones you can get on Windows RT, anyway) were also fun and fast with minimal lag, thanks to a zippy Qualcomm Snapdragon 800 chip on the inside, the same chip that makes the Kindle Fire HDX a total dream. I probably lost too much time training pretend creatures in a Dreamworks-produced ditty called Dragon Adventure.
Actually downloading apps proved to be sort of problematic, though. It maddeningly took several minutes for the Lumia to install anything I bought from the Windows Marketplace. No idea what the reason was for this, but it definitely an annoyance.
And while video runs smoothly on the Lumia, it's very grainy. Netflix was blurry. So was YouTube. You shouldn't be getting that stream quality from a 1080p tablet. On the other hand, the sharp, bright screen made reading news, books, comics—pretty much anything—quite enjoyable.
The 8000 mAh battery basically runs as-advertised, which is to say about 10 hours of video playback. I could go three days casually using the Lumia before I needed to plug it in, and it took probably an hour and a half or two to go from totally dead to all charged up. Microsoft hasn't specified what size battery the Surface has, but there you generally just get about eight hours of juice. And the super svelte iPad Air runs about the same.
Like
The design and the simplicity. Colors are fresh and a nice turn from what we're used to seeing with tablets. Also, it's the only Windows tablet with LTE, and that's nice to have even as an option if you need the Office-using power of Windows RT, and also a data connection.
No Like
It's pretty and nice to hold, and generally works like a tablet should, but it doesn't bring all that much to the tablet to justify itself. Whereas the Surface 2 supplements its more "meh" bits (like Windows RT) with tricks like kickstand-having, Type and Touch cover compatibility, and a beautiful body, the Lumia has fewer unique advantages. It's a pretty standard tablet, with LTE as the only real bell or whistle to help it stand out in its crowd of two.
Should You Buy It?
Probably not. I want to like the Lumia. I really gravitate toward a design that I find cheery and colorful and different from everything else out there. But otherwise it's a pretty unremarkable tablet, running a the lackluster Windows RT OS with none of the Surface 2's redeeming qualities to help compensate. There's not much sense in buying the Lumia 2520 instead of the Surface 2 (if you need RT for some reason) except maybe LTE. And the Surface 2 with LTE is coming anyway.
Bear in mind also that you can get plenty of more capable tablets for the same price, if not less. The new iPad Air is $500, admittedly without LTE (which will run you an extra $130(!)). And there's a whole slew of Android tablets you can buy for much less than that. Amid all that, this pretty little thing does not quite stand out.
Lumia 2520 Stats
Price: $400 on contract, $500 off
Screen: 10.1 inches, 1920x1080 (218 PPI)
Processor: Qualcomm Snapdragon 800
Storage: 32GB
Battery: 8000 mAh
Wi-Fi: 802.11 a/b/g/n
Weight: 1.3 pounds
Dimensions: 10.1 inches tall by 6.6 inches wide by 0.35 inches thick
The Lumia 2520 is available today on Verizon, and on Friday on AT&T.