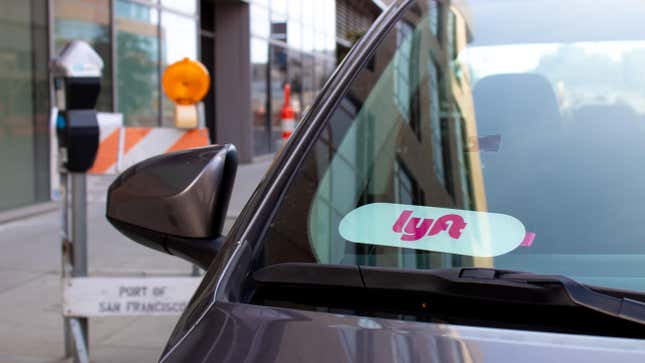 As the old adage goes: Time is money. And now there's one more reason to watch the clock. Lyft has quietly added wait time fees to its cost scheme. If you request a car and aren't present at the pick up point within two minutes (or 5 minutes for luxury rides) of the scheduled arrival time, the rideshare app will now charge you for every minute of tardiness. Lyft's new policy began in December 2022, a company spokesperson told Gizmodo in a phone call, but was introduced without fanfare. The change was first reported on by Tech Crunch on Tuesday.
Under the new wait time fee structure, cost will vary from from place to place. (Lyft's company spokesperson declined to provide Gizmodo more details about cost on the record.) Driver early arrivals don't count towards what riders pay.
Lyft drivers retain the option to cancel a ride, and deem a passenger a no-show after five minutes, the spokesperson explained. If your ride does ends up being cancelled, you'll only be subject to the cancellation charge, not the cost of the intervening minutes.
Further, though the change applies to most Lyft rides, there are some exceptions. Wait time fees won't apply to Lyft Shared, Access, Assisted, and Car Seat rides.
Uber began instituting similar wait time fees in some cities in 2016. So it's not particularly surprising that, more than seven years later, Lyft is following suit. The fact that it took as long as it did might be the biggest shocker.
However, Uber's implementation of the additional charges has been something of a bumpy road. The U.S. Department of Justice sued the rideshare service in 2021 for violating the Americans With Disabilities Act via wait time fees. The suit argued that Uber failed to reasonably accommodate passengers with disabilities who need additional time or assistance to get into a vehicle. For example, people who rely on mobility devices or wheel chairs may need a couple extra minutes to safely transfer into a taxi and load their mobility aids.
In July 2022, the company agreed to pay millions of dollars in a settlement with the DOJ. Uber also had to agree to more clearly advertise its wait time fee waiver program and a refund option for passengers with disabilities.
In an attempt to pre-empt any lawsuits, Lyft includes information about a disability waiver for wait time fees in the company's explanation of the charge scheme. Riders can also request a refund if they've been wrongfully charged a fee.