I love Macworld Expo. I've gone more years than I haven't out of the last dozen. But for most of those years, Apple was presenting. That's changed.
In the past decade and change, Expo went from technology side show to main event. Post-iPod, the press arrived in greater numbers. By the time the iPhone launched, they began showing up in troop trucks. It became impossible to get a good seat. The number of exhibitors likewise swelled. It was chaos. And too normal. All the weirdos left. Or at least, there were so many normal people, the big old nerds weren't as evident. I hated that. And I especially hated the media. Fuck the media.
But then Apple pulled out. And so too did all the hangers on in the media. And IDG canned the Expo, at least in the form it once was. Now it's called Macworld | iWorld. And it's officially not a trade show, guys. It's an event by and large for the fans. And that means that most of the exhibits are consumer oriented. Everyone, seemingly, had stuff on sale. The exhibitors I talked to all said they were busy. So that's good.
Trade shows are stupid. They're kind of pointless, especially now that the Internet is the world's biggest trade show. So the idea of re-casting this thing as a Fan Con makes a certain sort of sense.
G/O Media may get a commission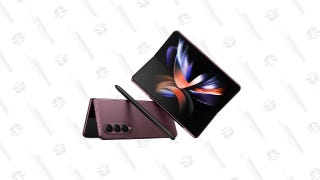 Save Up to $300
Galaxy Z Fold4
Having said that, I don't know if it is going to work, or not. It was low-key to the point of nearly-empty. The throngs were gone. So too was the news. And without any new Apple products to talk about, or other big news to chase, I just went looking for things that were weird. There was still plenty of that.
It closes tomorrow. There's a drum circle. Shanti. Shanti. Shanti.
---
I never really understood what this exhibit was about. Ostensibly, it was for some sort of screen protector. But dude just painted. And, do we really want to put Steve Jobs and Bruce Lee on equal footing with Martin Luther King Junior? I'm not sure. But every once in a while, this dude would bust out some nun-chucks. So I kept my smart-ass yap shut.
---

I know, I know, there's a lot going on here. But try to ignore the woman singing a remixed horrible-ized version of The Girl from Ipanema, or the balding wizard in the center-left of the shot, and focus in on the fellow on the right-hand side of the frame. Especially around the 30 second mark. Bringing your own food bucket to a convention center? Baller move.
---
Not a penis. Not a penis. Not a penis. Still. I think there is a reason that iRest used a woman in this shot. Which is because it looks kind of like a penis?
Not a penis.
---
This 5.1 speaker system cost $68,000. The sign describing it was written in broken English. But I'm sure it's high quality. Also? Kim Dotcom probably has about seventeen of these.
---
Every once in a while, someone would jump on this trampoline. But mostly, there was just a tired guy, sitting on the edge, stretching. I wanted to jump, but did not, because I was afraid of getting kicked out. Besides, I'm tired too.
---
This was the saddest booth at Macworld. I don't know what happened to the SF Weekly. (They had a smaller booth in the App showcase, with actual human beings.) But this booth was kind of depressing. The other end of that Ethernet cable is connected to all-your-dreams-have-died.
---
The press room. That's The Verge team over there on the left-hand side of the shot. Want to know what they were working on? Here you go.
---

What's happening here? Why is this woman dancing alone, in silence? Are those people talking about Short Circuit II? There was a Short Circuit II? I can't understand this. Is this a metaphor? Please explain it to me in the comments.