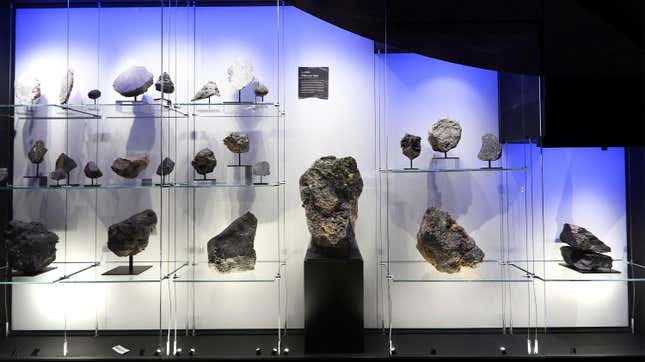 In need of some extra cash? Well then, dust off your meteorite hunting boots and get yourself to rural Maine. A geology museum in the Pine Tree State has a mission for you, and if you succeed the prize is pretty big.

The Boogeyman's Sophie Thatcher Reveals What Draws Her to Dark Characters | io9 Interview
The Maine Mineral and Gem Museum is offering a $25,000 reward to the first person to retrieve at least one kilogram of a fireball that fell over the state on Saturday April 8, per a press release shared on Facebook. The museum, based in the town of Bethel, also says it will "purchase any additional specimens found," and that such space chunks could "easily be worth their weight in gold."
The "apparent meteorite fall" happened around noon local time, and was bright enough to be visible during midday, per a NASA report— a rarity for such an event, which are usually only observed at night. Eyewitnesses on the ground saw the fireball across the border in Canada. Others in Maine reported hearing sonic booms near the city of Calais, according to NASA, presumably as the chunks of space rock sped through Earth's atmosphere. 
"This is the first radar-observed meteorite fall seen in Maine," NASA noted.
Radar captured multiple meteorites zipping towards the ground just a few thousand feet above sea level. From those datapoints, NASA calculated an estimated so-called "strewn field," wherein the cosmic debris likely landed. The largest bits of fallen space rock most likely came down in the vast expanse of forest between Waite, ME and Canoose in New Brunswick, Canada.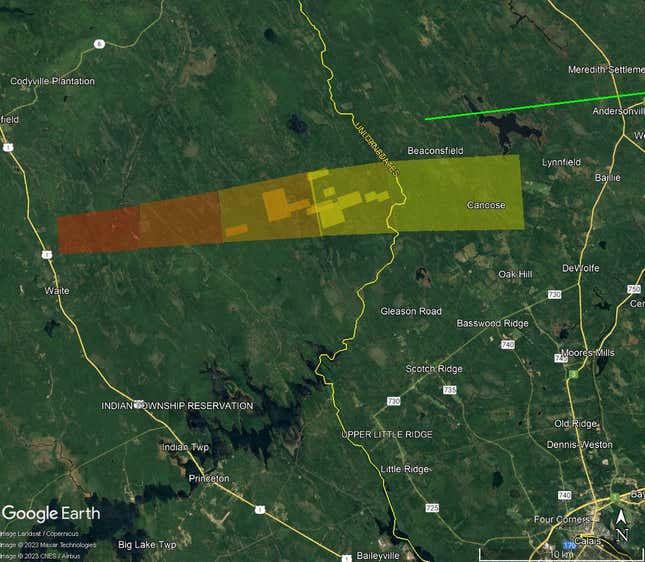 Though larger meteorites, if they exist, are likely to be found closer to Waite, the highest likelihood location for finding any of the space rocks is on either side of the Canadian border, noted the museum press release. For the most part, the area is dense coniferous forest, which could make tracking down any bits of the fallen fireball very difficult. 
Last year, 500 different fireball events were recorded in the U.S.. They aren't inherently rare events. But recovering actual pieces of those meteorites is. Only a handful of meteorites are recovered worldwide annually, as explained in a report from the local Maine Press Herald. Hence why the geology museum has sweetened the pot with a little cold hard cash. 
That said, the museum does request that novice meteorite seekers do a little pre-research on what they're looking for. There are lots of resources available online on how to identify a meteorite. A few tips from the U.S. Geological Survey: Space rocks are unusually dense, usually magnetic, oddly shaped, and often have a dark eggshell-like crust. Meteorites don't have bubbles, contain light-colored crystals, or leave streaks when scratched against a ceramic surface. Happy hunting!