There's another report out about how Benedict Cumberbatch's villain in Star Trek Into Darkness isn't who you think it is... and by that, I mean he's exactly who you think he is. Guillermo del Toro dreams of Pacific Rim's robots taking on Godzilla. Looper's Rian Johnson is going cyberpunk. Aaron Eckhart discusses his post-apocalyptic monster movie I, Frankenstein. Plus a crazy new dinosaur for Jurassic Park 4. Spoilers from here on out!
Top image from Iron Man 3.
Star Trek Into Darkness
Another "trusted source" is claiming that Benedict Cumberbatch's character isn't really named John Harrison, and that's just an alias for Khan Noonien Singh. Since we've been through this what feels like a billion times already, there isn't much more to add, although this new report does mention that the movie "alludes to the famous reactor scene [in Wrath of Khan but] puts a reverse spin on it," which was something people already picked up on from one of the scenes in the trailers. So, yeah, the preponderance of evidence might be shifting again to Cumberbatch being Khan, even if I'm still holding out hope that he's an original character. [Trek Movie]
Iron Man 3
Marvel has posted an extensive interview with The Town's Rebecca Hall. Let's go to the highlights:
I play a character called Maya Hansen who is an incredibly smart scientist who has developed some very cutting-edge technology, which is one of the principal components that drive the story. She is involved in the whole Iron Man world because she met Tony Stark a long time ago when she was an M.I.T. student being funded to do research in a certain field that he's also a specialist in.

Can you explain Extremis and how the technology is used in the film?
Extremis is a formula that my character Maya Hansen has developed that essentially reprograms your genetic code so that you can re-grow your body to be however you want it to be, essentially so you can become super human. But it's got some issues and problems.
G/O Media may get a commission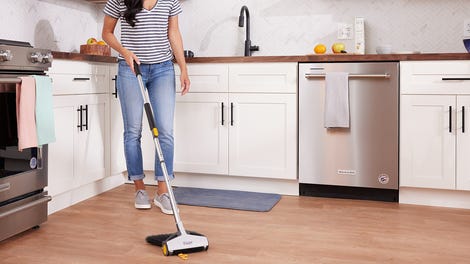 BOGO 50% Off
Flippr - BOGO 50% Off
She also discusses how her character encounters other key players in the film, including Robert Downey, Jr.'s Tony Stark and Guy Pearce's Aldrich Killian:
The flashback scene where Maya and Tony meet is on New Year's Eve 1999 at a science conference. Maya Hansen, Tony Stark and Happy Hogan all end up in Maya's hotel room, which was a very funny scene. We had a fun time shooting it because it was funny on the page, but somehow the three of us started getting more and more ridiculous with it and got a lot of jokes out of it. There's a lot of fun to be had in doing something set in 1999 too. You kind of think, "Oh, it's not that long ago. How period can it get?" And you realize actually that the haircuts were really specific and there are certain cultural references that you can really milk like Jon Favreau dressed up like John Travolta in "Pulp Fiction." It's kind of great.

Explain the relationship between Killian and Maya and how that plays out throughout the film.
Maya is discovered by Killian because she's one of the most intelligent and brightest biochemical scientists in the world, so she gets recruited by him. By this point, she's already well on the way to creating what she thinks is going to be the single most revolutionary discovery of mankind because it will essentially cure human beings of all illness, but she needs the funding to complete it. So she sells it to the highest bidder, who is Killian, and he funds her research.
And finally, she explains she isn't really part of a love triangle with Tony Stark and Gwyneth Paltrow's Pepper Potts:
The thing I really like about this storyline is that everyone assumes, "Oh, this is going to be some sort of love triangle, and it's going to be some massive cat fight between Pepper and Maya," and it was never that on the page. Instead, they did what the Iron Man franchise has nearly always done, which is sort of subvert expectations and stereotypes and actually made it about two very smart women who understand this rather eccentric figure, Tony Stark. There is a sort of bonding that happens between them because of that, and they are very funny about it. It's not at all what you expect, which I think is much more true to life and was refreshing, frankly.
There's still plenty more at the link. [Marvel]
Pacific Rim
Director Guillermo del Toro says he would love to see his huge new monster-fighting franchise crossover with the granddaddy of all huge monster-fighting franchises:
So far with the sequel, what we're writing, what we're creating, is very different, so there are no plans. Hypothetically, I would love the fuck out of it. I would love to see a jaeger and Godzilla duke it out. That would be too much for the human brain. But I don't think there are plans on that. I don't even know what direction they're taking Godzilla in. I know somewhat that it's grounded differently. Pacific Rim, my aspiration was, the color, the saturation of color, was almost an acid-drip version of the Heavy Metal coloring that I loved when Richard Corben was working there, when [Jean-Claude] Forest was working there. Super bright, super saturated, the crazy color and aesthetic. And Godzilla is more realistic, somewhat. That's my thinking. That's what I've heard. I don't even know which way they're going.
[Collider]
Untitled Rian Johnson Film
Director Rian Johnson is reportedly writing his followup to Looper, and it's described as "still sci-fi, very different than Looper, more Cyberpunk." There's no additional information at present, but that's still plenty exciting. [/Film]
Jurassic Park 4
Consulting paleontologist Jack Horner promises the new film from Safety Not Guaranteed director Colin Trevorrow will feature a previously unseen dinosaur:
"I can't actually tell you who that will be. But you'll want to keep the lights on after you see this movie."
World War Z
Here's a new poster for the Brad Pitt-starring adaptation of Max Brooks's acclaimed novel. [/Film]
I, Frankenstein
The Dark Knight star Aaron Eckhart discusses his role as a demon-fighting, post-apocalyptic version of Mary Shelley's monster:
I do have a movie coming out called I, Frankenstein where I play the monster Frankenstein, which I think is quite exciting. It's the monster Frankenstein in the modern age; he's looking for his soul, for love and his place in life and he uses kali stick fighting to do it [laughs]. It's a movie about good and evil, gargoyles, demons and it's something you've never seen before. It's going to be interesting.
You can check out the full video interview with Eckhart below. [Comic Book Movie]
Ninja Turtles
The movie has reportedly started filming at a set in Wantagh, New York. The film is being made under the production title Foursquare and is currently seeking "beautiful female models" to act as extras, so yeah, this is very definitely a Michael Bay-produced movie. [On Location Vacations]
This Is The End
Here's the latest trailer for Seth Rogen and James Franco's apocalyptic, star-stuffed comedy.
Doctor Who
Here's a pair of clips from tomorrow's episode, "The Rings of Akhaten." [Life, Doctor Who, and Combom]
A bunch of set photos have been taken from the filming of the 50th anniversary special, and they seem to depict a scene featuring David Tennant's Tenth Doctor, a Zygon, and Gavin & Stacey star Joanna Page in Elizabethan dress — indeed, most likely playing Elizabeth I, who married Tennant's Doctor — in the middle of a field. The presence of Elizabeth I is intriguing, not only because it fills in a previously unseen gap in the Tenth Doctor's life, but also because it suggests the events of the 50th anniversary special happen towards the end of the Tenth Doctor's life, well after he traveled with Rose Tyler. That raises some questions about how Billie Piper fits into the special — there's a bunch of fandom rumors going around about her appearing with Christopher Eccleston's Ninth Doctor, but I'd advise not believing that until we see it... and even then, maybe don't believe it, just to be on the safe side. Anyway, both Doctors' TARDISes have also been spotted on set. To see some of the photos, check out the link. [Wales Online]
Supernatural
Here's a promo and the official description for the next episode, "Pac-Man Fever," featuring the return of Felicia Day as Charlie. [SpoilerTV]
DEAN INTRODUCES CHARLIE TO CHEAP PANTSUITS - Concerned about the physical toll the second trial took on Sam (Jared Padalecki), Dean (Jensen Ackles) benches his brother from hunting until he heals up. So, when geektastic hacker Charlie (guest star Felicia Day) stumbles upon a case and finds the boys, Dean decides it's time to teach Charlie how to be a hunter-in-training. While happy to see "her highness," the boys suspect Charlie is hiding something; a secret that could get her killed.
Arrow
Here's a promo for the next episode, "Home Invasion." The synopsis is below. [SpoilerTV]
DEADSHOT (GUEST STAR MICHAEL ROWE) FIRES OFF A NEW ROUND IN STARLING CITY - Deadshot (guest star Michael Rowe) returns to Starling City after taking down a U.S. Ambassador and six others overseas. By keeping tabs on A.R.G.U.S.'s manhunt for the assassin, Oliver (Stephen Amell), Diggle (David Ramsey), and Felicity (guest star Emily Bett Rickards) learn that a sting operation is underway to capture Deadshot – alive. Diggle is determined to see his brother's killer dead, with or without Ollie's help. Meanwhile, Laurel (Katie Cassidy) takes drastic steps to protect a young witness, exacerbating friction between Tommy (Colin Donnell) and Oliver. Later, Roy Harper (guest star Colton Haynes) unconventionally pursues all leads to find his new hero, but runs afoul of Detective Lance (Paul Blackthorne). Back on the island, Oliver recalls how Shado (guest star Celina Jade) helped him incrementally gain confidence with a bow and hit the target for the first time.
The Vampire Diaries
Here's the description for the upcoming episode "The Originals," which is the backdoor pilot for the planned Klaus-centric spin-off:
KLAUS RETURNS TO HIS PAST IN NEW ORLEANS - Acting on a mysterious tip that a plot is brewing against him in New Orleans, Klaus (Joseph Morgan) makes a trip to the town he and his family helped build. Klaus' questions lead him to a reunion with his former protégé, Marcel (guest star Charles Michael Davis), a charismatic vampire who has total control over the human and supernatural inhabitants of New Orleans. Determined to help his brother find redemption, Elijah (Daniel Gillies) follows Klaus and soon learns that Hayley (guest star Phoebe Tonkin) has also come to the French Quarter searching for clues to her family history, and has fallen into the hands of a powerful witch named Sophie (guest star Daniella Pineda). Meanwhile, in Mystic Falls, Damon (Ian Somerhalder) and Stefan (Paul Wesley) continue with their plan for Elena (Nina Dobrev), while Katherine (Nina Dobrev) reveals a surprising vulnerability to Rebekah (Claire Holt) and asks her to deliver a message.
Orphan Black
Here's a sneak peek at this Saturday's episode, "Instinct."
Warehouse 13
Here's another promo for the show's return.
Defiance
Here's another promo for Syfy's upcoming post-apocalyptic alien western.
Beauty and the Beast
Here's the synopsis for the next episode, "Playing With Fire":
GABE REVEALS HIS TRUE INTENTIONS - Gabe (Sendhil Ramamurthy) comes clean to Cat (Kristin Kreuk) that he knows about Muirfield. Vincent (Jay Ryan) does not think Cat should trust Gabe and is suspicious of his intentions, which causes tension between them. Meanwhile, JT (Austin Basis) and Vincent finally find a new place to live.
Additional reporting by Amanda Yesilbas and Charlie Jane Anders.